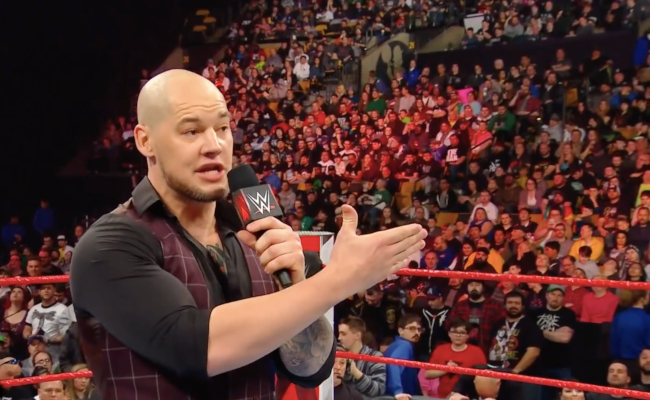 Last night's episode of Monday Night Raw ended with Baron Corbin defeating Rey Mysterio with a Deep Six in the main event, only for the Lone Wolf (do we still call him that or is he the Chili's Manager now?) to get put in an ankle lock by his WrestleMania opponent Kurt Angle. But as we then learned on social media, that wasn't the only indignity Corbin suffered. Somebody else got a quick shot at him after the cameras stopped rolling. Instagram user Believedean has the video:

It's always nice to catch a Dirty Deeds while they're still available in WWE. Dean Ambrose, as you probably know, currently has no match at WrestleMania, and is expected to leave the company shortly after, having not re-signed his expiring contract. It seems likely he'll show up somewhere at Mania, probably for a final moment with his Shield brothers, Seth Rollins and Roman Reigns, who have singles matches against Brock Lesnar and Drew McIntyre, respectively. And of course Seth and Brock's match is for the Universal Title, so if the Shield gets involved there it will make a lot of sense.
On the other hand, Dean hasn't been on TV lately as much as he's been showing up after TV is over, so I suppose it's possible we won't see him at WrestleMania at all. That said, Dean's the kind of character who can (and as we see here, so often does) attack people with no explanation, so why wouldn't you use him for random spots until the very last day you have him?