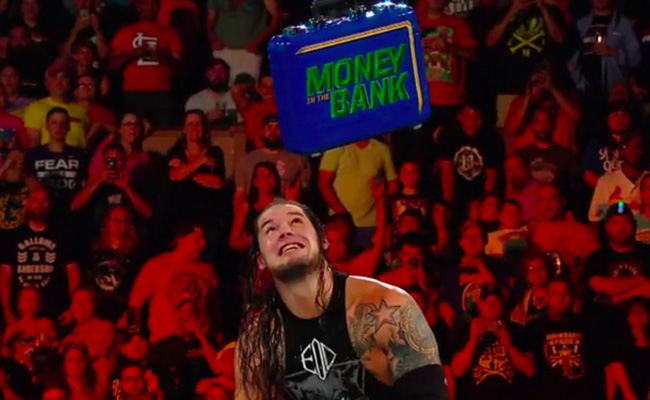 We learned a while back that climbing a ladder and unhooking the most famous briefcase in wrestling is "terrifying". Now we've learned more about Baron Corbin's journey with the Money in the Bank contract, thanks to All Things Wrestling Radio.
The former NFL offensive lineman debuted on the main roster in 2016, winning the Andre The Giant Memorial Battle Royal. After mostly hanging out in the middle of the pack following the surprise WrestleMania 32 first-night victory, Corbin surprised damn near nobody on the With Spandex staff when he successfully scaled the ladder and snagged the contract at 2017's Money in the Bank pay-per-view.
I guess we're all smarter than JBL who said, "You cannot have a more unpredictable competitor become Mr. Money in the Bank than Baron Corbin" after the victory. Au contraire! But what about Corbin's famously embarrassing failed cash-in? Up until now, he hadn't really talked much about it.

Here's where All Things Wrestling comes in. (Transcription via Wrestling Inc.) Corbin told the tale about when he was told he'd be unsuccessfully cashing in.
"It was kinda like an hour before [SmackDown Live]. We discussed, and then they made a decision that was gonna be the night. It didn't work out, but, yeah it was definitely about an hour before. I mean, it's the fun part of this business. You never know what your day is gonna hold. Some things could be very, very last minute. It could be at that very last second. So, it's pretty wild, and it keeps you on your toes. That's for sure."
Can you imagine what it must be like to carry that briefcase around for so long, assuming you're going to become world champ, and then it just … doesn't happen? Dude seems pretty chill about it, in my opinion. To Corbin's credit, he's definitely coming off as professional here; perhaps he's learned his lesson regarding backstage heat.
To re-live the failed cash-in and witness one of the more underrated victories of Jinder Mahal's title reign, look no further. Try not to be distracted by Corbin's wandering eyes waiting for Cena to get back up so he can lose via distraction roll-up.
And just like that, Baron Corbin joined the cash-in loser ranks of Damien Sandow (lost by pinfall to John Cena) and John Cena (won by DQ against CM Punk). At least the Lone Wolf has some company for once, right?