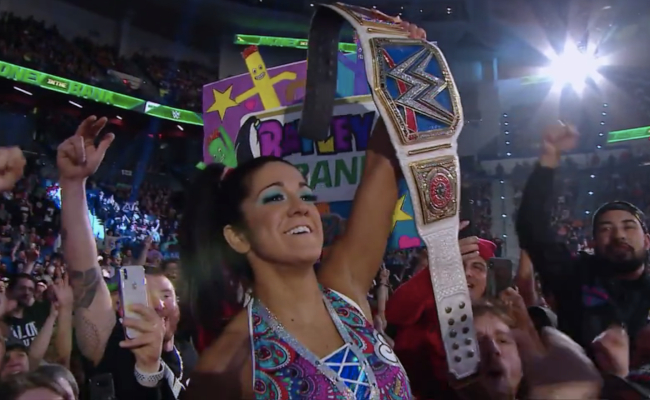 There may be a lot of dissatisfaction in WWE right now, but one person who seems pretty happy despite it all is Bayley. There were reports after WrestleMania that she was nearly as upset as her former tag team partner Sasha Banks about how they were being treated, but since then her WWE career has been on an upswing, and it's understandable her outlook would have improved. Not to mention, she's Bayley, and being positive is kind of part of her whole deal.

Last week she gave a pretty fluffy interview to Natalya Niedhart for the Toronto Sun (apparently Nattie's a wrestling journalist now, so good for her), in which she enthused about her Money in the Bank experience.
First, Bayley talked about how excited she got just about being in a ladder match, and even moreso winning it.
Being in a ladder match has always been a crazy dream of mine. I grew up watching The Hardy Boyz and Edge and Christian dominate ladder matches. I could never have dreamt the feeling of climbing to the top of the ladder and grabbing that contract. The crowd, the emotion, the pain, the future, the love, everything rushed through my veins when I won that match.
Keeping kayfabe alive, Nattie asked about why Bayley chose to cash in that same night. Even if the choice wasn't exactly hers, you still get the impression there's a lot of honesty in Bayley's answer.
I've always been one to make the most of any opportunity I have received in WWE. Cashing in that briefcase was the first time I took a chance and created an opportunity for myself and it felt so good! I felt reconnected with the fans and with myself. I felt like I am right where I need to be and all of my hard work paid off.
She also talked about her excitement at being the first female Grand Slam Champion, having held the NXT, Raw, Smackdown, and Tag Team championships. Regardless of what we might think of a lot of things going on in WWE, it's still a good feeling to see somebody like Bayley finding her way back to the top and looking forward to a hopefully bright future.