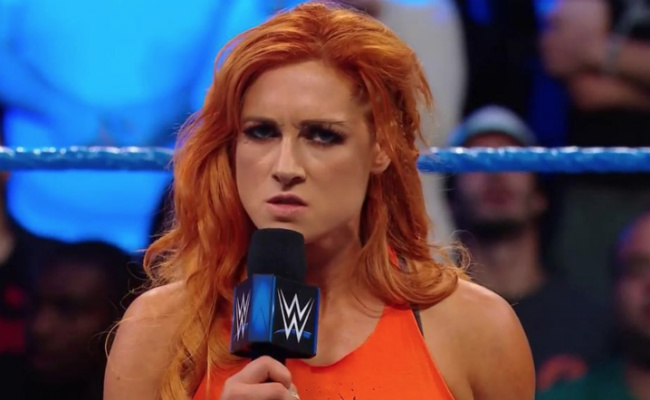 After beating down her former best friend Charlotte Flair at SummerSlam, Becky Lynch cut an ice-cold heel promo on SmackDown Live. However, from the moment she came out with an angry look on her face and not slapping any hands, the crowd cheered her like the beloved babyface we all still think of when she takes the ring.
Lynch did her best to put a stop to that by accusing the WWE Universe of not standing up for her, and while the cheers took a dip as she was directly attacking the crowd, they soon picked up again. When Charlotte came out and the two brawled, the entire arena was obviously booing Charlotte and cheering Becky. Paige brought out the entire women's roster, which attempted to separate the two as the segment ended.

On Sunday, Charlotte won the SmackDown Women's Championship after hitting Becky with a Natural selection while Becky had Carmella in a Dis-Arm-Her. Even before that, the storyline set the match up as the culmination of Becky's hard-fought road back to the top of the SmackDown Women's Division. She was already visibly upset when her historically dominant best friend was added to what was supposed to be a one-on-one match between Becky and Carmella. So once Charlotte won, it was understandable why Becky was furious.
When she first attacked Charlotte at SummerSlam, the crowd was already firmly on Becky's side, with some even chanting "You deserve it" at a beaten Charlotte. On top of that, Charlotte has a long history as a great heel — despite being a babyface more recently — whereas Becky has not only been a face for the entire three years she's been on WWE's main roster, she's been one of the purest and most heroic. Still, even if the turn is hard to understand, this should lead to a fantastic hard-hitting match at Hell in a Cell, hopefully inside the titular structure.