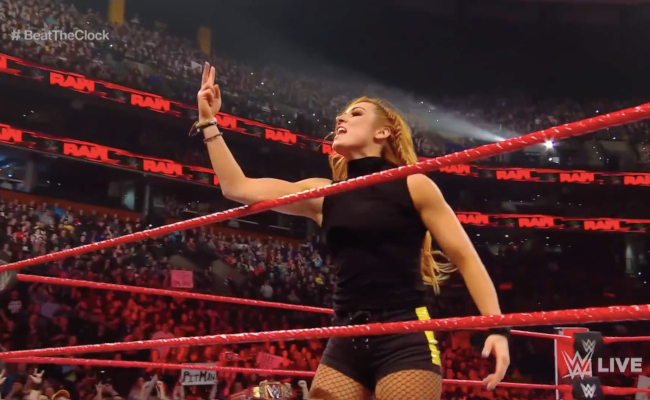 With WrestleMania 35 barely more than a week and a half away, the nonsense and overbooking of the Raw Women's Championship Match is starting to fall away as everything becomes about the match itself, which now officially has the main event slot, which of course makes it the first time women have ever competed in the main event of WrestleMania.
Twitter user HairyWrestling points out that that's not the only distinction this match holds in WrestleMania history. Becky Lynch, the Irish Superstar who scratched and clawed her way into the main event, will be the first person born outside of the United States and Canada to be in a WrestleMania main event since André the Giant, who of course was French, at WrestleMania III in 1987.
WWE always has a number of Superstars from other continents, not to mention from Mexico, but none of them have been put in the main event on the Biggest Stage of Them All in the last 32 years. When you see the booking of foreign Superstars with great potential, like Cesaro, Rusev, and Shinsuke Nakamura, it honestly doesn't feel all that surprising.
As an added coincidence, André the Giant's WrestleMania main event coincides with Becky Lynch's birth. She was born in January 1987, just two months before André the Giant unsuccessfully challenged Hulk Hogan for the WWF World Heavyweight Championship at the Pontiac Silverdome. Hopefully Becky will fare better, and become the first person not born in the U.S. or Canada ever to win in the main event of WrestleMania.