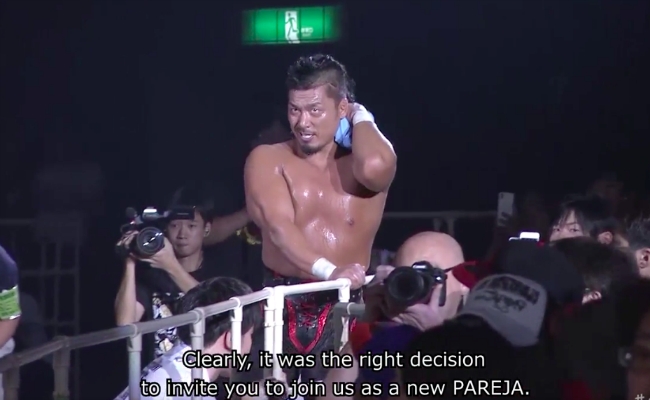 Previously on NJPW: The despicable duo of Gedo and Jay White made Miho Abe cry and Toru Yano destroyed both the winning streak and psyche of Jon Moxley.
You can watch New Japan Pro Wrestling shows on their streaming service, NJPW World, which costs 999 yen (about 9 USD.) You can also watch certain NJPW shows on Saturdays on AXS TV, including G1 shows that run early Saturday mornings (U.S. time) later the same day.
You can keep up with With Spandex on Twitter and Facebook, follow our home site Uproxx on Twitter, and even follow me on Twitter @emilyofpratt. Don't forget to share this column on Facebook, Twitter, or whatever social media you use! Also, leave a comment with your thoughts on the show and/or article! All feedback is appreciated and will help us keep up the NJPW coverage.
And now, the best and worst of the thirteenth and fourteenth nights of G1 Climax 29, which took place in Osaka on August 3-4, 2019.

Best: Kill Your Idols
One of the best matches of this year's G1 so far is the rematch from last year's tournament final, Kota Ibushi vs. Hiroshi Tanahashi. Like their past singles matches, part of what makes it so strong is that not only are Ibushi and Tanahashi very good at doing wrestling moves, but they're very good at making their actions feel motivated and earned, showing emotion and effort in almost everything they do.
This applies to not just how they perform this match in itself, but how they incorporate their history into it. It took Tanahashi about thirty-five minutes to beat Ibushi last year and he's even more aware of his limitations now, so he wrestles this match very smart, focusing on Ibushi's one physical flaw, his recently-injured ankle. Ibushi doesn't sell this much when that part of his body isn't being actively attacked, but we see him struggle enough during this part of the match that he basically gets away with it.
It helps that after an inhuman hurricanrana and being slapped in the face, Ibushi has one of his clearest transitions into Alien Murder Mode. Tanahashi stays in the game against his powered-up opponent after their amazing slap fight, but, like in many matches, contributes to his own demise by going high-risk, hurting his knee when Ibushi dodges a High Fly Flow. Despite that inconsistency with the ankle, it feels like overall, everything in this match is not exciting to watch as a wrestling match, but connected to their story together and their arcs in this tournament in a way that really pays off.