Previously on NJPW: The roster split up and did shows with RevPro, ROH, and CEO; Kenny and Kota's golden tag team dreams were threatened by the American Nightmare; and Juice Robinson vowed to represent America in New Japan in a more kickass, positive way.
You can watch New Japan Pro Wrestling shows on their streaming service, NJPW World, which costs 999 yen (about 9 USD.) They feature a different free match on the site every week and you can do a free trial month, so it's a pretty easy service to test drive. You can also watch certain NJPW shows with commentary by Jim Ross and Josh Barnett on AXS. This specific show also aired live on AXS TV.
You can keep up with With Spandex on Twitter and Facebook, follow our home site Uproxx on Twitter, and even follow me on Twitter @emilyofpratt. And don't forget to share this column on Facebook, Twitter, or whatever social media you use! Also, leave a comment with your thoughts on the show and/or article! All feedback is appreciated and will help us keep up the NJPW coverage.
And now, the best and worst of the G1 Special In San Francisco.
Best/Disclaimer: Live At The Bovine Bungalow
With Spandex was invited by AXS TV to do press at this show, so this is very much a review of the live version. I watched the TV versions of the bits that I missed while running around doing press things afterwards, but that just one match and a few entrances this time, so you won't get feedback on the production, commentary, etc., from me in this review. I'll be interested to see what you guys have to say about that in the comments, because those aspects of the American shows always generate discussion.
Like in Long Beach, the live New Japan experience was super fun. The Cow Palace is a cool, very old school American venue that clashes aesthetically with the rest of San Francisco (although technically it's in Daly City.) It's a historic pro wrestling venue with photographs from past events lining the halls, and it was neat to see NJPW join that legacy.
The crowd was reportedly about 7,000 in at venue that seats almost 13,000, but it didn't feel poorly attended despite the empty seats you could see on camera. We could talk about attendance in relation to the promotion and marketing of this show, but then I'd have to pretend to know something about how to run a wrestling company. The important thing to me as a member of the audience was that the crowd was extremely enthusiastic. In the Cow Palace the show passed quickly, and I don't think people lost interest during the long show – at least not due to length, though people were less engaged in certain matches due to specific things about them.
Best: Teasers And Crowd Pleasers
The show kicked off with a ten man tag match in which Bullet Club (Chase Owens, Yujiro Takahashi, Tanga Loa, Tama Tonga, and King Haku) defeated Chaos (Sho, Yoh, Rocky Romero, Gedo, and Yoshi-Hashi.) It was a good opener, with the Roppongi 3K theme hyping up the audience as they entered first, and Bullet Club obviously very popular in the States. With both Romero and Tonga involved, it also had the most possible mugging at the camera during the entrances, which entertained me especially because I couldn't see the camera POV.
It wasn't a bad match either. Everybody got their stuff in. Rocky's scrappy, rana-heavy section of the match, Yoh's multiple Dragon Screws (not the smoothest we've seen them, but I like that he's doing these), and Haku (!!!) Tongan Death Gripping (!!!) Gedo (!!!) were highlights. The King got a nice Legend Appreciation chant too, which was cool.
From a story perspective, it was interesting to see how hot the crowd was for Tama to be tagged in both times. He ended with match with a decisive pin on Gedo after a Gun Stun, and if you for some reason didn't think something was going to happen with him going into the show despite heavy foreshadowing, this was the final hint. This was Chekhov's Gun Stun, if you will.
Toru Yano and Tomohiro Ishii defeated Zack Sabre Jr. and Minoru Suzuki in a greatest hits, mostly comedy match with throwbacks to the recent really good matches between Suzuki and Ishii in RevPro. Suzuki's on a hot streak after his recent bangers (the two just mentioned SSE UK matches and that visually epic match in the rain with Okada, which is on NJPW World now) and he eats up the crowd hype while also showing ass. I loved how proud of himself he looked when he went to hit Yano with the turnbuckle pad, and how even though this was just a tag match and Suzuki just won Ishii's title from him, losing this made him fly into a violent rage.
Best/Worst: Aces And Ehs
The other non-title tag matches were very much there to get all New Japan's big stars on the card. There were fun to watch, but underwhelming just due to the level of talent involved in such filler/exhibition tag matches.
Kushida and Hiroshi Tanahashi, with a surprise appearance and later interference by Ryusuke Taguchi, who was in town for APW/PWR's King of the Indies the night before, vs. Marty Scurll and Hangman Page was slower than the two matches before it, and the crowd wasn't as engaged. I was surprised to see how purely they cheered the babyfaces and booed the heels here, given that the earlier Biz Cliz team got a full babyface reaction… but then, they were against a team that included Yoshi Hashi and not the Ace of the dang Universe.
This match was a little awkward at times, with some sequences that could have been smoother. Still, Page looked good, fast, and agile, which bodes well for his debutant G1 performance, and pinned Kushida for the win. I had forgotten what his theme song sounded like, and I dig it. Tanahashi was in really good physical form as well, and his hair looked especially voluminous. How does he do it?
Will Ospreay and Kazuchika Okada vs. Bushi and Tetsuya Naito was billed higher than the NEVER Openweight Championship and IWGP Heavyweight Tag Team Championship match, which made it feel sort of like movie stars Special Guest Starring on a TV show. There was a Brad Pitt on Friends kind of vibe.
Naito entered super cool and tranquilo, but pandered ever so slightly with that stars and stripes LIJ shirt, and by leading the crowd to clap early on. Okada seems to be having a complete identity crisis after losing his title, with the red and black outfit I believe is supposed to call back to Chaos OG Shinsuke Nakamura given the current Chaos leadership angle going into him vs. Jay White during the G1. Also, the balloons. What is going on with the balloons? And what is going on with him yelling, "Scooby Dooby Doo!" before jumping off the turnbuckle?!
As for the actual match, the opening Ospreay vs. Bushi sequence was good, as was the one that closed the match, and Ospreay's athleticism is even more awe-inspiring in person. It was cool to get a little Naito vs. Okada rematch in there too. I probably won't rewatch this match, but it was entertaining.
Best/Worst: Goto Sleep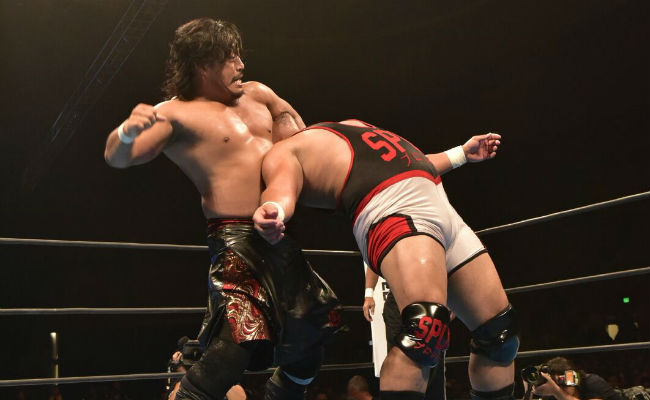 Hirooki Goto and Jeff Cobb had a decent wrestling match, but the issues with the NEVER Openweight Championship scene are enhanced when New Japan is in America. The majority in the audience is just not invested in what happens with this belt, and Goto isn't over in the US. There's probably a way for his character to be presented to American fans that would generate interest, but the old school/old timey (depending on his face/heel alignment in a feud) Japanese pride character doesn't connect with anywhere near as many people on a gut level as it does in Japan. Goto's challenger Jeff Cobb is popular on the American indies and he frequently performs in California, including at the previously mentioned King of the Indies show I'm guessing a fair amount of the NJPW audience saw. However, he clearly wasn't going to win this match, and Cobb obviously isn't as well known as most of the rest of the card.
Goto is a reliably good wrestler, and this match was no exception. I was super invested in Cobb though, because, as I've talked about before in this column, he might be my favorite indie guy right now. Cobb's dropkick was fantastic, and the nearfall after his moonsault finally livened the crowd up. I always pop for big guys doing smaller guy things. (See also: Willie Mack.) (See also: if 2003 Jack Black was a wrestler, he would be my favorite wrestler ever.)
Best: Everything Is Elite
I appreciated how the IWGP Heavyweight Tag Team Championship Match between The Young Bucks and Evil and Sanada was presented like a "Both these guys!" indie match. Los Ingobernables de Japon are the company's top babyfaces and are over in the US, but it wouldn't be fair to try to make them get cheered more than the Rancho Cucamonga boys in California. Heel Kenny and Naito, and therefore probably L.I.J. and the Being The Elite cast, are on a collision course, but Kenny was definitely supposed to be the clear babyface going into this show's main event. But right now, between these two tag teams, there isn't much of a story besides the press conference promos the day before in which the Bucks were like, "FUNKO POPS. You have no global appeal! [And no one should read anything into the fact that it's white guys saying that in America about Japanese guys who already obviously have international appeal as an offshoot branch of a very popular faction in a Mexican wrestling company! Detach art from the context of the world in which you view it, somehow!]" and the talking half of L.I.J. was like, "Catchphrase! We'll take the titles back to Japan!"
The match was really good and fun to watch, and worked even after becoming worthy of the term "spotfest" at about the fifteen minute mark. There was a nice, tense "Will Sanada tap?" sequence, but no way a G1 competitor was tapping to a non-competitor before the tournament. Matt Jackson sold his back at one point in a way that referred to his old injury, which isn't ongoing but could believably be flairing up. The chair attack by Evil countered with superkicks by the Bucks, the Magic Killer nearfall by L.I.J., and, of course, the Meltzer Driver for the win were all good moments. I just also have to give a Worst to this match for that spot that looked like a human centipede for making me think about The Human Centipede.
Best, But Probably Not If You Rewatch It: The Cat And The Bat
At this point in the show, especially not knowing about the concerning injury involved, the IWGP Junior Heavyweight Championship Match between Hiromu Takahashi and Dragon Lee (King of the Indies winner) was match of the night. It was a true Lee vs. Takahashi match, with all the classic elements. We got the German suplex exchange, crazy chops, and impressive moves done at ridiculous speeds. It was a hard-hitting match in which you felt the wrestlers really struggling against each other. Lee's Tree of Woe that knocked Hiromu down to the mat outside was the night's biggest "holy shit" moment. His first chop to Hiromu after the champ asked for them was so loud I think I physically felt it.
Things went to the next level of intensity once the D was applied, as things tend to. Unfortunately, part of this next level was the Phoenix Plex in which Hiromu landed and injured his neck so seriously that he collapsed backstage and had to be rushed to the hospital. He was on the ground holding his head in pain for too long for the audience not to be concerned. He was able to finish the match with the Time Bomb, and was able, after a few days, to return to Japan, and reportedly won't require surgery. I hope this wasn't his last match, and I'm almost sure it wasn't, so I'm not going to do a preemptive "He was only 28!" thing. If you look at how hard this guy works and how he persevered to get to this point in his career, I think you can tell that Hiromu Takahashi will be back, with a neck injury return that could rival Steve Austin's.
Best: Juice S. A.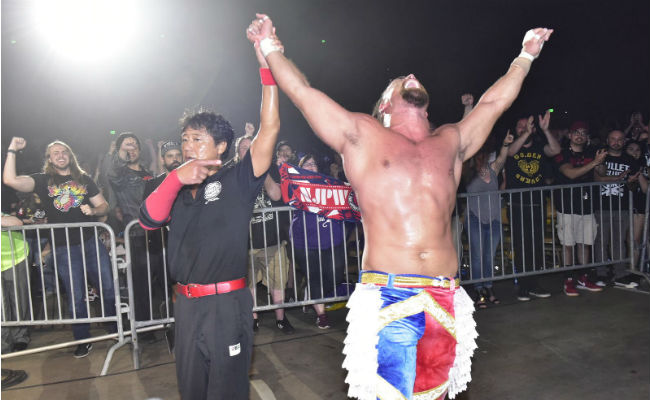 After Lee and Hiromu, we got what turned out to be the actual match of the night when Juice Robinson defeated Switchblade Jay White to become IWGP United States Champion.
From the entrances, you could tell this match was going to be something special. Both of these guys pulled out their actual best/worst. Jay White tried to convince us all he's Shinsuke Nakamura, and the combination of his and the King of Strong Style's aesthetics resulted in an Attempted Sexy Lord Licorice Halloween Costume abomination. The crowd hated it. It was perfect. White also called back to present day WWE Shinsuke, whose heel turn he (in character) has brought up multiple times on social media, by low blowing Juice. It worked as a reference to Juice's "all heart and nuts" catchphrase too, because here in New Japan Pro Wrestling, even the nut shots are part of long term storytelling!
Juice took being potentially the first American to win the American belt on America's birthday weekend to the extreme with his Rave Founding Fathers entrance gear. It was just as stupid and perfect as Jay's attire, and the crowd loved it. Somehow, the flamboyant Juice Robinson became the national hero we both needed and deserved that night at the Cow Palace. It's also incredible how Juice has developed so he could go straight from a feud in which he proved himself to be "a real Japanese pro wrestler" against Goto to being the embodiment of America against our emo insulter, all while just being himself turned up to eleven.
The heat for this match was palpable. People were getting upset. People were booing Jay and rooting for Juice like we were a drunk territorial days audience who didn't know wrestling wasn't real. The closest thing I felt recently to this level of heat in person was at the last NJPW show in Long Beach toward Cody, but that had an element of playing along with the soap opera, respecting his work as a mustache twirling villain. This felt like real animosity, closer to the electricity I felt the last time I was at a Monday Night Raw show with a surprise Roman Reigns entrance.
The match was hard-hitting in a more traditional way that Hiromu vs. Lee. It was just solid wrestling with a solid story, with Juice performing well as a believably injured and weakened babyface without coming off as pathetic. At one point, Jay threw Juice into the guardrail by the announce table, resulting in Jim Ross taking a bump/getting knocked over, prompting Josh Barnett to get in the ring like was actually going to fight Jay for real. Fortunately, they were able to get the match back on track at the same level of quality after this, with Switchblade looking like even more of a jerk.
Juice eventually won just like he said he would, via rolling a motherf*cker up. Interestingly, he did it after cheating, using his broken hand with his cast (declared a weapon by NJPW) on it. In the moment, nobody cared. In the long term, I think works better for this character to not be such a pure babyface that if someone cheats against him he won't cheat back, especially because he tends to pander to the crowd. It fits his loose cannon personality and promo style. Plus, as we already saw via Jay's incredible Pre-G1 press conference promo, Switchblade can justifiably complain about this forever, and this feud can restart at any time. These dudes are both still in their twenties and only recently New Japan main eventers, and this could be just the first chapter in a great rivalry.
Despite the cheating, the love for Juice when he won the was real. The crowd was happy for the character, and for the real man's career. Shoot and kayfabe success (plus nationalism) combined here in a beautiful way. Juice hugged Red Shoes multiple times and was every inch a people's champion as he made his way through the crowd hugging people and looking like he might cry. It was a Pro Wrestler As Folk Hero moment perfect for this venue and this crowd and this show.
Worst: An Anticlimactic Climax
After the emotional heights of White vs. Robinson, the IWGP Heavyweight Championship match between Kenny Omega and Cody was underwhelming. Before I talk about what I think the issues were with the match itself, I'll talk about the storyline.
If you've been reading this column for a while, you know that I have had mostly positive things to say about the Bullet Club Civil War angle, including Kenny vs. Cody and the Golden Lovers reunion. The Young Bucks vs. the Golden Lovers is still one of my favorite matches of the year, and I think the NJPW tag matches leading up to Supercard of Honor were really well done. If we got the final Kenny vs. Cody match then, either with Supercard or in NJPW after that build, I think it would have been better. At the G1 Special in San Francisco, we got the end of the feud, but not its emotional and wrestling peaks. The match got nowhere near the intensity of atmosphere, melodrama, or match quality that these men have created in the past. The crowd was engaged more like they were watching a movie.
The things that set this match apart from others in the feud (besides it being a singles match) were the title and the ladder. When the ladder was introduced, it was confusing. It got "TLC" chants, which were appropriate, funnily enough, in a match Omega challenged in the press conference for Cody to step up and make worth of the IWGP Heayvweight Championship. (Nothing against ladder matches, you just don't normally associate them with the International Wrestling Grand Prix.) Cody didn't really want the title except to take something Kenny cares about, and just wanted to use the ladder to hurt him more (and in way that doesn't make a ton of sense for his character, who is not known to be some master of the ladder match like the Bucks are.) However, Cody already threatened to take more from Kenny and hurt him more via attacking Ibushi earlier in the feud. Cody forcibly kissing Ibushi during that tag match months ago filled me with way more anxiety than him pulling out a surprise ladder.
As far as the match goes, I respected the bumps Omega and Cody took, and both put on excellent athletic performances. Kenny's tope con hilo never seems like it should be able to happen in real life when you see it live. I liked Cody's transition into the figure four. Both men took painful-looking ladder bumps, obviously peaking with that insane superplex from the top. However, the crowd, mostly clad in Bullet Club shirts, was too burned out too even get a "This is awesome" chant off the ground.
After the match, Kenny nobly and borderline nonsensically lent Cody a hand up. It reminded me of John Cena putting over Kevin Owens in a promo only after he beat him, back when Owens moved up to the main WWE roster. As Cody left the ring, the Bucks watched him depart while Kenny looked away dramatically, then joined them. It reminded me out how they used to shoot serious conversations between two people on Smallville. The crowd wasn't as hot as they were for Juice, but they still supported Kenny and his win.
Omega made the speech of a benevolent monarch, saying "Each and every one of us is human. Each and every one of us deserves a second chance," and Cody put forth "a valiant effort." If we pretend this is the only feud Kenny has going on, it's a good, heroic promo. However, it isn't, and Omega is putting over a guy who just lost a match in which he cheated a lot, while Naito and L.I.J. and the rest of New Japan's domestic roster are supposedly dragging their feet. We've seen the people Kenny says aren't pulling their weight wrestle good matches and work hard consistently this year, and it's not like Cody isn't doing those things, but the hypocrisy of Cody earning Kenny's respect while almost no one else has is off-putting. At least while we're still acting like Kenny is mostly a babyface for the rest of this show or just rest of that promo, depending on your perspective.
Best: The People's Republic of Tonga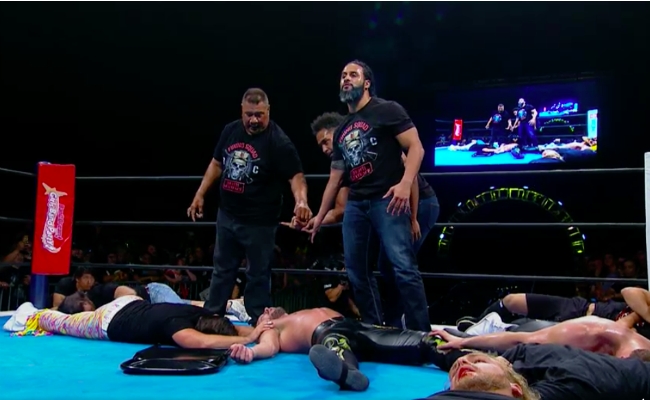 As the victorious Elite walk up the ramp to the back, they are met by Tama Tonga, Tanga Loa, and King Haku. There's a fun, tense moment for everyone who's been paying attention to the story as the Kenny and the Bucks turn their backs to these guys, who of course proceed to absolutely wreck them. Tama (and Fale, as confirmed by additional YouTube content) are the ringleaders here, and it cracks me up that the G.o.D. just also brought their dad for this.
I'm excited for Bullet Club storyline development after it felt like it was getting stale, and I'm especially excited for the non-BTE section of the Biz Cliz to get more stuff to do. These dudes are 100% justified in their actions. Let's break down the build to this, which has been going on for definitely ONE FULL YEAR but also kind of OVER ONE YEAR:
When Kenny Omega took over the group, he was the first person to be obsessed with its hierarchy. While Devitt and Styles were the faces/aces of the group, they weren't official leaders.
When the Elite formed and Kenny was leader, Kenny would cut promos saying his goals were all about him, and also about the Elite, with the Bullet Club as an afterthought. Kenny formed a top tier clique with his besties and treated everyone else in the group like minions. Unfortunately for him, that only works if you're actually dealing with NPCs, and not human beings who are just suddenly being treated poorly.
The Elite tried to kill Tama Tonga on a whim in an episode of Being The Elite.
During last year's G1, Tama called them out for acting superior to the rest of the team. In response, Kenny kicked his ass in their singles match, and everyone acted like everything was fine.
However, Tama and Fale never participated in the One Sweet goofiness, and were not part of the Raw parking lot invasion. (And, skipping ahead a litte, while Cody and the Bucks were snarky about the Balor, Gallows, and Anderson moment on Raw 25, Tama and Fale were supportive.)
Tama started to talk about the same issues again, now in a more guarded way, during the 2017 World Tag League. He quickly became less guarded and more ominous.
In the BTE episode "Pull Apart," the Bucks finally acknowledged the section of the group holding it down in Japan while the others were in the US and elsewhere. However, by this time, it was too late to make amends (if amends ever could have been made), and we got that great episode-closing shot of Tama just sitting in the background, not engaging while Kenny and Cody brawled in the locker room. The Bucks never thought to follow up on these clear unresolved issues with the functional leader of half of their faction.
Around Bullet Club's fifth anniversary and the introduction of Ishimori, Tama and Fale talked about the values of the faction. These values didn't have anything to do with t-shirt sales or Funko Pops or booking Flip or any of the other things the BTE guys are occupied with.
Breaking faction decorum, the Young Bucks and Marty Scurll challenged and defeated the G.o.D. and Fale for the NEVER Openweight 6-Man Tag Team Championships, and then backstage said they didn't even know beforehand it was a title match.
Basically, Tama yelling "You did this!" in Kenny's face should have cued a montage of the past year or so cued by Just by Radiohead in Omega's mind's eye.
I like the realism of Kenny's character trajectory here too. When he joined Bullet Club, he threw away his relationship with Ibushi and all his morals in pursuit of glory. He became even more of a monster when he took over the club. He turned face and started making declarations about the power of love when he and Ibushi got back together, but getting back with your ex really doesn't make you a better person. Kenny didn't actually change anything about the way he treated people… except people he was already close friends/business partners with. Now he's suffering the consequences, because the people he was treating poorly weren't anything to mess with, to paraphrase RZA. Soon L.I.J. will come for him, and he'll deserve that too.
This makes it seem like I have no sympathy for the BTE BC guys, and at this point I do not. I have no idea what is sympathetic or relatable about any of these people right now. The team that goes out yelling, "THERE IS NO LEADER. WE ARE ALL EQUAL." is obviously way cooler and easier to support than the self-proclaimed Elite. It's a bummer that Chase and Yujiro were kicked out of Team Tonga, but I'm impressed that they were also ousted after showing concern for Omega. Tama and Fale may have solved the biggest Bullet Club management problems of 1) the group being bloated, and 2) people betraying the faction by judging these two on their impulses. Hilariously, Chase and Yujiro were not at the "family dinner" hotel room meeting in the BTE follow-up to this, when there was no kayfabe reason for them not to be. Have fun remaining second class citizens under the old regime, guys!
Judging from the G1 Press Conference, although the Tongans And Ishimori, Probably half of Biz Cliz certainly aren't faces, Kenny Omega is now fully a heel. He trashes the rest of the Bullet Club and calls Tama "a child" who needs to be led, and continues to trash the most of the NJPW roster. It's a little jarring to see him act this way after the epic romance of the Golden Lovers reunion honeymoon period, but the Heel Champion Kenny Omega potential is off the charts.
With a new U.S. champion and finally some Bullet Club progress changing the landscape right before the tournament starts, I'll see you back here soon to talk about the beginning of the G1 Climax.