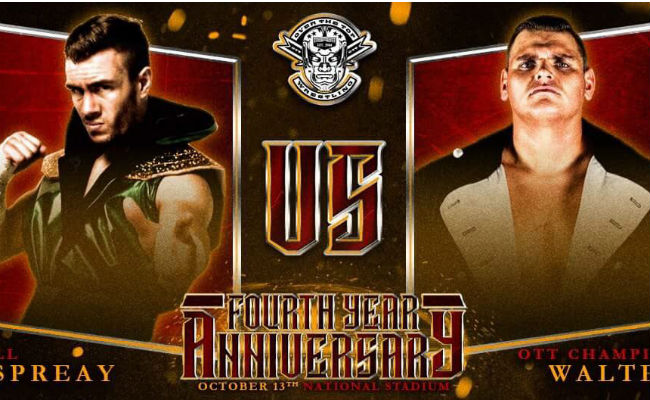 The end of the year means every website, including Uproxx, is full of Year In Review lists, mostly about the stuff they've covered throughout 2018. We'll have those coming up on With Spandex too, but this list is about the wide world of wrestling we didn't cover in depth this year, everything not WWE, Impact, NJPW, or Lucha Underground. Depending on what wrestling you watch, it could also be a way to check out promotions and wrestlers you haven't seen before with both no guilt and no dent in your bank account because these are all matches legally uploaded to YouTube by promotions.
Without further ado, here are ten free matches from 2018 that you might have missed and are worth checking out.
Aja Kong vs. Viper, Pro-Wrestling: EVE Wrestle Queendom
Billed as an International Dream Clash, Aja Kong made her European debut in a rare big woman match against Viper. Kong's charisma and classic heel work are still strong after thirty-two years in the game, and both women, who usually work against smaller opponents, make this feel like something special. You can watch the match starting at about 1:55 here, where EVE has uploaded the entirety of Wrestle Queendom (all worth watching) for free.
Lady Shani vs. Faby Apache, AAA Triplemanía XXVI
I really did not expect that hair vs. mask, veteran vs. up-and-comer match of Apache vs. Shani to end the way it did, but its aftermath was one of my favorite wrestling moments of the year. There's a lot of wacky AAA-typical referee shenanigans in this match, but they don't manage to dilute the power of these two women just absolutely beating the crap out of each other.
David Starr vs. Joey Janela (with Penelope Ford), Beyond Americanrana 2018
This No Ropes Barbed Wire Match epitomizes the form in which deathmatch wrestling has made a major comeback on the American indies over the past couple years. Love them or hate them, Janela and Starr are two of the most distinctive performers in the scene right now, and the Americanrana main event shows them both getting creative and giving their all.
The Lucha Brothers vs Team TBD vs. The Dirty Blondes, MLW Fusion #9
The three-way match between Pentagon Jr. and Rey Fenix (with Salina de la Renta), Jason Cade and Jimmy Yuta, and Leon Brien and Mike Patrick (with Colonel Robert Parker) for the vacant MLW World Tag Team Championship is both Peak 2018 MLW and very good 2018 MLW. It's old school wrestling TV presentation featuring rising indie workers, international stars, and some veteran hands. And I won't tell you how it ends, but the post-match interaction of the performers with the crowd features one of the coolest babyface moves I've ever seen.
100 Glow Sticks No Electricity No Explosion Delayed Entry Battle Royal, DDT ALL DOIN
DDT is pretty great at parody battles royal, and this one from September of this year doesn't disappoint. In addition to glow sticks replacing light tubes in a parody of a popular deathmatch setup, wrestlers can be eliminated by being thrown over the middle or top rope because the match stipulation was deemed just too dangerous. There's voodoo, a transformation, the use of rubber bands as weapons, and other elements that are weird in that specific way that makes you grateful DDT exists. The only downside of this video is that most of the entrance songs had to be muted for copyright reasons.
Intermission Bonus Match: Minoru Suzuki vs. Kazuchika Okada, Great Pirate Festival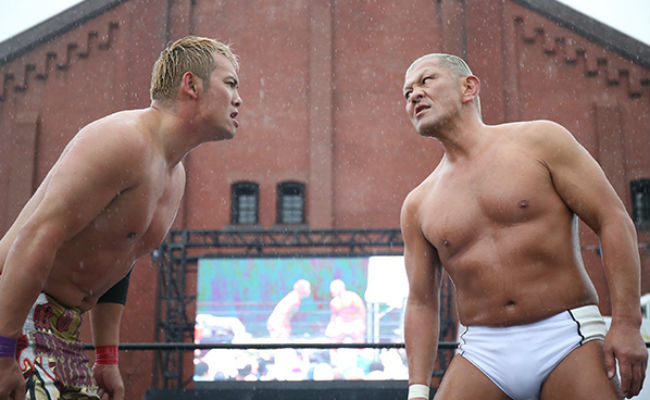 This one's on here as a "bonus" because we kind of already covered it in our 30th anniversary retrospective of Suzuki's career and the way you can watch it for free is on NJPW World (no subscription needed), though this wasn't at an NJPW event. Anyway, it's still going in this article because I feel the need to tell anyone who still doesn't know that this match exists and they need to watch it!
The Draw In The Downpour (so widely called that at this point that it's really not a spoiler anymore) feels epic even if you're not all that familiar with the wrestlers involved. It's one of wrestling's biggest villains (at a free outdoor festival he threw to celebrate the 30th anniversary of his pro wrestling debut) against one of its most dominant protagonists. Suzuki has his rare big match white gear going on and we see a last glimpse of Okada's Greatest Title Reign Ever Rainmaker glory before his still-ongoing identity crisis angle starts in earnest. But maybe the coolest element of this match comes from the actual elements, the rainfall throughout and the clap of thunder as the wrestlers face off, creating an irreplicable cinematic atmosphere.
LA Park vs. Rush, CMLL Super Viernes
With every weekly show on uploaded to their YouTube channel, CMLL is probably the top provider of free, legal wrestling content on the internet, and this June main event shows you exactly why. LA Park (WCW's La Parka) and Rush of the Los Ingobernables stable have one of those Destined To Do This Forever blood rivalries. It's awesome, and it's been one of the hottest feuds in lucha libre for years now. Rush is a young, second-generation star (his dad, La Bestia del Ring, shows up here) and Park is a beloved, 53-year-old violent skeleton who regularly main events for both CMLL and AAA. The crowd could not be hotter for the latest confrontation, this one two out of three falls, between these men.
Hyper Misao and Miyu Yamashita vs. Priscilla Kelly and Shoko Nakajima, TJPW How Do You Like Kitazawa?
Tokyo Joshi Pro Wrestling, the all-women's promotion in the DDT universe, is a company I want to make sure to watch more next year. This tag team match gives you a look at some of their regular players, morally questionable superhero Hyper Misao and the quick and technical Shoko Nakajima, along with guest star/Hell's Favorite Harlot Priscella Kelly, who's gearing up at this point for a Tokyo Princess of Princess Championship match with Miyu Yamashita. Yamashita's stiff kicks and strikes and serious attitude set her apart as the worthy ace of TJPW, and she's one of the best wrestlers you're least likely to know about right now.
Maki Itoh and Shoko Nakajima vs. Reika Saiki and Mina Shirakawa, TJPW 5th Anniversary Shin-Kiba Tour 2018
Oh hey, another Tokyo Joshi Pro match! This one's on here not only because of gravure model turned wrestler Mina Shirakawa, not only because of swole joshi angel Reika Saiki, but because of the presence of Maki Itoh, aka the other best wrestler you're least likely to have heard of.
Itoh's character is that she was fired from a pop idol group and is now an extremely driven (and disrespectful, flipping the bird often and sometimes freaking out when she loses) pro wrestler. Her selling and headbutts are amazing, her catchphrase is "Who is the cutest in the world?" and is usually delivered before punching people in the head, and her tag team/pop group is called the Itoh Respect Army. She's also extremely popular in DDT, where she wrestles both men and women, and semi-recently had a killer tag match with Saki Akai against Cassandra Miyaji and the one and only Meiko Satomura, which who she has amazing, screamy chemistry. She doesn't get to her peak big bout craziness in this equivalent of a TV tag match, but you can see part of why she's an increasingly compelling and popular wrestler.
Candice LeRae vs. Joey Ryan, Bar Wrestling 8: Happily Ever After
The only entry on this list I saw in person was Candice LeRae's final indie match before she went off to NXT. LeRae appropriately faces her World's Cutest Tag Team partner Joey Ryan in the main event of his increasingly successful Bar Wrestling promotion's eighth show. In a way, it's a very self-aware match, with Ryan performing as a villain only from bell to bell. However, everything else about it is played completely straight, and the crowd, holding up printouts of LeRae's cupcake logo that a group of fans brought and passed out through the crowd earlier in the show, gets into it. The dick flip, ballsplex, and boobplex are far from shoot style, but the emotion here is real.
WALTER vs. Will Ospreay, OTT Fourth Anniversary Show
The main event of Irishi promotion Over the Top Wrestling's Fourth Anniversary Show is BritWres (as in British Isles, I know Dublin's not in the UK!) at its biggest and best, starting with the very well done, dramatic, and extremely indie wrestling video package. The homegrown Import Killer, inaugural OTT Champion Jordan Devlin, lost his title to the biggest international menace in indie wrestling, Walter, and then effed off to NXT UK. Who can step up and slay the monster? It just might be Will Ospreay, who has so far been able to balance his NJPW duties with representing Britain internationally in other promotions and mostly playing a local hero when he works in the UK and Ireland.
Even if you're not into the story and/or stakes and/or performers, the live audience fully is, which helps elevate the well-executed match to the next level. In the ring, it's a dead-eye brute Goliath against a physically creative David who refuses to stay down. Ospreay and Walter bring out the best in each other here and show why they're two of the biggest wrestling stars to come out of Europe over the past few years.