SummerSlam 2018 has come and gone, and if you're the sort of wrestling fan I am, you've spent as much time thinking about what everyone wore as you have about how the matches went. There were so many good clothes, and new clothes, and yes, some bad clothes that I'm not going to try and cover them all.
I will mention, because I'm sure people will ask, that I for one didn't care for Daniel Bryan's Seahawks gear. That bright green was a bit too much, and Bryan never quite looks like Bryan if he's not wearing red. I thought Ronda Rousey's black gear was the best thing she's worn in the ring so far, but it still wasn't quite up to par (and don't get me started on her makeup).
Anyway, that's enough negativity for now. Let's talk about the best looks, in and out of the ring, at NXT TakeOver Brooklyn and SummerSlam.
Johnny Gargano
Visually, I sometimes think Johnny Gargano's gear is a little too busy, a little too scatter. He wears his nerdy influences on his sleeve perhaps a little too much. However, the thematic resonance of those influences are always spot-on. At TakeOver Brooklyn, for example, Johnny was Spider-Man, being corrupted by the Venom symbiote. Whether you think the evil influence of Venom represents Johnny's former best friend Tommaso Ciampa, or Johnny's own worst impulses that have gotten the better of him since his feud with Ciampa began, the narrative of his corruption and its negative impact on his career is conveyed by this outfit, without making him seem like a chump for wearing it. He seemed like a chump by the end of the match, to be sure, but that's clearly the fault of his most Venomous impulses.
Zelina Vega and Andrade "Cien" Almas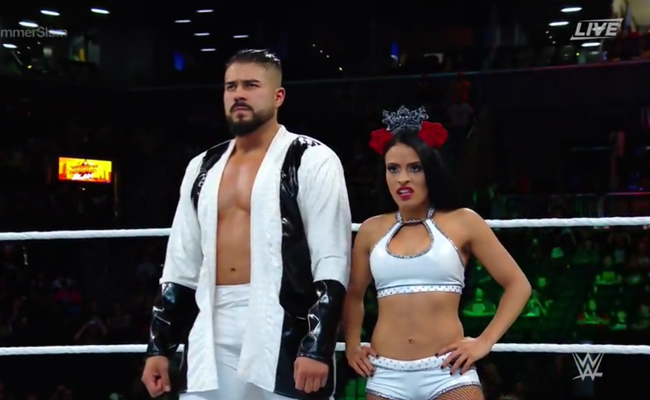 These two always look great, on account of being two of the most attractive people in the world. This was the first time they've tagged together, though, and Zelina observed the occasion by wearing white gear that matches Andrade's usual duds. With the rose-decorated crown she's worn before, it makes her look like royalty, which is entirely appropriate. They're not a couple (which is a nice bit of restraint on WWE's part, by the way), but they're nevertheless the King and Queen of Lucha in these parts.
The New Day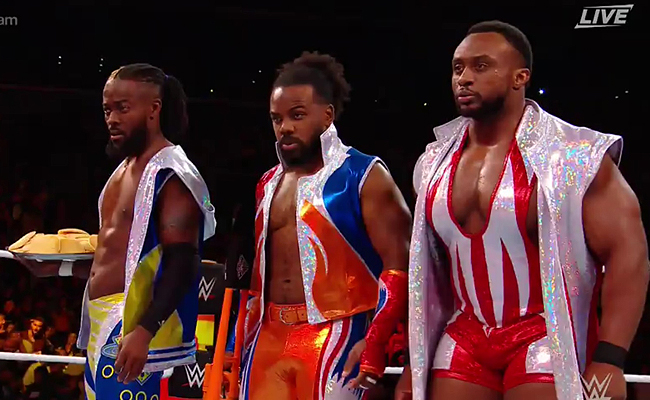 The New Day just about always has new gear for every PPV, and it's always on point. What I like about these outfits is that they go together and share the recognizable New Day aesthetic, but each member has his own color scheme. They're united by that fantastic prismatic silver fabric, but otherwise look very distinct. Kofi is blue and yellow, Xavier is orange and blue, and Big E is red and silver. Even though they were fighting for the SmackDown Tag Team Championships (and may well win them tonight), there's been a lot of talk of the New Day transitioning into more of a faction of singles competitors than a tag team, and these outfits show us what that might look like. It looks great, doesn't it?
Cedric Alexander
I was iffy on Cedric's gear at first. It's just so shiny! That shade of blue is fantastic, though, and the yellow stripes accent it perfectly. Cedric is one of the few guys who takes off his shirt and still has the exact same aesthetic in just his trunks and boots, because his look is always so unified. This is a man who knows almost as much about style as he does about wrestling, and it shoes.
Tommaso Ciampa
The space pirate coat is not new, but it continues to be one of my favorite pieces of entrance gear in the entire company. It makes him look like a sci-fi Captain Ahab, pursuing a prey that now pursues him just as viciously. They grapple to the last, stabbing at each other from Hell's heart, spitting until their last breaths. This is a coat that makes that level of drama believable. The red and white gear Ciampa wears underneath it is great as well. So many heels as nasty as Tommaso adopt a more barbarous look, but aside from his mighty wizard beard, Tommaso's look continues to be meticulous, and that's a great touch.
EC3
EC3 by far wore the least clothes this weekend of anyone on this list, but when you've got a body like his, who needs clothes? Despite having a very recognizable "I'm rich and I'm better than you" character and a love of fine suits when he's not working, EC3 doesn't need an ornate robe for his entrances. His muscles are more intimidating than any amount of fur and feathers could ever be. But what gear he does wear — white with a shadowy black accents and those winglike shapes at his waist — only makes him more ominous an opponent. Needless to say, his haircut's great too. EC3 may be silly sometimes, and that's one of his strengths, but as an opponent he's never laughable.
The Bludgeon Brothers
First of all, the antlers are a great addition to this aesthetic. They add to the sense of inexplicable evil (or at least evil that WWE hasn't put much effort into explaining). The darker, Earthier colors also work a lot better than the bright reds and greens they've worn in the past. Harper and Rowan finally look like monsters that have risen from the swamp, which is what they ought to be. My only objection is to Rowan's mask. It looks too much like a Star Wars Stormtrooper from a distance, and anyway there's no way you can paint a sheep face to look half as intimidating as that terrifying skull Harper wears.
Drake Maverick
Drake Maverick is the only non-wrestler who made the list (although Corey Graves was a runner up), but that green-blue sequined jacket is a thing of beauty. I only wish we'd seen more of him and more of the outfit — are the pants sequined too, or just black? Inquiring minds want to know. It was cool to see the three general managers together on the Pre-Show, and while Paige always looks great and Kurt Angle continues to dress like Kurt Angle, Maverick's singular sense of fashion stole the segment.
Carmella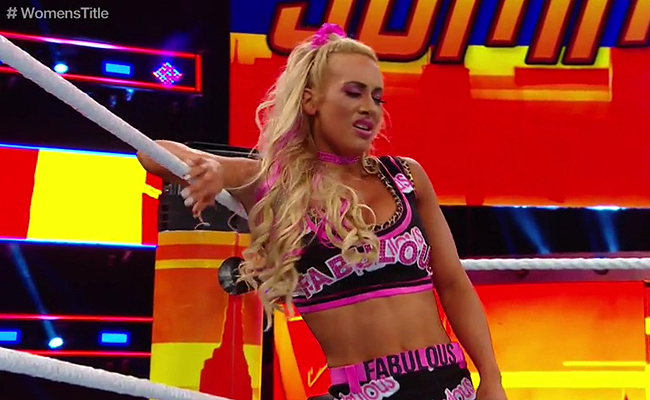 Obviously I've said this before, but the thing about Carmella isn't that her gear is great by being objectively appealing (although it often is). At it's best, Carmella's gear should be way too much. Carmella herself is way too much, and I love when you can tell that by looking at her. Perhaps nothing she's ever worn has been quite as over-the-top as this look, with the Barbie logo lettering, and sometimes other lettering over top it, the hints of leopard print accenting the pink and black color scheme, and even those tearaway pants that she had so much trouble with when she got in the ring. If you think Carmella looks good in this outfit, that's great, and if you think she looks kind of terrible, that's probably what she wants you to think. After all, she is kind of terrible, even if she didn't turn out to be the worst pink-clad monster in this match (but we'll get to her).
Seth Rollins
After entering as the Night's King at WrestleMania, Seth Rollins continues the trend of being a good guy who likes to dress up as the scariest villains in pop culture. This time he's dressed as Thanos, who killed countless people in Avengers: Infinity War. Whereas Thanos wore the golden Infinity Gauntlet on his hand, Seth wore one gold boot, all the better to stomp Dolph Ziggler into oblivion and regain the Intercontinental Championship. Cosplay gear is always a fine line to walk, because it can be so corny if it's off-balance. Fortunately, Seth has a sense of style despite obviously being a bit of a nerd.
Ricochet
Ricochet has worn wings on his long vest before, but I've never gotten a chance to comment on it. For the record, my comment is "Yes." In this age of indie-bred high flyers, not many wrestlers could get away with building their aesthetic around being the guy who can fly. Ricochet is one who can. These particular wings, which have the shape of angel wings with no actual feathers, are exactly the right way for him to go.
Becky Lynch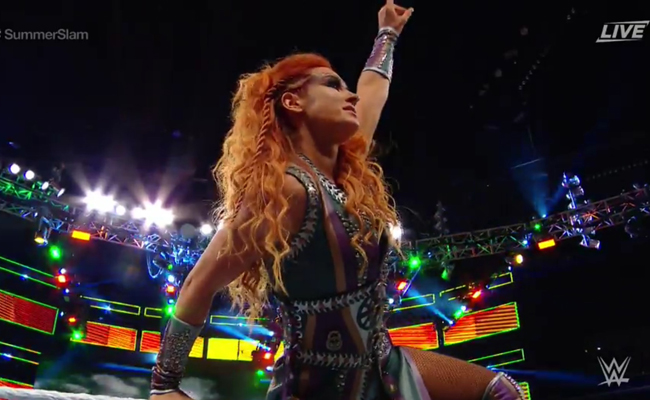 Oh Bex, poor Bex, Charlotte stole this moment from you and I'm glad she got wrecked. The way the night would go wasn't telegraphed by Becky's outfit, which is as it should be. This is the look of a Becky Lynch who has every intention of making this her night. Becky's gear is a weird thing, and often hard to describe. She used to be Steampunk, and maybe still kind of is, but more and more her aesthetic has just been "busy." That didn't change here, for sure, but both her entrance gear and the in-ring outfit under it are so meticulous and symmetrically made, with such an appealing combination of colors, that they overcome the problem so many of her outfits have, and make her look like a proud warrior who knows who she is. Her hairstyle and makeup add a bit of the Celtic barbarian aesthetic, which really brings it all together.
Drew Gulak
Drew's patriotic trunks were great, but it's the robe he came out in that really blew me away. This is a guy who's both an intense well-trained fighter and a smarmy politician, and here he is being both of those things at once. "Gulak: For a better 205 Live" on his back and "Step To Me" on his butt. He's a little Apollo Creed, but he's also a little "that weird guy at a political rally." He's a bit silly and more than a bit intimidating, which is what being Drew Gulak is all about.
Velveteen Dream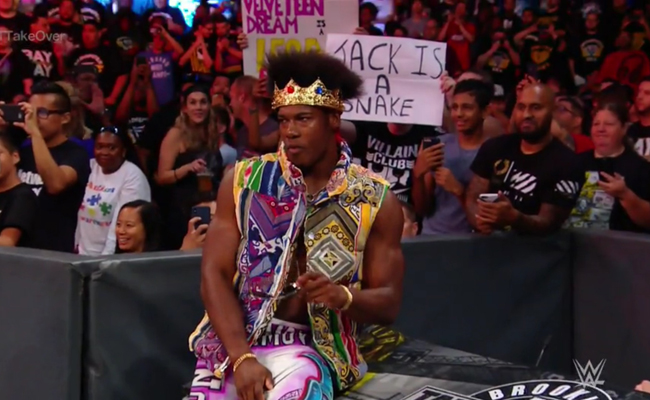 "Call Me Up, Vince" was the part of this outfit that got the most attention. There's a reason for that; it's quite a bold move. Most people glossed over the rest of the look, which paid tribute to the Notorious B.I.G., a man who died before the Velveteen Dream had his second birthday. I'm not bringing Dream's youth to invalidate him or his choice of homage, but instead to highlight just how much history he carries on his back for such a young man. When Patrick Clark first took on this persona, it wasn't entirely clear if he had the style to pull off such a stylish gimmick. With every show and every new look, it becomes increasingly clear that he's as stylish as anybody in wrestling has ever been.
Shayna Baszler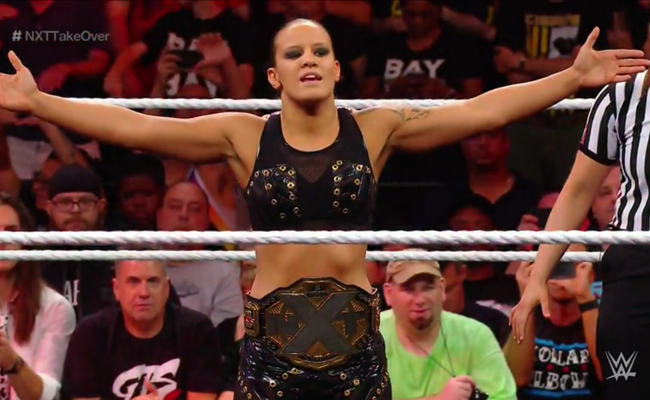 Black. Vinyl. Mesh. Studs. No red. No gold fabric. No pattern of spades except for the big ones cut out from the legs. This is a visual departure for Shayna Baszler, and it's the first time her ring gear has looked as brutal and intimidating as she is. If she shows up on the main roster in this outfit or one like it, even the people who've yet to meet her will understand instantly that she's a force to be reckoned with. Of all the women in WWE, she's perhaps the least concerned with looking feminine, and this outfit pushes her even farther in that direction. There's nothing wrong with being feminine either (witness the following entry on this list), but it's clear that that's not who Shayna is, and thank god she's entered WWE in an era when she's given room to present herself this way.
Charlotte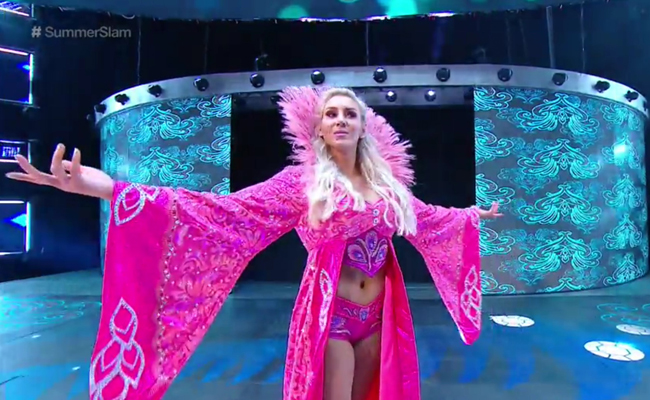 A number of competitors at SummerSlam wore basically their old gear in new colors, and the rest of them didn't make this list. For Charlotte to come out entirely clad in bright pink, however, was a far bolder move than Alexa and AJ in purple or KO with a dash of green. This is the Queen living up to her name and showing the WWE Universe what strength a feminine woman can contain. Interestingly, it also made her look more like Carmella, which made Becky the odd woman out in their Triple Threat, which turned out to be portentous.
Finn Bálor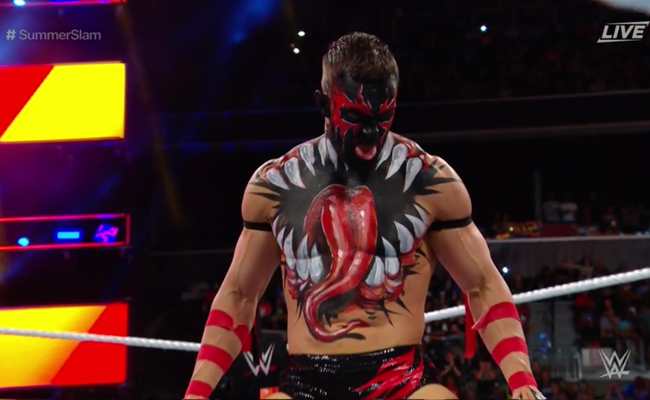 The Demon, who so many fans were disappointed not to see at WrestleMania, picked exactly the right moment to return. And not only that — he's had a bit of a makeover. The more limited body paint on his torso, the Spider-Man 2099 pattern around his eyes, and even the ribbons, all add up to a sleeker Demon, which is reflected in his quick and merciless defeat of Baron Corbin. I don't want the Demon to start showing up all the time (and when he does, it should always be this much of a surprise). When he does show up again, though, I hope he continues to look this good.