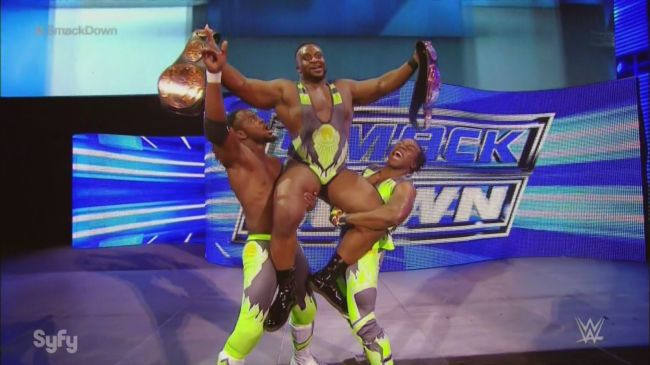 One third of the only redeemable thing about Raw The New Day just celebrated three years on the WWE's main roster. Big E Langston rose from power lifter to NXT powerhouse, then assumed the wholly unglamorous role of bodyguard for AJ Lee. Some bodyguards sit in silence and patiently wait years for their moment to come (ahem, Virgil) and go with little fanfare. Big E was different off the bat and has the social-media presence to prove it. Who would've thought that the future of wrestling is a guy who just wants to make the WWE a little more awkward?
At least once a month I get an urge to run out & ruin a segment I'm not in. Not to do anything funny. Just stand there until I'm thrown out.

— ShinigamE (@WWEBigE) November 29, 2015
Take a look at some of Big E's moment's — hell, in between commercial breaks while slogging through Raw tonight — and celebrate three solid years of Big E doing big things.

On UpUpDownDown
Xavier Woods aka Austin Creed (aka… ah, whatever) just so happens to be a huge videogame mark. On his YouTube gaming channel UpUpDownDown, Woods takes on fellow wrestlers in his Superstar Savepoint videos. The likes of Sasha Banks, Cesaro and Jimmy Uso have all played some seriously legit games. Not Big E, though. He got stuck with Octodad.
On NXT
I could watch Seth Rollins flailing in the arms of Big E for days. Don't mess with a national record-setting power lifter.

As A Bodyguard
Big E really came into his own during the 2013 Royal Rumble with an interview of all things, delivering the type of bravado you'd expect from a cowering Mean Gene Okerlund as he patiently listened to Dolph Ziggler bitch about corruption in the WWE a la Vickie Guerrero. The fact that his mic work was so severely underused until that point makes Big E's interview both a shocking delight and a sign of greatness to come.
With The New Day
First, a celebration of The New Day's one-year anniversary, because we all need more unicorns and way less songs about tractors. Big E is on point in Nashville.

Wrestling With The New Day
The tag team genre (if you will — marks, feel free to suggest better wording) as well as the main product's treatment of divas feels like the McRib of the wrestling world, which makes it really difficult to find the more shining moments of The New Day's tag-team championship run. Their feud with Cesaro and Tyson Kidd, especially their dominating performance at this year's Extreme Rules are everything right about wrestling right now. Bless you, Big E. To three more — wait, five more — years!