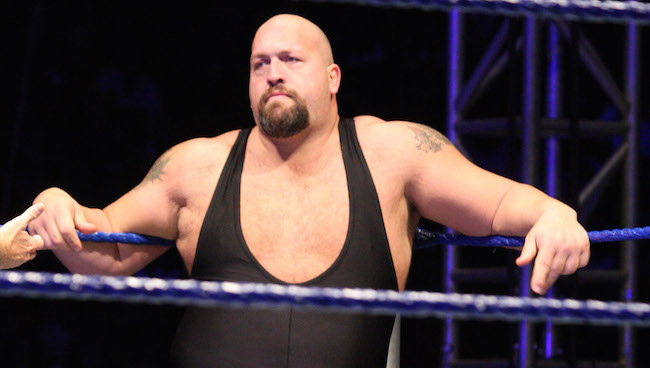 We're rapidly approaching the end of Big Show's storied WWE career as a member of the regular roster, but the world's largest athlete still has some strong feelings and opinions towards WWE and the wrestling business as a whole.
Big Show went on Chris Jericho's "Talk Is Jericho" podcast recently to discuss the tail end of his career, tell some stories, and discuss the current state of wrestling. The conversation was, unsurprisingly considering the two participants, very entertaining, but it also gave us a glimpse into some frustrations Big Show has with WWE at present.
The two most interesting discussions between Big Show and Jericho were about Show's disdain for television events and pay-per-views at this point in his career because he hates the stories he's asked to do, and Big Show's complaint that wrestlers now are too soft. Here, you can listen to Big Show explaining why he prefers the WWE live events to Monday Night Raw and PPV shows at this point, because he actually gets to work in the ring.

I love the live events. I love the Friday, Saturday, Sunday live event shows. I hate TVs. TVs I just want to bash myself in the head with a hammer. Cause they're just long, useless, time-wastin', bullshit days where you sit around all day for some freakin' idea that absolutely sucks. Debating it for hours and 17,000 inputs and one or two guys laced up wrestling boots in their life that know what they're talking about, and the other ones that never laced up a pair and really don't know shit, but for some reason they're telling you what to do. So, and you're just sitting there walking around baffled. We all have that look at TV we walk on baffled going, well why are we doing this?

I like the live events. It's not as crazy. There's not as much BS backstage. It's just me and the guys. I like that part, and I like getting out there and working. I've done a lot of stuff where I just go down, I knock someone out, and I leave. I hate that. I get it. I'm old, I'm beat up. They're trying to help me out and extend me. But I like getting in the ring, like last night…was the most fun I've had in awhile because I got to get in there and tell a story and go to work.

Whether you like my character or not — and most of the shit I've done on TV and pay-per-views I didn't get to pick to do anyways. Don't be mad at me, be mad at the people that book this shit. Getting in the ring and actually working, I love that. I love working. The stuff going on now, there's a lot of change going on. There's a lot of new talent with a lot of new opportunities, and I'm OK with that. They should get the TV time. They should get the pay-per-view time. I'm totally fine with that. Just don't make me come to Mondays when I don't have to do anything. That shit pisses me off. If I'm coming, use me. If I'm not, send me home.

…

Well, I think a lot of that "please retire" stuff too was the fans just really sick with how they were using me on TV. It's tough, you can't quantify it, but our fans are pretty intelligent about what's going on. Sure, they're entertained. But a lot of times they get stuff in their stomach, where, it's not that they don't like the person, they just don't like what's going on. Why are you doing this? This is terrible.
It's interesting to hear that Big Show hates his crappy "go out there and punch someone" storylines as much as the rest of us, but as he and Jericho note later on in the conversation, he's a good hand and goes out there and does what he's asked.
Later in the podcast, Big Show and Jericho opined about the old days when they first came to WWE from WCW, and how they were thrown into the fire. Big Show discussed how difficult the transition was for him and how he regularly got chewed out by Undertaker and Vince McMahon, but how it eventually made him into the best worker he could be. Show lamented that the current crop of young wrestlers get too coddled and can't take "ass chewings" and that it's just how the business works.
Big Show: It seemed like to me, everything I did was wrong. And in essence, yeah everything I did do was wrong until I settled in and got it together and understood. There was too many variables to everything that you're doing. Bump for this guy, don't bump for this guy. Sell for this guy, don't sell for this guy, eat this guy up. Sell like there's no tomorrow for this guy. Be an athlete, don't jump off the top rope. There were so many different things going on. Personally, it attacked the hell out of me and it was very difficult to get over. It's one of those things where you're getting your ass chewed out and you don't know why, but the last thing you can do is ask why because it'll show just how big of an idiot you really are. You just have to nod your head, hope you filter it and go out there and figure it out.

These new kids don't really have that because they're catered to. They get everything explained to them, it gets broken down, they sit down and they watch videos, and if they mess up, they get patted on the back, "well it's OK, this is what you do next time." They can't take an ass-chewing. That's one thing about the new kids, they can't take an ass-chewing because they fold like aluminum foil.

Jericho: It's funny, though, there's someone I'll tell you afterwards right now where everything he does is wrong and Vince is on his case. Which, you've been there. I've been there.

Big Show: That's a rite of passage. If you're on Vince's radar, that means he sees something in you!
First off, I'd love to know who Jericho is talking about in this instance (you can find this conversation around the 46-minute mark of the podcast). Beyond that, it's a common critique we hear across all sports, that modern athletes are too soft and can't handle the hard lessons and hard work of the old days. Big Show and Jericho even talked about how back in the day everyone in the locker room hated each other, compared to now when they're all friends, and it's frightening how similar it is to former NBA stars talking about the 90s compared to now in basketball.
While all of this was very interesting to listen to, the best part of the podcast was Big Show going into his Stone Cold Steve Austin impression during a story about how Stone Cold refused to put him over in a dark match in London despite Vince McMahon's request.
"Goddamn, Vince," Big Show said in his best Stone Cold voice. "These people paid a lot of money to see Stone Cold hit a few stunners, drink a few beers, not do a job to the f***ing Big Show."
The whole podcast is worth a listen, as it includes plenty of great stories and also gives us some insight into the complaints of wrestlers as they enter the twilight of their careers having do deal with WWE creative and the younger generation of superstars.