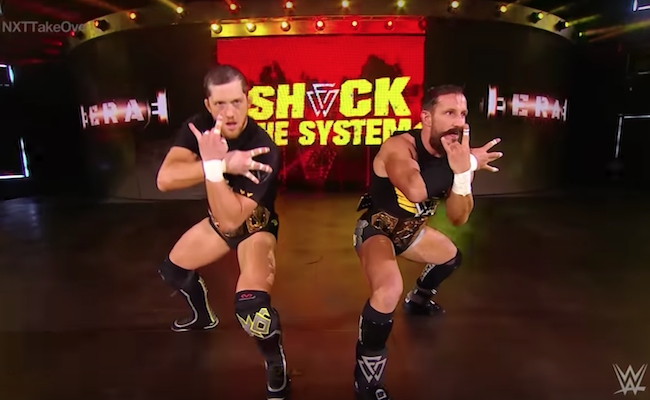 Bobby Fish suffered what appeared to be a knee injury at an NXT house show over the weekend. With NXT TakeOver: New Orleans just a month away, there's some concern over Fish's health and what it means for the NXT tag team division.
According to Dave Meltzer, speaking on Wrestling Observer Radio, Fish blew out his knee and it's "highly unlikely" he wrestles on Wednesday at the next slate of NXT tapings.
Meltzer went on to note if the injury is as bad as it seemed, NXT will likely have two options — crown the winners of the Dusty Rhodes Tag Team Classic as the champs or have the winners battle Adam Cole and Kyle O'Reilly, the only two healthy members of Undisputed Era, for the belts. (Transcript via Wrestling News.)
"Bobby Fish's knee — so this would have been […] in Indianapolis — Bobby Fish blew out his knee. It sounded bad. I haven't heard an update, obviously, he's half of the tag team champions and NXT has TV [tapings] on Wednesday and I would say it's highly unlikely that he's gonna be wrestling by Wednesday."

"Whether [Fish] can wrestle on TakeOver, I mean if the injury is as bad as it seemed that it was and I was led to believe yesterday then he isn't gonna be wrestling TakeOver. But again, today was the day he was gonna be fully diagnosed and I haven't heard anything about that. But if he's not wrestling at TakeOver they have to do something with the tag team titles which would be … I mean your choices are have the winners of the Dusty Rhodes Tag Team Classic be your champions or have the winners of that tournament face Kyle O'Reilly and Adam Cole to determine the new champions. Those seem to be obvious options there could be something else as well. So that will probably be addressed on the first show they tape on Wednesday."
Fish went down, clutching his knee over the weekend in a title defense against Heavy Machinery. The referee threw up the "X", signalling an injury and Cole made a run-in to end the match early.
Hopefully for Undisputed Era if Fish can't go, they go the "Freebird Rule" and handoff Fish's belt to Cole to defend at NXT TakeOver: New Orleans. Cole doesn't exactly have a logical spot on the card right now, with the main event slot firmly decided and the mid-card having really nothing to push him further than his current spot. We should have some clarification on what's next in the coming weeks.