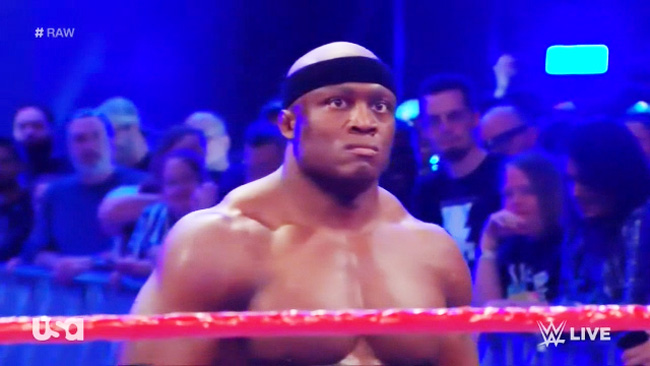 It's the Monday Night Raw after WrestleMania, and that always means plenty of surprises, and there's been no shortage tonight. The latest is the arrival of Bobby Lashley, who has been both an MMA fighter and a major Impact Wrestling star since his previous departure from WWE in 2008. He arrived on Raw by interrupting an Elias performance, and perhaps inevitably, beating the cocky guitarist down.
Seeing him right at this moment was a surprise, but we've been expecting Lashley's arrival for a few months now. He was first rumored to be WWE-bound in December alongside fellow Impact star EC3, who just made his in-ring debut at NXT TakeOver New Orleans. Once we learned that Lashley's Impact contract ended in February, it was really only a matter of time.
Lashley previously signed with WWE in 2004, spending a year in the Ohio Valley developmental territory before debuting on SmackDown in 2005. From there, he also went on to spend time on ECW (the version of that era, that was a WWE brand) and Monday Night Raw. Along the way, he held the ECW Championship and the United States Championship.
He went to TNA/Impact in 2009, but left to spend more time on the indies and working on his MMA career, only to return to Impact in 2014 and stay until this year. As for MMA, Lashley made his debut in 2008 and fought for companies including Strikeforce, Shark Fights, and Bellator MMA. Out of the 17 official fights in his MMA career, Lashley won 15. It's worth noting that Lashley has previously expressed a desire to fight Brock Lesnar. While he did originally mean that in an MMA context, it still seems significant that Brock's stay in WWE has apparently been extended just as Bobby arrives.