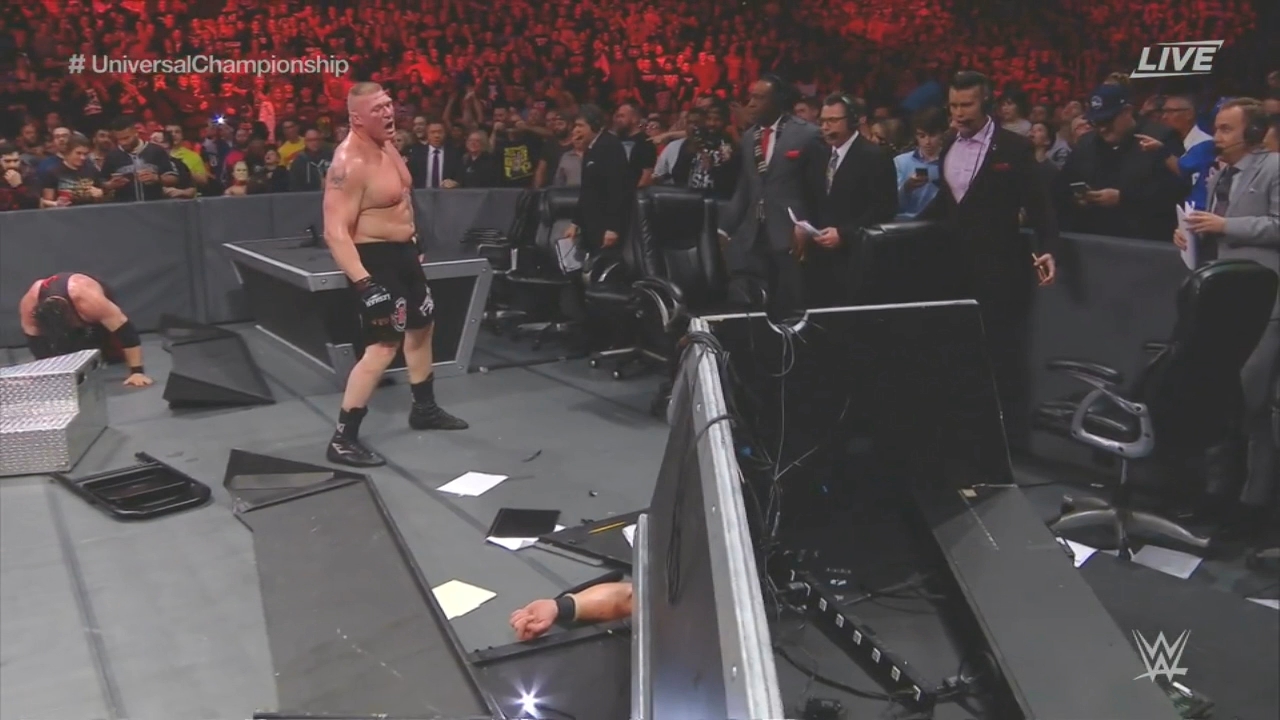 Following a tremendous men's Royal Rumble match (and a snoozer of Raw tag title match) the WWE Universal Championship triple threat match between Brock Lesnar, Kane and Braun Strowman gave us the destruction we crave and more intensity than I think anyone expected.
Lesnar and Strowman together is always a recipe for some awesome spots, but an early shoot knee from Strowman to Lesnar's ear seemed to kick things into high gear.
This clearly pissed Brock off as he immediately responded with a massive punch that rocked Braun.

Later, Strowman sent Lesnar through a table set up in the ring with a huge power slam.
Lesnar then sent Strowman through one of the announce tables with a vicious F-5 as Braun's face bounced off the edge.

Brock wasn't done there, as he flipped the main announce table over onto Strowman and then F-5'd Kane through the final announce table.
Strowman eventually got up and brawled with Lesnar again with Kane breaking them both up with a chair in the ring. After throwing Kane into Strowman to knock him onto the apron, Lesnar hit Kane with an F-5 and pinned him to retain the title. Strowman then yelled in the ring about how Lesnar can't beat him, which would seem to be a perfect set up for a WrestleMania match that would be welcome and they would destroy 87 announce tables in New Orleans.
If you haven't already, listen to this week's McMahonsplaining podcast where we preview the Royal Rumble and talk to Diamond Dallas Page