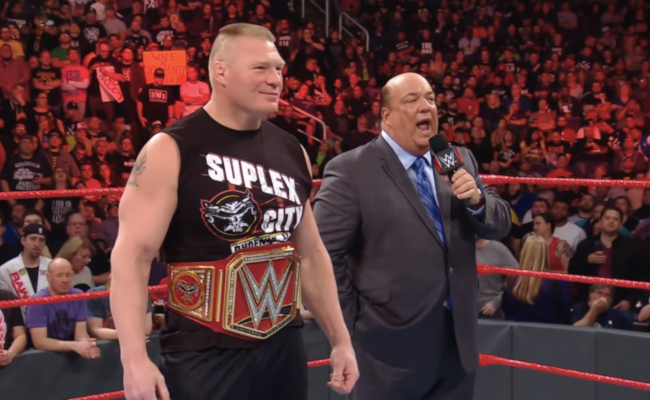 Last year, we were all expecting Brock Lesnar to drop the Universal Championship at WrestleMania 34, with the expectation that he'd leave WWE for UFC, at least for a while. That never exactly happened, and even when he finally did drop the belt at Summerslam, he returned just a few months later to reclaim it, and has held it ever since.
Now that we're on the Road to WrestleMania again, there are new stories emerging about Brock's future and what contract he might sign next. The big different in 2019 is that there's a whole new player on the board. Dave Meltzer at the Wrestling Observer has reported that All Elite Wrestling is interested in Brock Lesnar, particularly because Chris Jericho wants a marquee match with him. Meltzer claims that's why Chris Jericho made a crack about Brock's physique on Twitter after the Royal Rumble, which he later deleted.

Here's more from Meltzer, courtesy of Ringside News:
I believe that Vince will pay anything not to lose Brock because we've seen it with UFC. I think it will be even stronger with AEW. You know Brock's number is so high, but who knows? It'd be a coup.
Let's put it this way, Chris Jericho wants a match with Brock Lesnar and Chris Jericho has a lot of sway. That doesn't mean that a deal's going to be done that's a stupid deal, but who knows?
In a later update (transcript also from Ringside News), Meltzer had a little more to say about Lesnar's future.
You know he got the big offer from Vince. He's gonna do WrestleMania. I fully believe he's gonna do the Saudi show in May and then you know if the contract's… a three-way dance this time.
Paul E is negotiating the biggest three-way dance of his life. AEW, WWE, and UFC all for the same guy. That's an interesting game, isn't it?
Yes, apparently Paul Heyman advocates for Lesnar in real life, not just in kayfabe. Given his own history in the wrestling business, that's not too surprising. And yes, all of this is pretty close to speculation right now, even with Dave Meltzer's input. It's hard to argue, though, that AEW coming in with all that Khan family money really changes the whole landscape of the business.