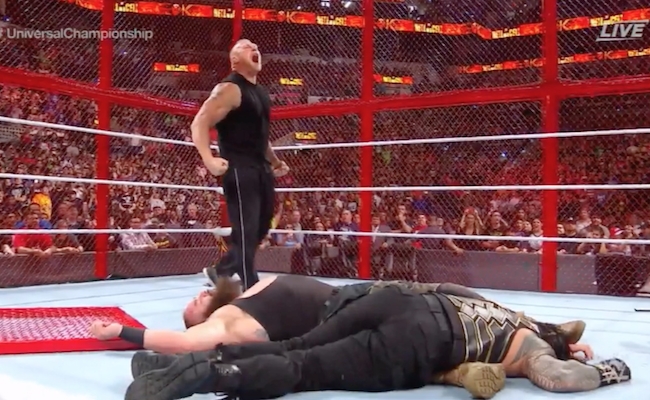 Brock Lesnar hasn't appeared on WWE television since dropping the Universal Championship to Roman Reigns at SummerSlam thanks to a distraction from Braun Strowman. The longest running Universal Champion in the title's brief history didn't even make an appearance on the next night's Raw, as most anticipated, as he began focusing completely on training for a UFC return.
Lesnar won't be able to return to UFC until early 2019, and with him in the USADA testing pool (he's submitted three tests now) few expected him to make his way back into the ring until after his next UFC fight. However, there were reports on Sunday afternoon that Lesnar was backstage at Hell In A Cell.
Sure enough, during the main event, a bearded Lesnar showed up while Reigns and Strowman were going at it to make his presence known, kicking his way into the cell, breaking the chain and ripping the door off the hinges and entered the ring, with the door. Lesnar then beat Reigns and Strowman with broken pieces of a table and hit both with an F5, with Reigns getting F5'd onto Strowman.

Referee Mick Foley was incapacitated by Paul Heyman, who maced Foley, and then a new official came into the ring and called for the bell to be rung, resulting in a no contest. Surely, we'll find out how WWE wants to proceed with regards to Strowman's cash in status of his Money In The Bank briefcase on Raw, but it was at once a surprising and anticlimactic ending.