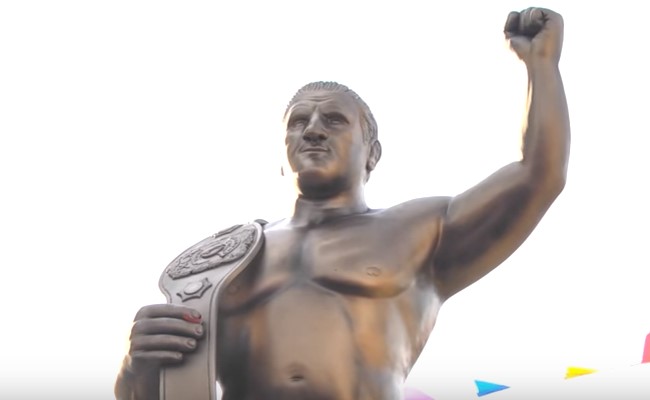 Tributes keep pouring in for the passing of WWE and New York sports great Bruno Sammartino, from nearly everyone who's anyone in the world of professional wrestling to a 10-bell salute before WWE's most recent show in South Africa. Sammartino's influence extended far beyond the world of sports entertainment, however, and Thursday saw two new, big tributes for the Living Legend.
The first is from Madison Square Garden, the building Sammartino famously sold out 187 times (188 if you count his Hall of Fame induction there in 2013). MSG is WWE's unofficial "home" and Bruno and the Garden are practically synonymous, so it's great to see them honoring a "true Garden legend."
Another big tribute came in the form of pop star Bruno Mars, who famously added the "Bruno" to his name because of Sammartino:
An explanation of the name choice and their first meeting, via the Associated Press:
Sammartino heard through friends that Mars, born Peter Gene Hernandez, was nicknamed "Bruno" by his father because he was a "chunky" baby. The wrestling legend – now 81 – was about 275 pounds in his prime and the favorite wrestler of Mars' father …

Sammartino jokingly gave Mars a picture of himself in his wrestling "prime" to prove he was more muscular than chunky, and a replica of his championship belt from what was then known as the World-Wide Wrestling Federation.