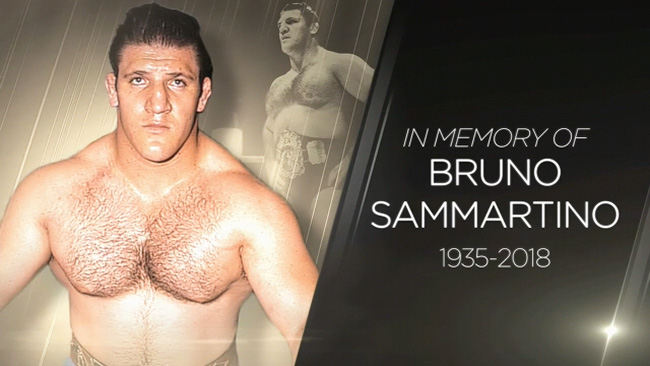 WWE lost one of its most important figures last week with the passing of Bruno Sammartino. WWE opened its first show after Sammartino's passing with a 10-bell salute in South Africa, and Madison Square Garden and Bruno Mars paid tribute as well, but the tributes came to a head on Monday night when WWE Raw aired.
Monday night's episode of Raw opened up with an "in memoriam" graphic for Sammartino. The entire Raw roster then gathered in the arena at the top of the ramp as a 10-bell salute sounded to honor the longest-reigning WWE champion of all time.
And then the world-class WWE video production team presented its multi-minute tribute to one of the greatest in history. We expected something like this would be coming on Raw, and we suspected they would knock it out of the park. We're happy to say that we were right on all counts.
The tribute included hold interview footage with luminaries discussing how important Bruno was, from Vincent J. McMahon to John Cena to Pat Patterson to Roman Reigns and everyone in between. There was video library footage, of course, as well as a bunch of Pro Wrestling Illustrated stock photos, leading with Sammartino wrestling Giant Baba. PWI insider and pro wrestling legend Bill Apter even got a chance to talk about Bruno.
The tributes to Bruno continued throughout the night on Raw, as the show came back from numerous breaks by highlighting Legends and Superstars tweeting about their memories of Sammartino and the impact he had on the business.