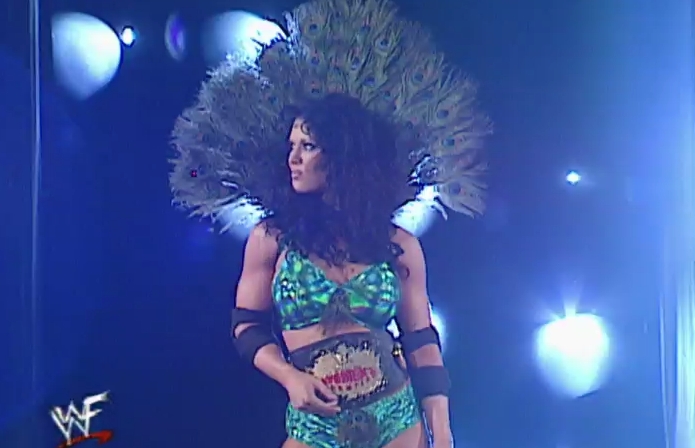 Every death is a tragedy for those who loved the person, but it can compound that tragedy when the circumstances of the death are treated in a lurid and disrespectful way. It's understandable, then, that Jan LaQue, the mother of WWE Hall Of Famer Joanie "Chyna" Laurer, is upset that the cable channel Reelz is devoting an episode of their series Autopsy: The Last Hours Of… to her daughter's death. Whether it helps matters that she's responded by publicly threatening legal action toward all involved, including the actress who plays Chyna, is a separate question. I'm just saying it's understandable that she'd want to find some way to stop it.

Here's what LaQue posted publicly on Facebook:
I wanted to let you know that I just became aware yesterday that there is going to be an episode on Chyna in Autopsy: Last hours of Chyna on Sunday 25th August on Reelz channel (USA channel) and also coming to Channel 5. I am not too happy about this, to say the least. I did not know about this "film" until yesterday, and I didn't know until today that this Kerry Newton is playing my daughter.

The reason for this post is to be very clear that I have not given anyone permission to do this film about her or to use her likeness (which I own legally as her sole beneficiary) by someone playing her. I will be contacting my attorneys tomorrow morning. I will speak to them about several issues: the unlawful use of my daughter's likeness, about grounds for potential defamation of Joanie or me or anyone in her family, the inappropriate release of any private medical records, and the emotional/physical distress this causes me.

Whatever happened in her last hours is just that, supposition and conjecture. Not the truth as no one knows that, not even me. And certainly NOT Kerry and whoever is producing this supposed film. So anyone and everyone connected with this film, including these supposed friends that they interviewed to produce whatever they've produced, needs to be put on notice, warned, and informed that I am going to take legal action on this. And that includes Kerry. And I have informed Kerry publically on her FB page that she need to inform those who have had a part to play in the making of this film.

I don't know why so many people continue to be fascinated with the dark side and end of Joanie's life rather than the positives about her life and pretend that they know the truth about what happened, and have the need to drag me, her mother, and my family through all of this dark conjecture over and over again. For that reason alone, the emotional distress (and therefore physical stress) this causes to me, not to mention not giving anyone clearance to anyone to use her likeness or private medical information, and the need for me to once again have more legal expenses, I am going to take legal action on this first thing in the morning. I have given Kerry my contact information in a separate FB message should she feel the need or want to contact me.
With the episode airing in just a couple of weeks, it seems unlikely that Reelz doesn't already have their legal ducks in a row, regardless of whether LaQue attempts any action or not. Pro Wrestling Sheet reached out to Reelz for comment, and received this statement, which doesn't directly mention Chyna or her mother:
Autopsy: The Last Hours of… responsibly explores the circumstances of the passing of well-known and genuinely loved celebrities who the public cares about immensely. The REELZ series generates much feedback from our viewers ranging from fans who tell us it provides closure, medical professionals who praise its scientific accuracy and many who gain helpful perspective of health issues that might not otherwise receive attention like Karen Carpenter who brought anorexia into the public consciousness and, more recently, with Prince whose passing focused attention on the Opioid epidemic.