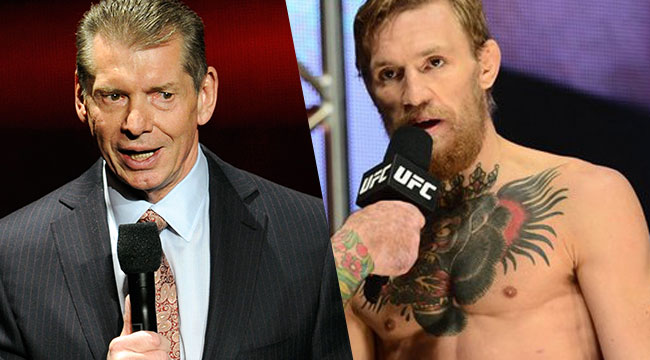 Conor McGregor sent shockwaves (and probable panic attacks) through the UFC world when he announced his retirement on Tuesday. There's a lot of mystery going on as to why McGregor decided to leave, but regardless it all seems to be legit. Immediately after the announcement was made, Twitter sleuths noticed that McGregor had followed pretty much all of WWE's big wigs.
While this is pretty exciting, let's calm it down a bit. McGregor apparently followed Triple H, Stephanie and the others immediately after WrestleMania weekend, so it didn't quite happen right after the retirement announcement. This doesn't close the door on the move, but it's not as immediate as we'd hoped. Conor was even coy about his involvement with 'Mania during the weekend:
There had been rumors of McGregor appearing at 'Mania in a similar position as Rousey did last year, but that never came to pass. Still, he clearly built some sort of relationship with the company and the wrestlers, as Becky Lynch tweeted out an invitation after McGregor's announcement.
Finally McGregor's coach John Kavanagh added fuel to the fire with this Instagram post:
Of course, McGregor has been teasing involvement with WWE for a while now. He had a short spat with Sheamus on Twitter in 2014, even proposing a tag match involving Brock Lesnar:
This all prompted Sheamus to respond for TMZ:
So what does this all mean? Who knows? Whether McGregor is planning a WWE appearance or not, he's certainly playing up to the possibilities and speculation. You could even say he's…kayfabing. See what I did there?