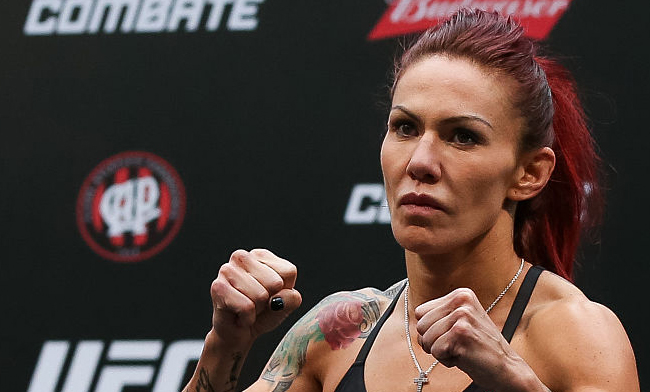 Ronda Rousey has no shortage of women to feud with in the WWE, but it looks like her original nemesis from mixed martial arts wants to horn her way into the action as well. UFC featherweight champion Cris 'Cyborg' Justino and Rousey spent five years throwing barbs at each other through the press, but a superfight between the two never ended up materializing. Now Cyborg is offering to cross over to the WWE to help current Raw Women's Champion Alexa Bliss protect herself from Rousey.
Bliss gained the ire of Rousey by interrupting the soon-to-be UFC Hall of Famer's title match against Nia Jax at the 2018 Money In The Bank pay-per-view. Rousey was seconds away from locking in an armbar and winning the title, only to have Bliss steal the belt with the MITB suitcase she had won earlier that evening. That led to Rousey storming the ring at the next RAW, beating on Bliss and referees so badly that she was given a 30 day suspension.
If Cyborg has her way, Bliss will be ready for Rousey when she returns.
Bliss sounded more than willing to accept her help, adding the hashtag #ChampsHelpingChamps.
While Cyborg showing up ringside with Bliss would be epic, we doubt the WWE is about to include her in a Rousey plotline any time soon. The end of Ronda's career in the UFC seemed to thoroughly sour the former women's bantamweight champion on the sport. Even the slightest mention of her past career as a fighter is enough to put her on the offensive. Rousey and Cyborg's beef back in the day was real and quite nasty at points, and we're sure the general opinion that Rousey 'ducked' Cyborg only makes the subject more sensitive for the hyper-competitive Olympian.
So we're sorry, Alexa. You're probably on your own when Ronda returns to action in July.