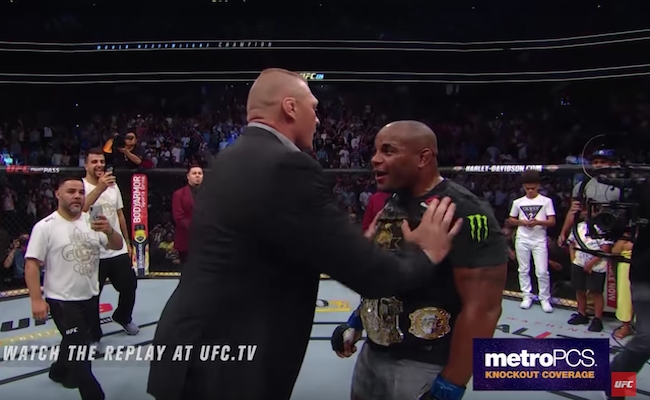 After Daniel Cormier knocked out Stipe Miocic at UFC 226 to become a double champion, Brock Lesnar's return to the organization was thrown into overdrive. The former UFC heavyweight champ and current WWE Universal title holder stormed the Octagon, shoving Cormier and challenging him to a fight.
Lesnar will be eligible to return to the UFC in January, and the longest-reigning world champ in WWE's modern era will almost certainly take full advantage of that opportunity.
Assuming Lesnar doesn't lose his WWE Universal championship at SummerSlam in August, there's a possibility the Beast Incarnate could make his walk to the Octagon with a WWE title around his waist. With the lines effectively blurred between what's real and fake, WWE and UFC have developed an odd partnership in recent months ,and that simply doesn't sit well with die-hard cage-fighting fans.
Ahead of the ESPY awards, Cormier spoke out on the matter of UFC fans vs. WWE fans in an interview with Denise Salcedo with Instinct Culture.
"Everyone is entitled to their opinion. Just because you like one doesn't mean you may not like the other. I think [UFC and WWE] have very passionate fan bases. That's why you see people on one side so mad or people on the other side so mad. [Let's] all just come together and buy the pay-per-view; that's all I want."
Cormier, like the rest of us, could be reading tea leaves here with the idea of "coming together" and buying the pay-per-view. Despite being under contract with WWE, Lesnar returned to the UFC at UFC 200 to beat Mark Hunt before he was popped for a banned substance and had his win vacated. Ronda Rousey, UFC's biggest star, landed on her feet in WWE earlier this year and hasn't looked back since. Even Cain Velasquez was spotted at the WWE Performance Center in the last week.
Whether this is the beginning of a booming partnership between the two organizations or simply a few well-timed coincidences remains to be seen. For now, we'll have to settle with Cormier and Lesnar tangling on the mic, and hopefully eventually in the Octagon.