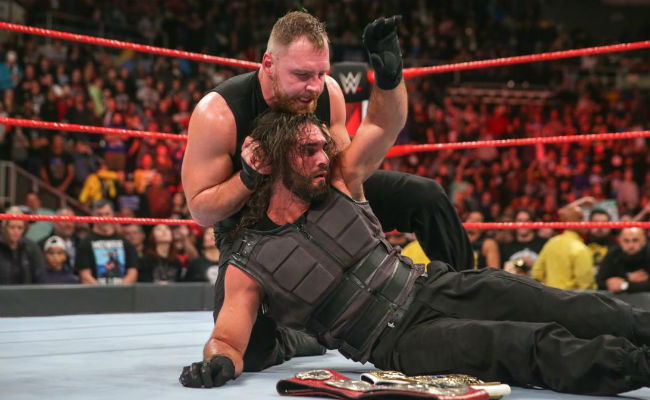 Dean Ambrose wasn't on the card for WWE Survivor Series 2018, but there was widespread fan speculation the Lunatic Fringe would make an appearance on the show. Since his controversial heel turn, the most recent of the many dramatic schisms in the six-year history of the Shield, at the end of the same episode of Raw on which Roman Reigns revealed he would be spending time away from the ring while receiving treatment for leukemia, Ambrose has been hell-bent on attacking Seth Rollins. On the Raw before Survivor Series, Rollins said he hadn't even been able to focus on his upcoming champion vs. champion match against Shinsuke Nakamura due to his desire for answers from his former co-Hound of Justice. Ambrose responded with a fiery promo punctuated by burning his tactical vest, so it seemed unlikely he would just chill out during the Architect's big PPV match.
Commentary mentioned Ambrose during Seth's entrance as a possible distraction for Rollins when he needed to be "laser-focused." However, Rollins was able to pick up the win with a Curb Stomp after a hard-hitting match.
But during a backstage interview, Rollins learned he wouldn't be able to keep his former friend off his mind for long when was told he would be defending his Intercontinental Championship against Ambrose at TLC.
The use of this PPV's namesake foreign objects seems fitting for the most emotionally intense chapter yet in the long-running, on-off Ambrose-Rollins rivalry. We'll see what stipulations, if any, get added to this title match in the weeks to come.