With the Thanksgiving weekend over, we are now on the Road to [Christmas/Hannukah/other winter holidays], and the folks at World Wrestling Entertainment have products to help you integrate your holiday spirit with your wrestling fandom. This year the WWE shop has a new line of "Ugly Holiday Sweatshirts," described as "ultra-festive sweatshirts [that] will make sure you stand out this Holiday season!"
You'd think this would be a home run for WWE, a company that frequently releases unintentionally terrible merch, like that Neville shirt that was the last thing he tweeted about for nearly eleven months before he turned up in Dragon Gate. These sweatshirts should be the most hideous aesthetic abominations of the face of the earth, but when tasked with making shirts actually meant to be ugly, WWE failed upwards and created one of their most wearable clothing lines in recent memory. To be fair, this fits the larger trend of "ugly sweaters" not actually being ugly – if you do a web search for "ugly holiday sweater" you get a lot of normal, wintery sweater results. But does that mean WWE should not be shamed for this screw-up? No, it does not!
In this article, I will rank all fourteen of the Fed's new ugly holiday sweatshirts from worst (least ugly) to best (ugliest.) Any type of stylishness is a downside. Any hesitation I would feel towards wearing the shirt in public to a non-wrestling event due to ugliness or probability I would have to explain that it was a wrestling shirt and the anticipated difficulty of that explanation is a plus. Festiveness to the point that the sweatshirt is so season-specific one can really only wear it during the winter holidays also helps. With the acknowledgment that the light-up aspect of all these sweatshirts makes them all somewhat garish (at least with the lights on; you can turn them off), let's get to the judgment.
14. Ric Flair
Ric Flair might be the wrestler with the most enviable current image in the eye of the general public. "Ric Flair Drip" by 21 Savage, Offset, and Metro Boomin was a huge hit earlier this year, and Flair appeared on The Tonight Show for a performance of the song and in the music video and in Bad Bunny's video for "Chambea." Snoop Dogg appeared in his "30 For 30," Killer Mike showed up to the documentary's premiere, and the Nature Boy played hype man for the 2018 Rolling Loud festival. I could list more things, but you get the picture: Ric Flair is cool. This sweatshirt, with its stylishly retro aesthetic and "Woo!" + limousine + snowflake print is cool. I could see this being sold at Urban Outfitters. That's why it comes in DEAD LAST in this ranking of ugly holiday sweatshirts.
13. Ronda Rousey
Ronda Rousey's shirt is also way too good! The white, red, orange, and yellow color scheme is fairly pleasing to the eye. The "Rowdy" logo and lightning bolts give it a vintage-inspired look in the vein of Thrasher Clothing. Besides the small candy canes, reindeer, and tree graphics, it's not all that obviously festive either. WWE should just replace those with other symbols of some kind and sell this during the rest of the year. This sweatshirt also has mainstream crossover points by being merch for a famous sports star and sometimes movie actress. Someone could conceivably wear this without being a wrestling fan! Terrible.
12. Stone Cold Steve Austin
The combination of Steve Austin being the biggest star in wrestling during wrestling's biggest boom period and Drake wearing a Stone Cold shirt that one time makes his shirts some of the least potentially embarrassing wrestling attire out there. This one has a nice color scheme and could easily be worn just as a dad sweater (Are we still saying Cosby sweater? If so, as a Cosby sweater) during the less festive chilly months. The "What?" chants need to die a swift death, but I think print that says "WHAT?WHAT?WHAT?" is very good. Overall, this is a quality sweatshirt, which makes it a bad ugly holiday sweatshirt.
Discussion question: Is the 3:16 more or less sacrilegious in this context?
11. Razor Ramon
The Razor Ramon holiday sweater and companion beanie are the perfect combination of the current early-nineties fashion comeback and the hipster-ugly sweater trend. I could easily see a rapper wearing this, with Wale and Drake the most obvious candidates.
10. Ultimate Warrior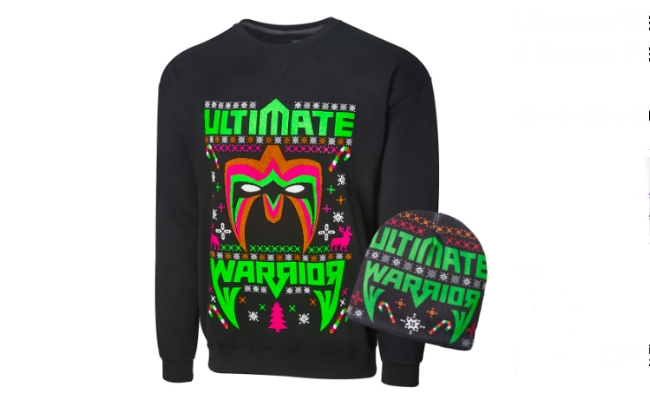 The Ultimate Warrior one is also pretty good and normal! The black and neon color scheme and print that reminds me of Atari game graphics is very geek chic. This sweatshirt is also just barely festive with a few little graphics. Like Rousey's, it could easily be altered a tiny bit and promoted during the rest of the year. I am furious.
9. Finn Balor
Okay, now we're getting into less wearable territory, but this is still the superior clown shirt in this collection. (I HATE THAT I JUST TYPED THAT.)
There are several confusing elements of this item of clothing. First of all, the picture of a top hat on one side of the beanie is insane – it's literally a hat on a hat! This shirt also seems to reference the NXT TakeOver: London Jack the Ripper Demon variant and includes Demon tongues, which look like ribbons at first glance. I think the line of thinking there was Victorian England = festive? And I'm actually unsure if this character is still supposed to be the Jack the Ripper Demon, or if this is, like, Ebenezer Scrooge. Could we possibly see a Scrooge Demon on the Raw before Christmas?
Then we have the red circle over the nose, which at first just looks like a clown nose, and makes this look like a picture of a horror movie Victorian clown. However, upon closer observation, I believe the red over the nose is supposed to be the nose glowing, which makes this the first of THREE confusing Rudolph the Red-Nosed Reindeer references on this list. Basically, this is so nonsensical as a holiday wrestling shirt that it ends up not looking like that at all and looking more like a solid shirt for a metal band. I love it and I hate it.
8. The Undertaker
From the back, this Undertaker shirt also looks like a goth, non-wrestling clothing item. The pattern of tombstones, snowflakes, and urns is fairly pleasing to the eye, as is the color scheme. The giant picture of the Dead Man on the front with his name and the conspicuous WWE logo isn't great-looking, but it's not the worst piece of nostalgia merch or Taker merch I've ever seen.
7. nWo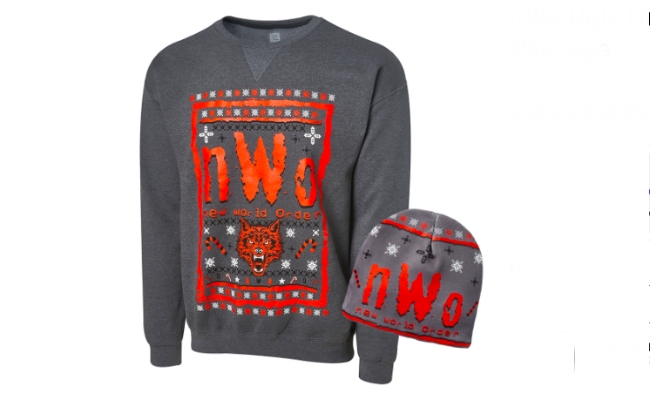 The nWo sweatshirt is another one that benefits from/is hurt in the rankings by being retro and therefore somewhat cool. I'm not a fan of the gray and red color scheme, but I like the wolf flanked by candy canes. Probably the biggest reason to hesitate in buying this shirt or wearing it somewhere unrelated to wrestling is that we're in an age where every crazy conspiracy theory and/or hate group is getting some time in the sun. "New World Order" and/or the wolf having connections to Nazi imagery could definitely result in an uncomfortable "No, no, this is a wrestling thing!" explanation to a vigilant and/or conspiracy-watchdog person. Other than that, this is a pretty good wrestling shirt.
6. AJ Styles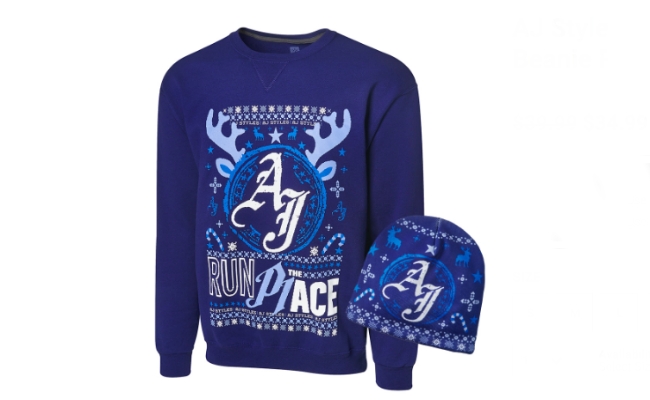 I like the color of this sweatshirt, but it's definitely one you would have to explain. If I didn't know who or what this shirt was for, I think I would assume it was for a sport I'm not that familiar with, most likely hockey. But it's wrestling, actually!
The craziest thing about this shirt is that it seems to insinuate that AJ Styles is the Rudolph the Red-Nosed Reindeer of the WWE (if that isn't already the Demon.) "Run The Place" would be the slogan on a Nike shirt for both this flying mammal and the former WWE Champion. But while this is very dumb, it again is not the worst reindeer reference on this list!
5. Braun Strowman
Braun Strowman's ugly holiday sweatshirt looks like it's for something, but not necessarily wrestling. Possibly a horror movie about a murderous Santa Claus or a gritty origin story about the young, muscular Santa forging his way in the North Pole that I would one million percent watch. I don't like the grey color and I really don't like that the hat is a different shade than the shirt! But I do like that it includes sasquatches, or maybe Abominable Snowmen/Snow Monsters [Among Men] to be more festive. Anyway, this shirt is bad and makes the wearer look like they're too serious or think they're too tough for holiday cheer.
4. Becky Lynch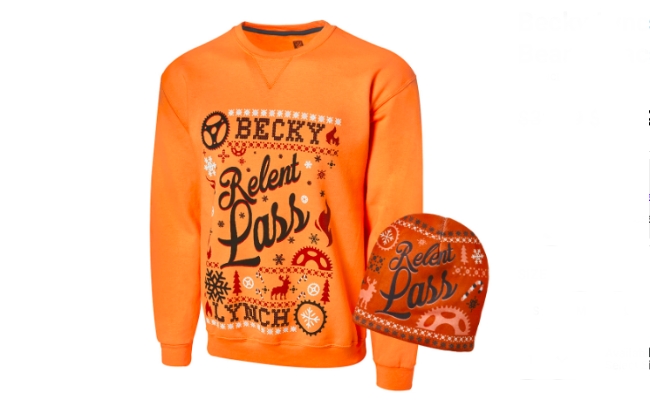 Becky Lynch may be the hottest thing in wrestling, but her ugly holiday sweatshirt is lukewarm garbage. Wearing an all-orange sweatshirt is way too big of a commitment to ask of anyone, even in support of someone who looked that badass with a broken face and a concussion! The combination of little steampunk graphics with fire and seasonal imagery and "Relent Lass" (especially when she's The Man now) is way too busy and confusing. I guess that hat is okay.
3. Eddie Guerrero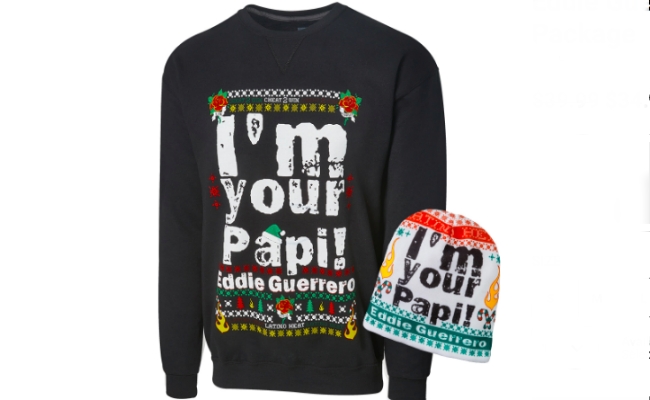 If they had done a holiday sweatshirt version of the Latino Heat shirt (recently worn by Bad Bunny, who has now firmly established himself via music videos to have good taste in wrestlers), this probably would have been cool! But they went with "I'm Your Papi!" so this is very bad! For people unfamiliar with Eddie Guerrero, this seems like a sex thing in the realm of "Female Body Inspector." Another confusing thing this shirt has going is that it's very sneakily festive, like they thought the crossover of Mexican flag colors with Christmas colors would be enough. They couldn't at least lean into the sleaze factor and put some mistletoe on there?
2. Sasha Banks
Stunner shades have very much not come back in style yet, even ironically. "Like a boss" and "legit" are probably to recent of old slang terms too not be embarrassing to wear on a shirt either. If you're not at a wrestling thing, this sweatshirt is super lame. It's also obviously a holiday shirt, but not in a clever or creative way, just with some extra holiday stuff tacked on. Overall, this is a bad shirt for a good wrestler.
1. Alexa Bliss
Most Alexa Bliss shirts are not good. Wearing something that says "Little Miss Bliss," in the majority of cases, makes you look like a pervert if you're a dude and cringey/tryhard if you're a woman. "Your Moment Of Bliss" is sort of better because it's less sexual, but it's also more confusing, even for wrestling fans because she hasn't done one of those segments in a while.
I like the shades of pink and blue here and in theory am down to buy a wrestling shirt with this color scheme, but not this one, which is terrible for many reasons. I think the antlers mean the red nose is a Rudolph thing, but you notice the nose way before you notice the antlers, so this looks like a shirt for a Hot Topic-related clown cartoon at first several glances. The white skull glove hands with nail polish add to this clown plus scene kid from ten years ago vibe. Also, in what world is Alexa Bliss the Rudolph of any WWE women's division? She would clearly be the ringleader of all of the other reindeer who use to laugh and call him names!
So there you have it, this ranking of WWE's new ugly holiday sweatshirts is topped by a sexual clown shirt. Happy holidays!