8 Great is our new, extremely original listicle series where we take a break from our usual snark and/or critical thinking to focus on the positive and list eight of our favorite examples of something great from pro wrestling history. We expect this to be a weekly feature, unless we get three weeks in and run out of nice things to say.
After the success of All Elite Wrestling's first pay-per-view event, Double or Nothing, there's been a renewed discussion about the importance of the Rhodes family and, more specifically, Dustin.
Dustin Rhodes, the first of two wrestling sons from all-time great 'The American Dream' Dusty Rhodes, started wrestling way back in September of 1988. Since then he's been a Natural, a Bizarre One, an Oklahoma preacher, and a world-weary veteran nearly bleeding out in a brother vs. brother battle on the first show of the new promotion that will, hopefully, inject some life into the pro wrestling landscape. He's the kind of story you like to read; a prodigal son who went through dizzying highs and impossible lows and came back to reclaim his birthright.
For the first edition of 8 Great, I thought we'd take a look back at eight Dustin Rhodes matches I love from his 30+ year career. Keep in mind that these aren't really "ranked" as much as in chronological order, and that while "great" is subjective, these are all sincerely great to me. I'll try to explain why as I go along.
Honorable Mentions
Dustin Rhodes and Ricky Steamboat vs. Arn Anderson and Larry Zbyszko – WCW Clash of the Champions XVII and Dustin Rhodes, Barry Windham and Ron Simmons vs. Arn Anderson, Larry Zbyszko, and Bobby Eaton – WCW Clash of the Champions XVIII: Nothing beats a good early '90s WCW tag fest, and Ricky Steamboat as a "mystery partner" bleeding into the formative stages of the Dangerous Alliance is as good as it gets.
Dustin Rhodes, Dusty Rhodes and the Nasty Boys vs. Col. Parker's Stud Stable – Fall Brawl 1994: Not the best War Games match ever, but Dusty and Dustin as honorary Nasty Boys is weird fun, and any feud that involves the best promo in wrestling history deserves a nod.
Goldust vs. Razor Ramon – Royal Rumble 1996: Most of Goldust's early WWF matches were more about the character than the wrestling, and the androgynous Oscar statue going one-on-one with the most macho guy in existence couldn't be a more perfect character match-up.
Goldust vs. Rowdy Roddy Piper – WrestleMania XII: Not really a "good" match by any stretch of the imagination, but something you have to see to believe.
Goldust and Booker T vs. The Dudley Boyz vs. William Regal and Lance Storm vs. Chris Jericho and Christian – Armageddon 2002: Man, look at the talent in that match. I was lucky enough to watch this one live, and it's still my favorite match and memory from this show.
Goldust and Cody Rhodes vs. The Usos vs. The Shield – Hell in a Cell 2013: A total barn-burner that blew away the rest of the pay-per-view. Would've made the list if not for the somehow even better Battleground match.
1. Sting's Squadron vs. The Dangerous Alliance, War Games – WrestleWar '92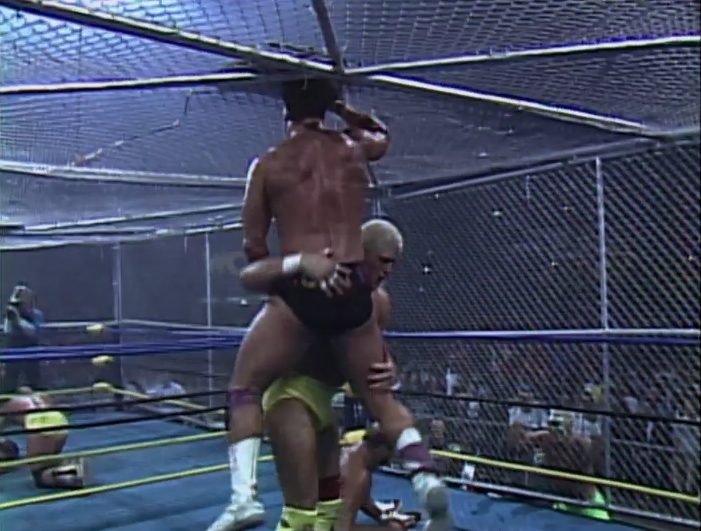 Considered by many to be the greatest single match in WCW history, the best edition of the company (and the company before it's) best match pits Sting's Squadron of Sting, Dustin Rhodes, Barry Windham, Ricky Steamboat, and Nikita Koloff against the Dangerous Alliance of Arn Anderson, Steve Austin, Rick Rude, Bobby Eaton, and Larry Zbyszko. For a match with WAR in its name twice — War Games at WrestleWar '92 — it actually exceeds war-related expectations, managing to be psychologically sound and completely logical, especially in its finish, while still being chaotic and bloody as hell. Pitch-perfect WCW before the mid-90s kicked in and everything changed.
If you check out any of the matches from this list, check out this one. The Dangerous Alliance is best heel faction ever with a ton of future Hall of Famers (Rick Rude, Steve Austin, Arn Anderson, Larry Zbyszko, Michael Hayes, Madusa), and the members who aren't in the Hall of Fame (Paul Heyman, Bobby Eaton) should be.
2. Sting, Brian Pillman and Dustin Rhodes vs. Steve Austin, Rick Rude and Paul Orndorff, Thundercage – SuperBrawl IV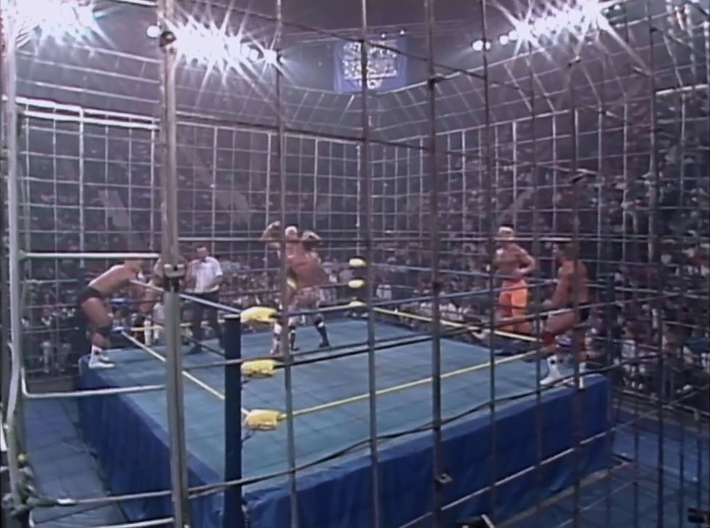 For a WCW cage match full of incredible talent that doesn't end in a bloodbath, check out the "Thundercage" bout from SuperBrawl IV. If you aren't familiar, the "Thundercage" was the great grandfather of Hell in a Cell, as it created the idea of a cage "too big for the ring" that instead surrounded it on the outside, allowing you to fight on the floor. It was originally electrified at the top, but by 1994 it was just a name.
SuperBrawl IV features two Thundercage matches, the first time a wrestling pay-per-view had had TWO cage matches, and the six-man tag is the better of the two. It more or less amounts to a really fun house show match with a weird cage around it, as three of the best babyfaces in WCW history go up against three of the best heels, and bring the crowd along with them. Bonus points for Steve Austin taking a bump off the apron into the cage and sticking his leg through one of the holes, presumably leading to him wearing a knee brace for the rest of his career.
3. Dustin Rhodes vs. Bunkhouse Buck, Bunkhouse Match – Spring Stampede '94
Probably the least seen match on the list, the Bunkhouse match between Dustin Rhodes and Bunkhouse Buck is one of the hidden gems of WCW '94. It starts with Dustin sprinting down WCW's cool old elevated ramp and diving over the top rope to clothesline Buck, and before long Dustin's trying to out-do his Double or Nothing crimson mask 25 years early. Buck is a deeply underrated performer, possibly because he looks like an extra from The Gospel Bill Show, or maybe like the pro wrestling equivalent of Randy Quaid in Christmas Vacation.
If you haven't seen this one, check it out, if only for Colonel Robert Parker nervously running around the ring, waving a handkerchief to "help out" a guy getting punched in the face.
4. Goldust, Ken Shamrock, The Legion of Doom, and Stone Cold Steve Austin vs. The Hart Foundation – In Your House: Canadian Stampede 1997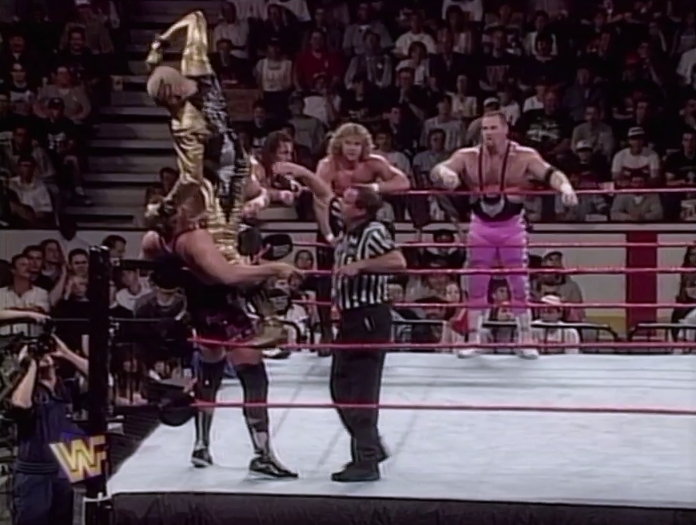 I know you've seen this one. From my old Best and Worst on the event:
This might be, without hyperbole, the greatest sustained reaction to a wrestling match I've ever seen. The crowd is nuclear when the video package ends … By the time Bret Hart's music starts, you can't hear it or Howard Finkel because people are screaming so hard their brains are coming out of their mouth like alien xenomorphs so they can scream twice. When everyone's in the ring, the camera is literally shaking because the crowd reaction is shaking the actual building. It's seriously not hyperbole. It's not "listen to this ovation," it's people so hype about pro wrestling they are causing a giant building to move around.
Canadian Stampede's crowd reaction and the match within it is almost an urban legend at this point, it's so unanimously loved. This might be the under-the-radar choice for the best WWE pay-per-view main event ever, if only for the roar we can still hear in our heads.
5. Goldust vs. Chris Jericho, WWE Superstars (March 4, 2010)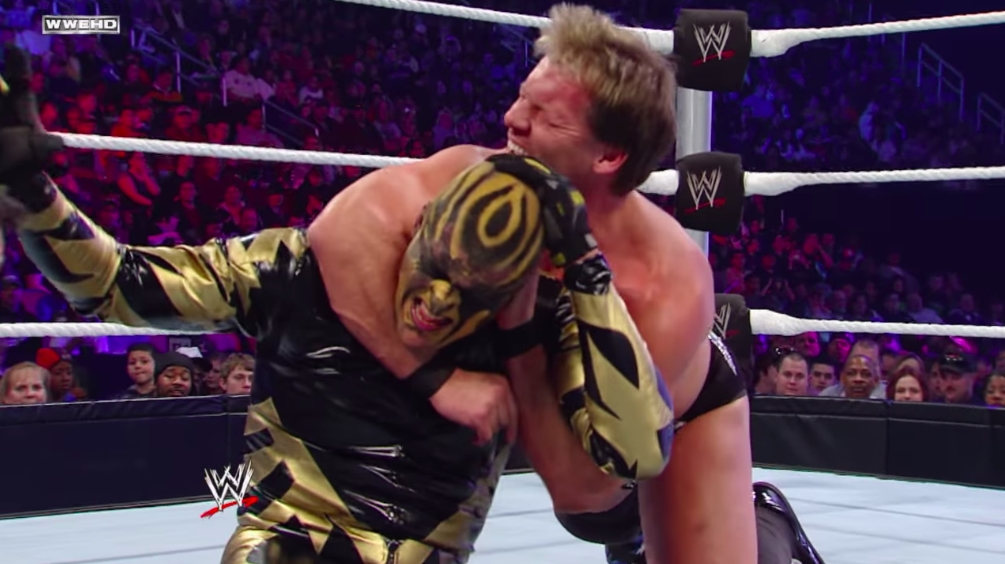 Watch on YouTube here (starts at 36:07).
Another match you might've missed, World Heavyweight Champion Chris Jericho and overlooked, under-card veteran Goldust decide to use the playground of WWE Superstars — a "b-show" without as many people watching, and no major storylines to mess with — to put on a perfect little vet vs. vet, heel vs. face, villain vs. underdog clinic.
Jericho is at his smarmy best here, and Goldust repeatedly shows why he might be better at "firing up" than anyone to ever step in the ring not named "Dusty Rhodes." It's perfect pro wrestling entertainment. It doesn't outstay its welcome, it tells the story it needs to tell, it builds up every ounce of believable drama it can, and it comes to its logical conclusion. Two masters creating a beautiful, minor work.
6. Goldust vs. Randy Orton, WWE Raw (September 9, 2013)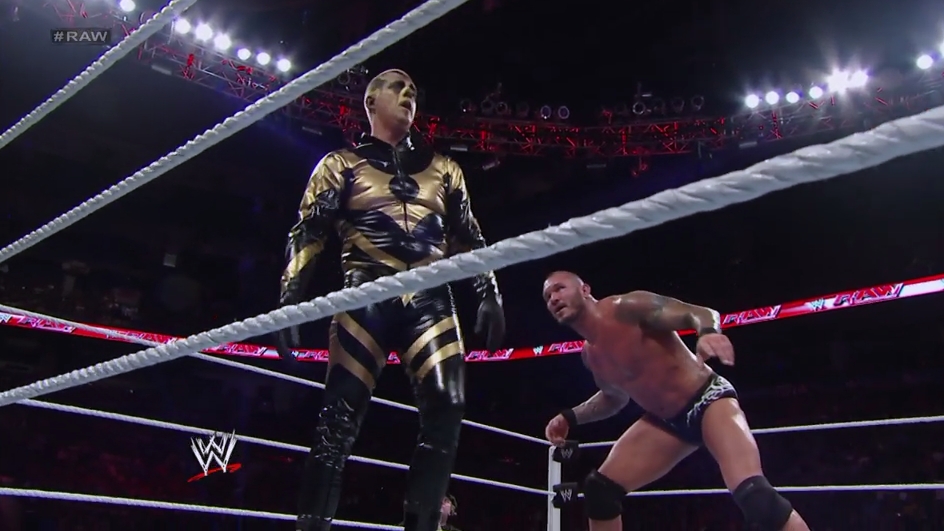 The match that made everyone want to see Goldust back as a full-time performer. Goldie is challenged by Triple H to wrestle Randy Orton, the "ace" of the corporately-mandated Authority WWE. If he wins, a recently fired Cody Rhodes can get his job back. If he can't, the Rhodes boys and the "Rhodes dynasty" can piss off.
What follows is 15 minutes of killer drama and great pro wrestling, with Goldust doing everything he can to show he can still hang with top-level WWE Superstars. Every time you think he's down for the count, he comes back. There's a great nearfall where Orton sets up for an RKO and has it countered into Cody's finish, the Cross Rhodes, that lights the entire building on fire. Goldust doesn't come out on top, unfortunately, but you can't keep a Rhodes down for very long.
7. Goldust and Cody Rhodes vs. The Shield – Battleground 2013
My favorite match of 2013, and one of the best main roster tag team matches ever. It's got everything. The Shield are somewhere between that initial shock of excellence and their prime, peoples' jobs on the line, LEGACIES are on the line (no pun intended), and you get to see Dusty Rhodes, Dustin Rhodes, and Cody Rhodes on screen together, heading into a marquee match with all the grit and gravity you'd want.
Not to mention Dean Ambrose throwing a cowboy hat at bull of the woods Dusty Rhodes and eating a Bionic Elbow for his troubles. It's crazy, the things that make your heart swell.
If you haven't seen this, watch it. If you've seen it, watch it again.
8. Dustin Rhodes vs. Cody – AEW Double Or Nothing
Finally, Dustin's masterpiece. After 30 years in the sport and a nagging belief that he should give up and hang up his boots forever, Dusty's sons stepped into the ring at All Elite Wrestling's first pay-per-view and brought both the house and the tears down with a five-star, blood-soaked dream.
You can read my full thoughts on the match here, but here's an excerpt:
If the original story was about removing paint to find your humanity, the new story became Dustin's blood mixing with the paint. It's not about a person playing a character … it's a deeper, truer story about how the character you play and everything you do is the real you. The mingling of fact and fiction. The paint on your face looking the same as the blood that fuels your body, and losing yourself in where the design stops and the cuts begin. It's everything you've ever needed to know about Dustin. Cody's the confident, handsome one who won't take "good enough" for an answer. Dustin's the weary one who defeated his demons and was left to figure out what remained after so many years of defining himself by his trauma and weakness. They're dramatically different, and yet the same. They both having Dusty's brains. Dusty's lisp. They're brothers, for real, in every understanding of that concept. They've been through hell and are still here to tell about it, so they tell you. Through pretending to punch each other. It's the best part about pro wrestling: the ability to say something with your body that words couldn't. It should be respected alongside dancing, or opera, or acting, or anything else that tries.
The match ends with a callback to The View Never Changes, and, even better, the promise of more Dustin matches in the future. In front of God, and the whole world.
So there you have it. Those are eight great Dustin Rhodes matches I love.
If there are any I missed or forgot to mention, or if you have any thoughts on the ones I did include, drop down into our comments section and let us know. Also, let us know if you dig the column concept and want to see more. You can even suggest future topics, if you'd like. Positivity in pro wrestling is hard sometimes, but some performers make it easy.