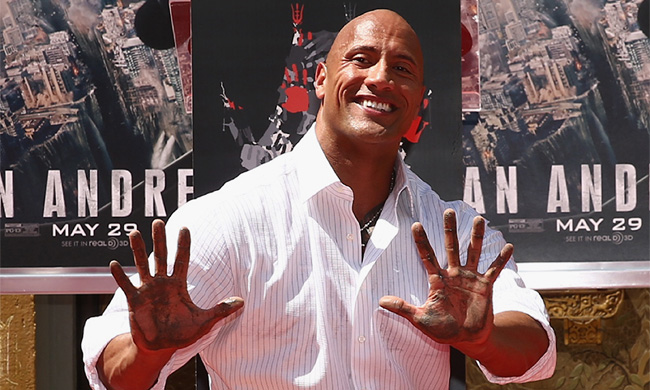 Dwayne "The Rock" Johnson has officially cemented his legacy. Well, OK, the billions he's generated at the box office is his real legacy, but I'm not one to neglect a perfectly serviceable hacky pun.
Yes, The Rock has immortalized his hand and footprints outside the historic TCL Chinese Theatre in Hollywood. This is actually a much more exclusive club than the Hollywood Walk of Fame – the Walk has nearly 2,500 names on it, while the Chinese Theater only has around 200 celebrity handprints. It's not a perfectly curated collection — The Rock joins such luminaries as Taylor Lautner and Herbie the Love Bug (he imprinted his tires) — but for the most part it's a pretty solid list of names of which to be part.
A proud mom and dad. 
The Rock, always on the lookout for opportunities to embarrass his teenage daughter. 
The Rock, never not hustling, used his acceptance speech to thank Steven Spielberg…
Dang. Considering all the money Rock has made starring in schlock like the Fast & Furious movies and G.I. Joe, imagine how obscene things are going to get once he starts working with Spielberg. Indiana Johnson: Rock Bottomer of the Lost Ark, here we come.
(Via Wrestling Inc. and Reuters)