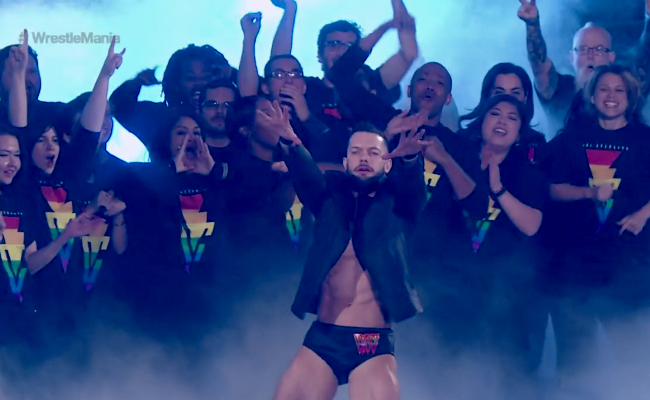 One of the most discussed non-match elements of last year's WrestleMania 34 was Finn Bálor's entrance, in which he revealed the new LGBTQ Pride-themed version of his gear and the Bálor Club logo, as he was joined on the stage by a joyful crowd who were introduced as members of the New Orleans LGBTQ community.
In a new interview with Inside the Ropes, Finn talked about how much effort it took before WWE let him do the entrance, and which McMahon ultimately cleared the way.

That was something I honestly believed in for a very long time, and I had pitched, and pitched, and pitched to a lot of different departments in WWE and it had been shot down, and shot down, and shot down, and it wasn't until Stephanie [McMahon] got wind of the idea that it all started to fall in to place. It's easier for a message to come down the line of command than it is to go up the line of command.
Finn repeated himself a bit as he went on to discuss how well the timing ended up working out.
That was something I've believed in for a very long time, and obviously, the way it worked out, it was perfect timing that it just happened to be the biggest match of my career that I got to launch it. I think it was meant to be, I'm a big believer in the universe and everything kinda working out exactly the way the way it was supposed to be. I'm sure if I had that idea like a year before, it would have been on RAW or a house show, or something, and me doing it at WrestleMania is even cooler.

If it was that hard for them to allow just a pride-themed entrance, that probably explains why WWE is still nowhere near the inclusion of LGBT characters that Stephanie McMahon promised almost two and a half years ago. At least Stephanie, who made that promise, halfway backed it up by supporting Finn in this story, even if he was the one taking all the initiative.
You can watch the full interview below, and thanks to WrestlingInc for the transcript.