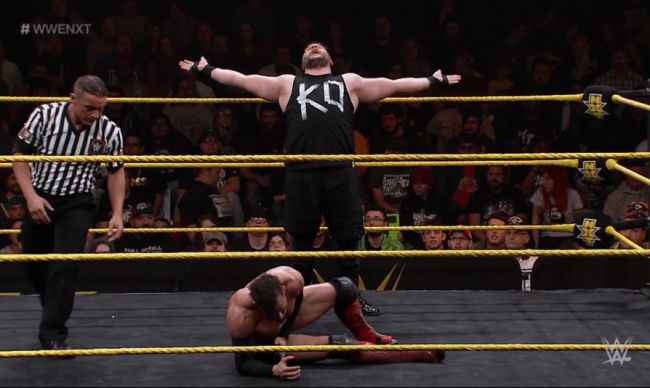 Not far back, we learned that WWE planned on pulling out all the stops on their mini-tour of Japan later this summer. Finn Bálor will be taking on Chris Jericho, and Brock Lesnar is being advertised for a match against Kofi Kingston (of all people) in the world-famous Ryōgoku Sumo Hall. So, while it's a bad time to be New Day's jumpiest member, it's a pretty great time to be Bálor. Not only does he get a dream match against Jericho, but it was just announced yesterday that NXT's resident demon summoner will receive a title shot on July 4 in Japan against Kevin Owens, live on the WWE Network. Proud NXT den father Triple H was quick to put the news on Twitter:
As if that wasn't enough, check out the official WWE website acknowledging Bálor's past life in Japan:
Though Owens defeated Bálor in their last encounter, Bálor has a bit of a home field advantage in Japan. He competed there for nearly a decade, starting as a young student sweeping the dojo floors and leaving a highly decorated champion. Plus, Bálor promised that Owens won't be facing the same Superstar he stepped in the ring with in March, stating that the reigning NXT Champion will come face to face with a demon in Japan.
So, there's another surreal thing that transpired in the world of wrestling this year: WWE is publicly talking about Bálor's journey from being a New Japan youngboy to ruling the junior heavyweight division as Prince Devitt. I still have a few questions, though. Is the rest of the card being shown, or just the title match? Will we see a throwback bodypaint design? And most importantly, will there be interference from the Bullet Club? I'm just saying, Kenny Omega could start global brand warfare if he jumped ship to NXT.