WWE Extreme Rules 2016 airs this Sunday, May 22, live on WWE Network and pay-per-view. The show is headlined by an Extreme Rules match (who'd have thunk it) between Roman Reigns and AJ Styles for the WWE World Heavyweight Championship. The card also features a fatal four-way for the Intercontinental Championship, a submission match for the WWE Women's Championship, and the first ever "Asylum match."
Here's the card as we know it.
WWE Extreme Rules 2016 Card:
1. Extreme Rules Match for the WWE World Heavyweight Championship: Roman Reigns (c) vs. AJ Styles

2. Asylum Match: Dean Ambrose vs. Chris Jericho

3. Fatal Fourway for the Intercontinental Championship: The Miz (c) vs. Cesaro vs. Kevin Owens vs. Sami Zayn

4. Submission Match for the WWE Women's Championship: Charlotte (c) vs. Natalya

5. United States Championship Match: Kalisto (c) vs. Rusev

6. WWE Tag Team Championship Match: The New Day (c) vs. The Vaudevillains

7. Baron Corbin vs. Dolph Ziggler

8. Tag Team Tornado Match: The Usos vs. The Club
As always, here's our full analysis and our legally-binding predictions for what we think will happen. We're always right, except when we're horribly, horribly wrong. Be sure to drop down into our comments section and let us know what you think will go down on the show, especially when it relates to someone getting mopped in the Asylum match.
Tag Team Tornado Match: The Usos vs. The Club
What Should Happen: All hell should break loose somewhere in the middle when Luke Gallows and Jimmy Uso fight to the back. Teddy Long shows up and turns this into a SINGLES MATCH, PLAYA. No, what actually should've probably happened is when shouldn't have done this as a pay-per-view match, because (1) we've done it a dozen times already in different forms, which is crazy because Anderson and Gallows haven't even been around that long, and (2) we could've just folded it into the main event.
What Will Happen: The Club got straight-up pinned on Raw, so this'll be a nice chance for them to get back their win on a platform people are actually watching, and not "the middle of a Smackdown." I'd love if this was an excuse to add another member to the Club, but I won't hold my breath.
Staff Picks
Note: This match hadn't been announced at the time of predictions. Sorry! Pretend everyone else picked the Usos.
Dolph Ziggler vs. Baron Corbin
What Should Happen: Dolph Ziggler is only allowed to wrestle one person on loop for 2-3 month periods, apparently. Dolph got the win at Payback and Corbin got a win on Raw, so this is the rubber match. I say "rubber match" because the finish here should be Corbin End Of Days'ing Ziggler so hard it actually turns him into rubber and he bounces out of the arena.
What Will Happen: All logical booking says Corbin should win the match and the feud, because he's got the most to lose. He's a new guy, he's gotta look like as much of a monster as he can for as long as he can, and Ziggler's lost to everybody on Earth 2,500 times. WWE booking says, "because of all that, Dolph Ziggler wins." I'm going to be a good Lone Wolf fanboy and pick the homie Baron Corbin for the win, hopefully with authority.
Staff Picks
Joe Starr – Corbin big boots the bleach out of Ziggler's hair, Scott Pilgrim style. Ziggler joins Miz's Marauders and has bumping contests with Heath Slater.
Ross Bentley – Corbin needs a strong win here and I think he'll get one. On one hand, it's nice that they got him back on the card by making this match, but on the other hand, they probably should have had something else written down on the whiteboard besides "Feud with Dolph Ziggler for 11 months" before they called him up from NXT.
Justin Donaldson – I think Corbin finally gets his big match win, but it's still not a full victory because there's that asterisk that he had to use the no DQ stipulation to beat him.
Austin Heiberg – Corbin should do a thing where every time he's not on the main card, he just whomps on Ziggler with no remorse on the pre-show. Ziggler needs to be crawling into Shane and Stephanie's office saying "FOR GOD'S SAKE, PUSH HIM." Lone Wolf for the win.
David D. – I mean. Okay. Baron Corbin wins the rubbery rubbery match. Then hopefully they move on. Maybe Crews steps into this feud somehow
Danielle Matheson – I can only assume these two are still fighting because who has the cooler denim vest hasn't been settled yet. Corbin should have the edge because his fits properly and doesn't look like a teen girl's hair metal sticker book. On the other hand, a very good portion of my wardrobe looks like a teen girl's hair metal sticker book, so I might be biased. Corbin looks like every guy at a Motley Crue concert dismayed that his girl wants to sit on his shoulders and flash the band. Dolph would definitely flash the band his Ziggler. Based on this very scientific reasoning, I think Dolph Ziggler will win and I will spend the next few minutes skipping prediction writing and watching Motley Crue videos.
Tag Team Championship Match: The New Day vs. The Vaudevillains
What Should Happen: You've gotta wonder if this was the original match plan all along, or if Enzo Amore's injury threw a wrench into plans. Regardless, a team that never seemed like much of a threat for the NXT Tag Team Championships (even when they were champions) is getting a shot at the WWE tag straps almost as soon as they make it to the main roster.
I feel like it's time to freshen up New Day a little, or at least give them some kind of motivation beyond "now it's time for US to talk," so I'd give the win to the Villains. Why not? The tag division could be really great if we put the focus back on everyone wanting the tag titles.
What Will Happen: I'm gonna be bold and actually pick a Vaudevillains win here. New Day needs a jolt to keep them from getting stale, and the Vaudevillains are a great utility for transition. Plus, it's a good idea to put the tag title on every NXT tag team you bring up over the next year or two so they can get title reigns before American Alpha gets brought up and holds them for infinity.
I really hope this match features them fighting into the New Day's time machine, and the fight actually reverting to olden times. Give me that black and white filter and matches ending on bodyslams and dropkicks!
Staff Picks
Joe Starr – The Villains would have a lot more heat right now if they had cost Enzo and Cass that #1 Contenders match in a story time pretend way and not a horrible real way, but they're my pick to win this thing. Give the throwbacks the titles and let them tear the house down with, let's say, Sami Zayn and Kevin Owens who have been forced to team together in the midst of hashing out that Disney trip thing that happened that one time. New Day can beef with the Shining Stars. Fun fact: I am the only person in the world who likes the Shining Stars.
Ross Bentley – New Day seem like their ripe for the picking. Our unicorn friends have been the champs forever and them losing the straps and being forced to be the chasers again might give them back a little bit of the edge that they've lost since their face turn. Still, I'm not sure The Vaudevillains are at that level yet, so I'm picking a New Day win.
Justin Donaldson – The New Day have hit the point where they're bigger than the belts. It's time to give someone else the rub, and nobody's more perfect for it than The Vaudevillains. I think The Vaudevillains win and they do some old school heel cheating to steal away the belts. How badly do you want to see Enzo & Cass beat The Vaudevillains for the championship in Brooklyn?
Austin Heiberg – In the interest of Extreme Rules, this should be a Temporal Displacement match, where the losers get stuffed in Xavier's time machine and left in an alternate dystopian timeline like Peter's lady-friend from the throwaway season of Heroes. In any event, I've got the New Day.
David D. – The Vaudevillians have looked pretty strong since getting called up. I wonder if they capitalize on the Enzo injury by having them fake injure a member of New Day before someone else steps in and they have a full tag match. Either way, New Day wins.
Danielle Matheson – If the New Day doesn't win, the Vaudevillains could become their own fathers because time travel is scary and confusing and not to be messed with.
United States Championship Match: Kalisto (c) vs. Rusev
What Should Happen: Kalisto is great, but it's time for this wet fart U.S. title reign to be over. Rusev wins, possibly eats Kalisto's heart, and holds the belt from however many days there are between Sunday and Memorial Day. So … 8 days.
What Will Happen: Yep, it's time for Big Match John to return, and if you don't want to completely throw the Roman Reigns Experiment in the garbage, you gotta get that secondary championship back on Cena. Let Rusev murk Kalisto and get a little shine before Cena rides the figurative tank of inevitability into the arena.
Staff Picks
Joe Starr – Honestly, I'd like the answer to all of these matches to be 'Rusev.' I want him to walk out of Extreme Rules with every title. The dude needs this. WWE has been screwing up a sure thing ever since he lost to Cena at Mania, and it's time to rectify that mistake and give Rusev the United States Championship. Let him return to the days of being a world eating, dropkick throwing, wrecking machine with Lana in his corner so that he can lose the title again to John Cena on Memorial Day.
Ross Bentley – Rusev wins with the help of Lana and has a glorious one-week title run until Big Match John takes it from him on Memorial Day (how appropriate).
Justin Donaldson – I think this is going to be a really good match. I hope it has some time and doesn't end up getting bumped to the pre-show. I feel like Rusev wins the belt so Cena can show up and challenge him for it on Memorial Day, for all the service men who've passed, Jack. This leaves Kalisto back with Sin Cara so the Lucha Dragons can wrestle the Shining Stars in six matches over four weeks.
Austin Heiberg – Here's an idea — have Rusev win the title here, then have John Cena just annihilate Rusev on Memorial Day for the belt. Another summer of U.S. Open challenges, please and thank you.
David D. – I really hope Rusev wins. He's lost weight and looks like a million bucks. His matches have gotten better. He's hilarious. Lana is fly again. Give this man the belt.
Danielle Matheson – Rusev says he's going to eat Kalisto's heart, and if anyone is gonna recreate this in a WWE ring, it's Rusev.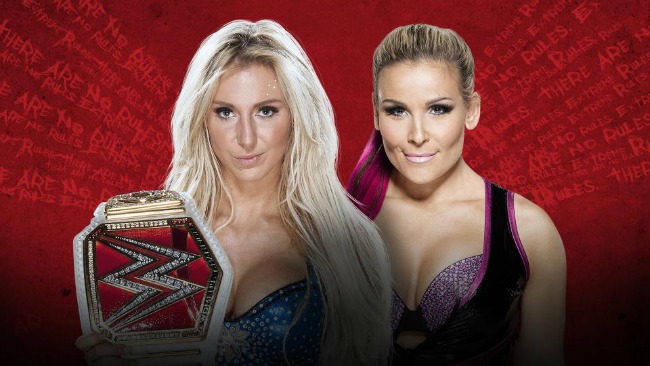 Submission Match for the WWE Women's Championship: Charlotte (c) vs. Natalya
What Should Happen: There's no way you take the belt of Charlotte, even for a moment, before doing Charlotte vs. Sasha Banks. I don't care how happy Natalya looks holding it. Charlotte should get a strong win without the help of her dad to establish that she can do it, and make it that much worse when he helps her the next time.
What Will Happen: Yeah, you can't switch the title here. Charlotte's gotta win. She's got too much left to do for her entire first championship reign (with this version of the title, I mean) to be "Natalya matches."
If they DO play with the "Ric Flair shows up, Charlotte gets stripped of the Championship" thing, I want them to do it to benefit Charlotte. Now would be a great time to bring in a Four Horsewoman group to back her up and replace Flair as her go-to form of cheating, right? Hell, throw Sasha in the group and spend the summer letting us know it's all a plan to get the belt at SummerSlam.
Staff Picks
Joe Starr – Going to go against the grain here and say that after a fantastic match, Natalya wins the title. The important thing to remember about the new Women's Division is that Sasha Banks isn't the only woman in it. She's the future and she's incredible, but Natalya has earned this spot. She's been Khali's valet and she's farted a bunch and she deserves to walk into SummerSlam with the title.
And then lose it to Sasha Banks.
Ross Bentley – Charlotte has to win this. The storyline has made her look like she needs Flair's (or Charles Robinson's) help to win matches against Natalya, (who may I remind you once had a farting gimmick) and that's not the role she should be playing. Charlotte's genetically superior, remember? She should be bulldozing through every woman on the roster (except Sasha Banks) with or without her dad's antics. Hopefully she gets back on the right track here with a strong win.
Justin Donaldson – There's two ways this could go. Either Charlotte proves she doesn't need her dad to cheat for her to win because she can cheat all by herself to beat Natalya, or Charlotte proves she doesn't need her dad to cheat for her to win and successfully outwrestles Natalya. Either way, Charlotte leaves as champ.
Austin Heiberg – I think I'd really like a Natalya title reign. Honestly, I would! But, I don't think it's happening here. This is about stacking the odds against Charlotte and still having her come out on top, I think.
David D. – It's pretty clear that they're building for a Charlotte/Sasha Banks SummerSlam match, so it's a foregone conclusion that Charlotte is winning. I wonder, though, if she beats Nattie up so bad that Flair tried to stop her and we get Charlotte turning on her dad and becoming a vicious heel in the process.
Danielle Matheson – Charlotte should win simply for being the only one to read the contract before she signs it. Extreme Rules? Naw, man. LITERACY RULES. This prediction sponsored by the American Library Association.
Fatal Four-Way for the Intercontinental Championship: The Miz (c) vs. Cesaro vs. Sami Zayn vs. Kevin Owens
What Should Happen: As much as I'd like to see the IC title go to Sami Zayn or back to Kevin Owens to further their eternal thing, this is where you have to pull the trigger and give the win to Cesaro. He needs it more than anyone in the match, and he deserves it. If we're fantasy booking it, you have him pin Zayn. That way you've not only got Zayn working for the next however long to re-earn Cesaro's respect and try to take the belt from him, but you've got Kevin Owens forever blaming Zayn for costing him another title.
What Will Happen: Something close to that, I hope. There aren't a lot of bad calls here, besides "keep the belt on Miz and do this same feud for the next month." Any of the challengers are a step in a great direction. Even giving the belt back to Owens is great, because Cena coming back would put the fear of God in him.
Staff Picks
Joe Starr – Of the four, Cesaro and Miz are the only two guys here who need that title. Owens and Zayn are going to Owens and Zayn the hell out of each other until the sun days (so six more years), but Miz needs a title to match his Maryse and fans need Cesaro to have some tangible proof around his waist that the company isn't going to keep wasting him. Cesaro wins, Owens and Zayn move on to rehash something that happened on a Disney trip one time, and Miz picks up the tattered remains of the Social Outcasts and renames them the Miz Marauders.
Ross Bentley – The toughest call of the night, but I'm going with Zayn here. I'm still of the belief that he needs a signature main roster win and he didn't get it at Payback, so now feels like the time. Miz was always a placeholder champion, but I thought he was holding it for Cesaro. Now, I'm not so sure. I think Sami is going to take this one which of course will lead to a wonderful Kevin Owens reaction GIF.
Justin Donaldson – I think Cesaro wins and he pins Sami Zayn. The Miz gets his IC return match next month and Owens and Zayn are off to fight for the briefcase.
Austin Heiberg – I see no reason to keep the title on Miz here, but WOW do we have a wealth of contenders here. I think Owens and Zayn are going to be so hell-bent on destroying each other that Cesaro will capitalize and become the new champion here.
David D. – This one is really hard to call. It'll be great and I'm happy that Miz will be in a great match. He's been on fire with his promos. The addition of Maryse has added so much that I think he'll end up winning and retaining. And he'll probably pin Zayn to do it because everyone pins Zayn.
Danielle Matheson – Winner: literally everyone because oh man. The Miz is great when he has someone in the ring forcing him to rise to the occasion, and there's no one who will do that better than the three dudes in the ring with him. I don't actually care about the rest of the show because I want the whole show to just be this. If you can't think of any possible reason to get hype (and stay hype) for this, then a paragraph full of bad jokes and Cesaro-swooning is never going to teach you how to accept joy into your life. I want Cesaro to win because I want him to win all of the things, but I'm fine with any possible outcome as long as these four keep working together.
Asylum Match: Dean Ambrose vs. Chris Jericho
What Should Happen: The deadly blood feud over a potted plant and a sparkle jacket finally ends! Let's hope this one's as entertaining as it could be, and that someone gets hit with a mop and a bucket. You don't tease that sort of violence without following through, guys.
What Will Happen: I guess if Ambrose decided this match type (and Jericho's always got one foot out of the door), you give the win to Dean to give him a signature thing. I mean, Kane's signature match was an Inferno Match, a match only Kane was properly equipped to lose, so having a signature thing doesn't mean much … but still, how long are we gonna keep Dean Ambrose ineffective and stuck in the middle? Roman's the champion and Seth Rollins is about to come back. Let Dean win strong.
Staff Picks
Joe Starr – Jericho will do the honors here, and Ambrose will start wearing the light up jacket moving forward. The gimmick of this match could get a little…what's the word I'm looking for? Stupid. It could get a little stupid. So let's hope we get 'confronts Mick Foley/Cincinnati skyline promos' Ambrose and not 'hot dog cart' Ambrose to really sell this thing.
Ross Bentley – I guess Ambrose wins here, but this feud hasn't done anything to give him any new momentum after the Lesnar debacle, and this weird gimmick doesn't help. Why exactly is Jericho supposed to be scared of this little scrawny guy who put props on top of a cage? Because he broke his jacket? Sure, yeah, okay.
Justin Donaldson – The Asylum looks so much like a thing from 2000 WCW that I was expecting Buff Bagwell to do a run-in. Dean Ambrose is incapable of winning one of these gimmick matches. Jericho will figure out some way to capitalize on Dean's mistakes to win the match. One of the weapons at the top of the cage should be a plugged in television, with like, an extension cord running down the side of the cage.
Austin Heiberg – It's got to be Ambrose via potted plant strike, right? That's the whole payoff here, right? The lunatic runs the asylum, and Jericho takes the loss.
David D. – I'm honestly surprised Dean is alive. I was sure he was going to get electrocuted and die when he ripped Jericho's LED jacket apart. But he's alive. And he's going to win. Hopefully he then moves on to start something with Roman and we get a Shield feud heading into SummerSlam.
Danielle Matheson – I'm at the point where I don't actually want to see these two wrestle, just the shenanigans they'd get into outside of the ring. I want to see Dean Ambrose doing a sexy lady crawl through a series of lasers to get to Jericho's scarf collection. I want Jericho plotting an Ocean's 11-style heist with the members of Fozzy until they realize that Little King Trashmouth has nothing worth stealing. Does this eventually lead to the two forgetting their feud and teaming up as a tag team called The Fisher King? God please make that a real thing. I'm not sure what an Asylum match entails, but I can only assume it's an iron man match to see who taps out of watching the second season of American Horror Story first. In that scenario, nobody wins. In the real life context of this pay-per-view, Dean Ambrose wins..
Extreme Rules Match for the WWE World Heavyweight Championship: Roman Reigns
What Should Happen: Chaos. And by that I mean "Chaos should show up to fight the Bullet Club."
But no, all signs point to Roman Reigns winning, so "what should happen" is "something to get us talking." That's really all I need from this. Whether it's The Club turning into a specific thing, the Bloodline getting a blood lust or some crazy return in the post-match, just something to get us talking. Can I say I want Rollins to return here to take out Reigns and join The Club? Can we do that? Give me Rollins, Styles and Finn Balor on the same squad.
What Will Happen: The show goes off the air with Theme From Roman Reigns playing, I'd imagine. I think this has the chance to be truly great, so I'm gonna pick Roman to win, and pick us to mostly be okay with it. Let's hope something crazy happens, though. It's Extreme Rules, that show should never NOT be bonkers.
Staff Picks
Joe Starr – I'm loving this feud: The Club Formerly Known As Bullet vs. a family of pissed off Samoan dudes? More, please. I can only assume this one ends in a chaotic brawl as Kenny Omega shows up only to be neutralized by Rocky Johnson and Tony Atlas. While WWE has eased off of Roman being an untouchable Superman a bit, I can't see him losing the title this early.
Ross Bentley – I think Roman will retain here cleanly. I don't know who they have in mind to be next in line for Reigns as we wait for Rollins to get back (Ambrose? Jericho? Owens?), but it feels like this is the end of the Styles program, and as much as we all want it, it seems unlikely they're ready to pull the trigger on AJ yet. Regardless, this match will be the dopest.
Justin Donaldson – Roman Reigns wins this match. Spears him, pins him. The question is, does this continue or is this where it ends? Does Roman pin him, but there were so many shenanigans due to the Extreme Rules rule (a couple of big table spots, run-ins, people turning on each other, etc.), that Roman beats him again with that question of could he have won without all that help (leading to a third match next month). Or, this is the end and Roman Superman Punches him through a steel chair and 1-2-3?
Austin Heiberg – Hoo boy, lots of stuff going on here. Roman, the Usos, Styles, and the Club are all accounted for, but I think the real question here is whether or not we'll see a seventh man in the equation. Is this the right time for Finn Balor to enter the picture? Given that he still has his cage match at NXT Takeover, I'll say no. I'll reluctantly give this to Reigns, because winning seems to be his thing, whether people like it or not.
David D. – Roman is going to win. This feud has kicked into high gear and is the best main event story in a long time. But I'm not sure if it's doing much for Roman. Whatever the case, this should be pretty great. But yeah, Roman is winning.
Danielle Matheson – Alright. Time to spice it up. Hey, wouldn't this be a great time for Seth Rollins to come back? Please? Please do that here. Reigns retains (and not just because it rhymes)(okay, some of it is because it rhymes), but I say this is where we finally get that two-toned, CrossFit-enthusiast, rightful WWE champ back (seriously, please come back to us).