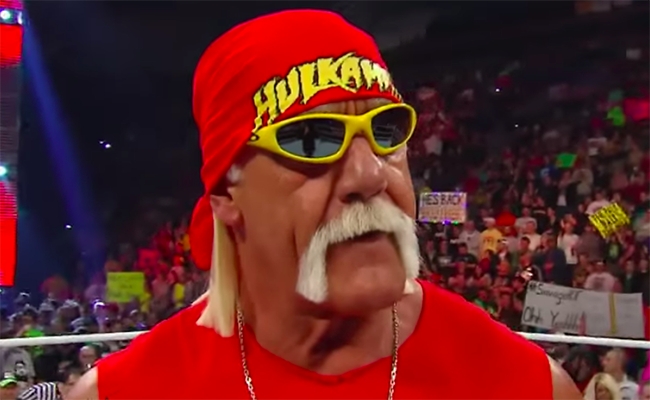 Ever since audio of Hulk Hogan making racist remarks surfaced in 2015, the WWE legend has been on the outs with the company who made him famous. Hogan was let go from his WWE contract, scrubbed from WWE.com entirely — even being taken out of their online Hall Of Fame section — and was removed from all promotional videos. Basically, WWE did their best to erase the biggest name in the history of WWE, which is pretty damn difficult.
Of course, ever since Hogan was pushed out, speculation has been running rampant — speculationmania has been running wild, even — as to when the Hulkster would be let back in. First, we had the rumors of his return at WrestleMania 32, which turned out to be false. Then, there were the rumors — from Brooke Hogan, even! — that Hulk would return at WrestleMania 33, which, again, turned out to be false.
This year feels a bit different, though: A slew of contracted WWE talent have spoken out in support of Hogan returning, including Jerry Lawler, Ric Flair and Mark Henry. Then there's the fact that 2018 WWE Hall Of Fame inductee Hillbilly Jim has requested Hogan induct him. Then, this happened:
Yep, that's Hogan chatting up Triple H at the premiere of HBO's Andre The Giant documentary in Los Angeles last night. And in case you think WWE didn't want Hogan's presence getting out, well, someone forgot to tell their social media intern:
So, this leads us to the $1,000,000 question, brother: Is Hulk Hogan going to return to WWE at WrestleMania 34? WWE issued a statement last week saying Hogan is not under WWE contract, but little else. When news of Hogan attending the premiere last night got out, WWE issued a new statement:
"Hulk Hogan is an important part of Andre the Giant's history, however, his appearance at tonight's HBO premiere of the documentary and his plans to help others learn from his mistakes does not mean WWE is rehiring him. Hogan is not scheduled to be at any upcoming WWE events."
TMZ Sports caught up with Hogan himself to see if he would spill the beans on a potential Mania appearance, but the 64-year-old flat-out said, "No sir … No WrestleMania, brother." When asked if he would return ever, Hogan's response? "Maybe someday, brother."
I don't know what the prop bets are for WrestleMania 34 yet, but if there's not one for whether or not we'll hear "Real American" inside the Silverdome Superdome on April 8, I'll eat my hat. And I don't even wear a hat, Jack.