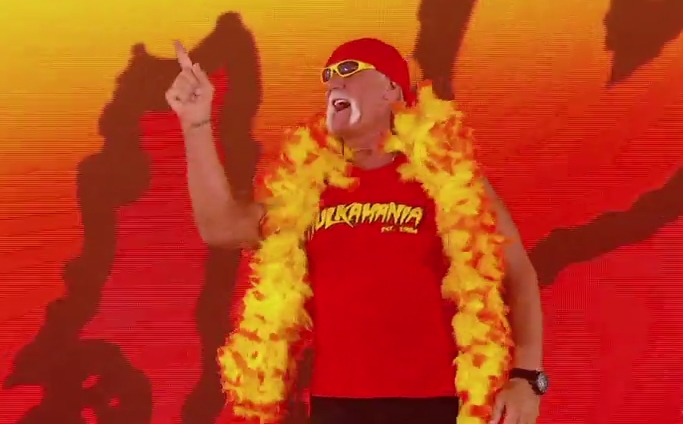 The slow, inevitable reintegration of Hulk Hogan into the WWE Universe continues.
The path from disgraced wrestling legend to literally Chris Hemsworth has gone through a lot of steps, from a hosting gig at WWE's controversial Crown Jewel in Saudi Arabia to a Raw appearance in tribute to his late friend Mean Gene Okerlund. He also popped up to help announce WrestleMania coming to Tampa, FL, in 2020. The latest, at least according to a report from Mike Johnson over at PWI, is a return to WrestleMania. Well, WrestleMania weekend, at least.
While he could make an appearance at WrestleMania proper — as "Hogan's going to be on WrestleMania" rumors pop up every single year — the current rumor is that Hogan's being brought in to appear at the Hall of Fame in support of his best friend and occasional real-life blood rival, Brother Bruti.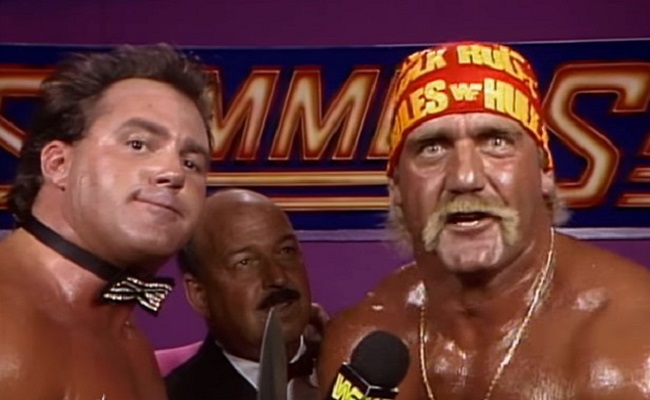 It's been a slow process to reintegrate Hulk Hogan back into WWE and that will continue with Hogan coming in for Wrestlemania 35. He could be doing community outreach appearances. It's possible he'll have a cameo on the PPV, but even more likely he may be involved in inducting his long-time friend Brutus Beefcake into the WWE Hall of Fame. Beefcake's induction has been rumored for several weeks. PWInsider.com can report that WWE sources have confirmed that the company is bringing Beefcake in for Wrestlemania 35 weekend as well. While that doesn't confirm the induction, the puzzle pieces are certainly there to make that conclusion.

We are told that WWE is currently finalizing plans on other names from the past they are seeking to bring in Wrestlemania weekend as well, with Steve Austin's name floating around quite a bit.
As long as he doesn't show up to screw Kofi Kingston out of the WWE Championship at Vince McMahon's command, I suppose we should consider ourselves lucky.