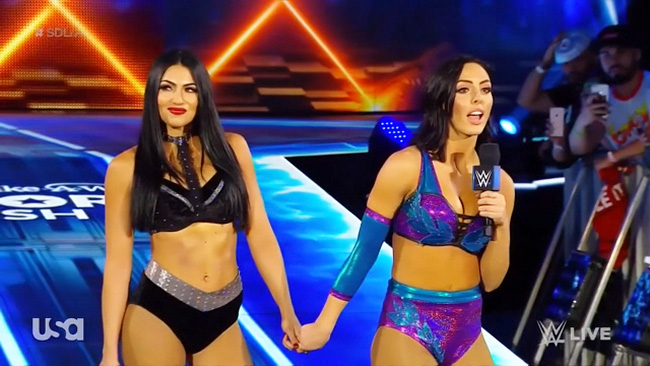 During Tuesday night's episode of Smackdown Live, the WWE Universe was introduced to a new general manager, and later in the evening they were introduced to a couple new Superstars in the women's division.
Smackdown Women's Champion Charlotte Flair came to the ring to celebrate retaining her title and breaking Asuka's undefeated streak at WrestleMania. She wondered who she would be making magic with next in the women's division, and that's when she got cut off by With Spandex's favorite duo — the Iconic Duo, consisting of NXT Superstars Peyton Royce and Billie Kay.
As is their wont, the Iconic Duo ran down and mocked Flair, in their Iconic and inimitable fashion. Flair had finally heard all she could take, and she attacked them. They quickly turned the tables, overwhelming the champ and beating her down both inside and outside the ring.
They sent Flair over the announce table and into the post, and left her completely laid out. Certainly a great way to make a big statement in their first night on the main roster. Oh, and then Carmella cashed in her Money in the Bank briefcase, of course.

Yes, the record-setting Money in the Bank holder finally made good, capitalizing on the Iconic beatdown to secure her first-ever professional wrestling championship. Big things are happening on Smackdown, y'all.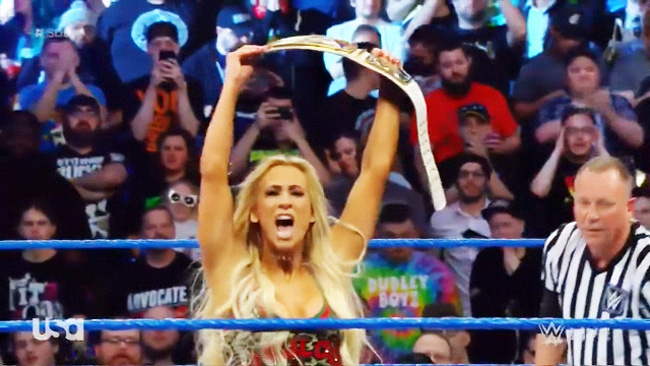 Oh, and back to the Iconic Duo: if you're somehow unfamiliar with the two Australians, they've been pegged for a main roster callup for some time now, and they really are our favorites and they're incredible. If you're looking for a place to start appreciating them, try our appreciation post.