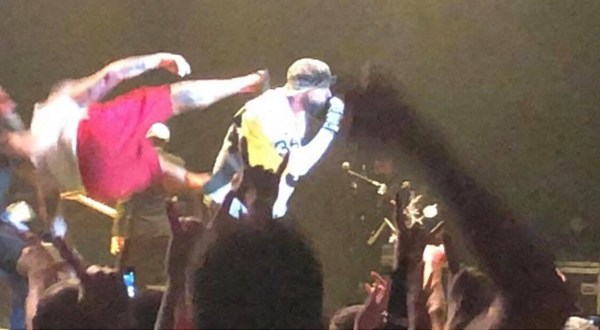 In what is surprisingly the most pro wrestling story of the weekend, Shaggy 2 Dope of Insane Clown Posse was allegedly arrested after trying to assault Limp Bizkit front-man Fred Durst via straight-up dropkicking him off the stage. Not only is this technically a WCW vs. WWE fight, it's happening in real life in 2018. Shout-out to the Large Hadron Collider for completely destroying our universe.
The attack happened at the Rock Allegiance Festival at the BB&T Pavilion in Camden, NJ, on Saturday night. There aren't a lot of details as to why this happened, but multiple eye witnesses and tons of amateur video confirm that while Durst was performing (and looking a lot like Filthy Animals-era Konnan), Shaggy ran up behind him and tried to knock him off the stage with a dropkick. Either Shaggy's so used to pulling his punches from his time in the WWF and WCW that he subconsciously worked light, or if he simply studied at the Erik Watts School Of Dropkicks remains to be seen, but it barely connected. He should've remembered Durst's advice on working snug and communicating in the ring: "Move in, now move out. Hands up, now hands down. Back up, back up. Tell me what you're gonna do, now."
There has been no additional information available as to what may have sparked the feud between Shaggy 2 Dope and Durst, however it should be noted that the pair have collaborated on music together in the past and then things seemed to go sour, but it has been quiet on that front for quite some time. It remains a mystery as to what caused this sudden outburst.

It is rumored that Shaggy 2 Dope was arrested for the attempted assault, but not further details are available at this time. Many wonder what this will mean for Insane Clown Posse's upcoming Hallowicked Tour and whether or not Durst will press any charges.
Here's some of the available video:
In pro wrestling terms, the ICP has Vampiro and the full support of the Oddities, but Limp Bizkit is "WWE's favorite band in the entire world" (per the announcement back at WrestleMania 19) and Durst is bros with The Undertaker. Who ya got?