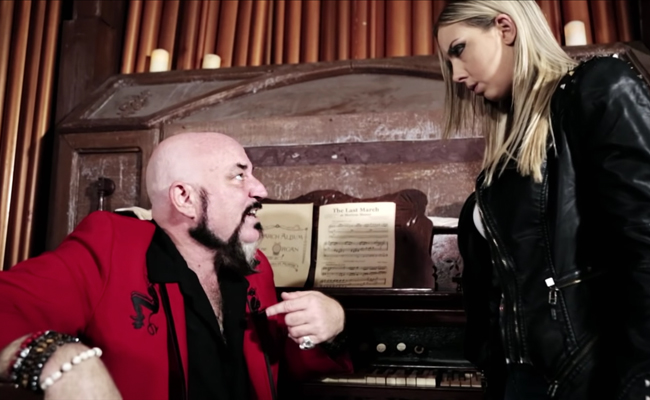 Hello Impact fans and curious rubberneckers! I'm Elle Collins, and this is the Knockout Report. I'll fill you in on everything that happens in Impact Wrestling, but I'm always going to lead with the Knockouts Division, because they deserve it. You can follow me on Twitter here, With Spandex here, and Uproxx here. You can watch Impact Wrestling on Pop every Thursday at 8 p.m. Then on Fridays, read this column and share it with everyone you know.
Last week in Mexico City, Su Yung defeated Kiera Hogan and put her in a coffin, causing Allie to have a backstage freakout.
Without further ado, here's the Knockout Report for October 11, 2018.
Allie Already Gave Up Her Soul, And She's Not Done
Okay, this is pretty wild. First of all, we now know that Allie, the top babyface of the Knockouts Division, canonically has no soul. She had to trade it to Father James Mitchell (who passed it along to the literal Devil) in exchange for securing her release from "the Undead Realm," which is apparently where you go if Su Yung puts you in a coffin. That's why Allie's less bubbly and more grim since returning — she's literally soulless, which Father James pointed out is an agonizing way to live.
This time she went back to the Sinister Minister to ask for access to the Undead Realm, so she can pull Kiera Hogan out. He promised to open the door for her on Sunday, but made a point of giving no guarantees that Kiera can be saved. I have no idea what this means in terms of what we'll actually see on Sunday, but I can't wait to find out. I was expecting another Allie/Su match with some kind of supernatural element to the finish, but now we're apparently getting inter-dimensional travel and attempted resurrection.
I also wonder if Allie will somehow get her soul back, despite everything Father James said to the contrary, or if we're just going to have to accept that the Bunny is an empty, hollow shell. One thing that seems almost certain now is that if Allie's going to the Undead Realm on a PPV, Rosemary surely has to show up. The fact that her name never came up in this segment, when mentioning her would have made a lot of sense, is further evidence that she's the surprise they're building to. At least I hope so.
As this column has made very clear, I've loved this horror storyline in the Knockouts Division from day one. Watching it come to a head as Halloween approaches is really exciting, wherever it goes.
Tessa Blanchard Defeated Keyra
It's maybe a little awkward that this guest-luchadora has almost the same name as the girl whose kayfabe murder was discussed throughout the segment that preceded this one, but honestly if this was your first episode of Impact there would probably be a lot of things more confusing than that. Admittedly I have a soft spot for masked luchadoras, but I was definitely impressed with Keyra. She has a great look and some really impressive kicks.
I figured this match would be about making Tessa look dominant on her way to Bound For Glory, but instead it was about how Tessa's unstoppable and can take a beating and still win. Keyra's kicks looked rough as hell, but Tessa just kept going. She's going to need that kind of endurance against Taya Valkyrie on Sunday. Her intergender work aside, Tessa Blanchard is used to facing opponents who are no match for her brute strength, but Taya is just as thick and muscular as Tessa and a little taller to boot. It's going to be a whole different dynamic. And while Keyra doesn't have that kind of physique, her kicks are a good reminder to Tessa of just how hard it's possible to be hit.
Not only am I super-excited for Blanchard versus Valkyrie on Sunday, I'd love to see more of Keyra if I get the chance.
Meanwhile, In Guyville
Petey Williams Defeated Jack Evans, Trevor Lee, and Puma King
First of all, it was great to see more of Ricochet's father. His son the Prince may have abandoned the Puma Kingdom, but the King is still going strong. This match was supposedly for Scarlett Bordeaux's favor, but she wasn't around for it, and I don't know if it's leading anywhere. On the other hand, Scarlett as Petey Williams' manager could be pretty fun, so I won't object if that's where things go.
Willie Mack Will Be At Bound For Glory!
I'm still not the biggest Rich Swann fan, but I love Willie Mack. He's going to be Rich's partner against Matt Sydal and Ethan Page in a tag match that just got a lot more exciting!
Maximo Defeated Grado
I was a little hesitant about this match, but I ended up enjoying it. Gay villains are even more of a trope in Mexican wrestling than in the States, and I've never been a huge fan of forced kissing in wrestling (or elsewhere, let's be real) regardless of gender. The fact that it was Grado, though, and that Maximo has the exact same build as him, made it all just seem like goofy fun. Plus, Grado ended up being the one to plant a real kiss on Maximo, so if Grado doesn't actually go both ways (which would add an interesting dimension to the Joe Hendry storyline), he's at least chill about kissing.
Eli Drake Is Planning Another Open Challenge
Sure, things didn't go great with La Parka last week, but Eli's planning another open challenge at Bound for Glory, this time just for New Yorkers. I'm excited to see who it will be. The only surprise appearance at BFG that I've heard rumors about is a guy from Winnipeg, so we can probably assume this won't be his spot.
Rohit Raju Defeated Gursinder Singh
So is that just it for the Desi Hit Squad? The never really got to do much, but now Gama Singh has forced them to have a "I don't manage the loser anymore" match, and good for Gursinder for getting out of that abusive situation.

Austin Aries, Killer Kross, and Moose Defeated Johnny Impact, Eddie Edwards, and Fallah Bahh
I mean this was fine. It's a six man tag match on the go-home show, so you kind know what you're going to get. I do enjoy seeing Fallah with these oh-so-serious top guys, like a nonsense-talking reminder of the fundamental ridiculousness of wrestling.
The OGz and LAX Cut Promos on Each Other in the Main Event
God, I hope this feud ends on Sunday.
That's all for this week's Knockout Report. Join me on Monday to talk about Bound For Glory!