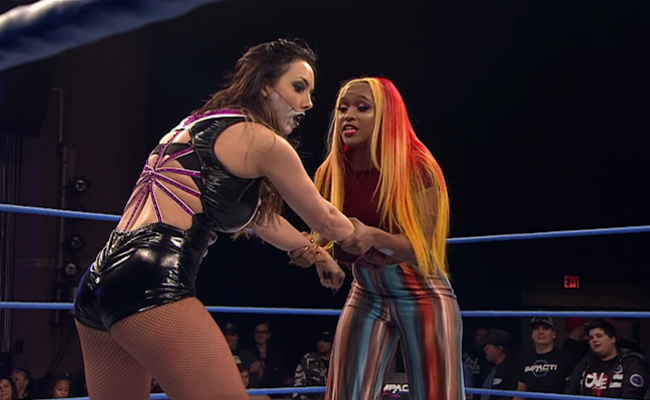 Hello Impact fans and curious rubberneckers! I'm Elle Collins, and this is the Knockout Report. I'll fill you in on everything that happens in Impact Wrestling, but I'm always going to lead with the Knockouts Division, because they deserve it. You can follow me on Twitter here, With Spandex here, and Uproxx here. You can watch Impact Wrestling on Pop every Thursday at 10 p.m. Then on Fridays, read this column and share it with everyone you know.
Last week, Gail Kim returned when Tessa Blanchard wouldn't stop beating up referees, and Tommy Dreamer main evented for some reason. Now without further ado, here's the Knockout Report for December 6, 2018.
Allie Defeated Heather Monroe
It's really exciting to see Allie back in the ring for the first time now that she's lost her soul, fully embraced the darkness, and become Su Yung's closest ally. It's hilarious that she still has the same entrance video with the bubbles and the spinning bunny head, but now it's all in dark grays splattered with crimson.
As a performer, Allie becomes more and more impressive with every iteration of her character. She's not just meaner and more vicious now. She has different mannerisms and facial expressions. She's not cold and affectless like in the segment where this new persona was (literally) unveiled. She has an evil laugh and an unsettling scream, both of which she employs in the ring. Some of her twitchy movements are deliberately similar to Su's, but she's not a clone either. She's also not doing the same stuff she did in that match where she cosplayed as Rosemary. She's building her own demonic character with influences from the ones around her, and she's great at it. I don't know how quickly this story will resolve, but I feel like I could watch her do this for a while.
Obviously she took Heather Monroe apart without too much trouble, and things got really creepy when Su handed her that nasty glove for the Mandible Claw. Now that she has Allie, and Rosemary's out of the way, Su Yung doesn't seem to care about putting people in coffins anymore. She just wants to hurt them as badly as she can, and now so does Allie.
Kiera Hogan Failed To Save The Day
Kiera's the only hero left, at least of everyone involved in this particular story, and it's starting to seem like she might not be enough. She thought she could remind Allie who she really is and everything would be okay, but just when it seemed like she was getting through to her, Allie attacked Kiera, and Su did too. It seems clear that Kiera needs an ally of some kind, but I don't know whether she's going to attempt right away to summon Rosemary, or try to reach out to other Knockouts in the meantime. I know she's pretty busy with her own storyline, but if Taya Valkyrie wants to prove she's a better person than Tessa Blanchard, teaming up with Kiera against the forces of a darkness for one tag match would go a long way. On the other hand I guess Kiera could just team up with Heather Monroe, but it's just hard to get very excited about these guest-jobbers who never get to display a personality on TV (beyond "uncomfortably small gear" in Heather's case).
FYI, Scarlett Bordeaux Can Also Materialize Out Of Weed Smoke
There's not much going on here besides Scarlett saying the same stuff she says to everybody, but I like that she invaded the Rascalz' That 70's Show pot-smoking scene, and it was fun watching them react to her. These guys are very good at playing these kinds of guys, and they're probably lucky Impact has a different Wellness Policy than WWE (although maybe the 'E has finally loosened that too now that they've signed Matt Riddle).
Taya Valkyrie and Johnny Impact Defeated Tessa Blanchard and Moose
Since I've recapped every episode of the Mixed Match Challenge, I have a pretty high bar for mixed tag matches, and frankly this one suffers from a lack of dance breaks. It also suffers for Moose seeming a bit out of place, since he and Johnny are each feuding with different people and it's hard to imagine why he and Tessa would be allies. Cage wouldn't work either of course, since he's a face, and I guess Killer Kross is still trying to tease that he might actually be on Johnny's side. Also, I don't really like Moose in a mixed tag match because he's made menacing women into part of his gimmick (which, don't get me wrong, I wish he wouldn't have done in general). His weird hug to Tessa was especially jarring, since it seems like she'd give up on the match at that point and beat him up instead for that kind of disrespect.
Anyway, this did serve as a good chance for Taya to pin Tessa clean without winning the belt early (which is less of a cliché in Impact than WWE), furthering the idea that she's the biggest threat Tessa's ever faced. I'm getting more and more excited for their rematch at Homecoming, so I can't deny that all of this buildup is doing what it's meant to do. Plus, Brian Cage got to run in and save Taya from a beat-down, adding some interpersonal drama to the face vs face match at the top of that Homecoming card.
Meanwhile, In Guyville
Jake Crist Defeated Willie Mack To Qualify For The Ultimate X Match
I have to admit, I'm pretty disappointed with the finish of this match. Jake will do fine in Ultimate X, but Willie Mack would have brought a lot more to the table. He's the sort of bigger dude who's kind of made for the X-Division, as opposed to someone like Brian Cage who always seemed destined to move up quickly to the World Title scene, as he now has. Anyway, this was a fine match even if I didn't love how it ended, and if it leads directly to Mack beating up oVe (with or without Rich Swann's help), I'm certainly up for that.
The Desi Hit Squad Defeated Damien Hyde and Manny Lemons
I had a hard time caring about this one. The Desi Hit Squad still seem to be defined by Gama Singh being a jerk who abuses his charges, but now the storyline isn't even focused on that anymore — it's just a fact. At least Don Callis made a point of specifically pointing out that it has nothing to do with Indian culture, it's just Singh being a sadist.
Ethan Page Defeated Matt Sydal To Qualify For The Ultimate X Match
Despite what Konnan would have predicted, this match didn't lead to the breakup of Ethan and Matt's team or the end of their friendship. It did kind of hint at what that will be like when it happens down the road, though. Matt's best buddy added to his long string of singles losses, and that knowledge will probably curdle in Sydal's mind and cloud his spiritual clarity. If Ethan Page wins the X-Division Championship, which Matt considered his not too long ago, it'll probably be even worse.

Raven Is Locked Up With Eddie Edwards
I was talking last week about how Eddie needs to escape from the institution, and that's exactly where this is going. What I wasn't expecting was the guest appearance from 90s wrestling legend Raven, who appears here as a white-haired old man in a hospital gown, but with his black eye makeup and other punk rock accessories still intact. It's really quite a look. I like when Impact brings in these older guys to appear in non-wrestling storyline vignettes, like James Mitchell dragging Allie to Hell. It's a nice nostalgia pop that's not too distracting if you don't know the guys, and it doesn't drag the show down, like if you put Tommy Dreamer in the main event, for example.
That's all for this week's Knockout Report. Join me next time, when we get two more Ultimate X qualifying matches: Trevor Lee versus Trey Miguel of the Rascalz, and Rich Swann versus Dave Crist.