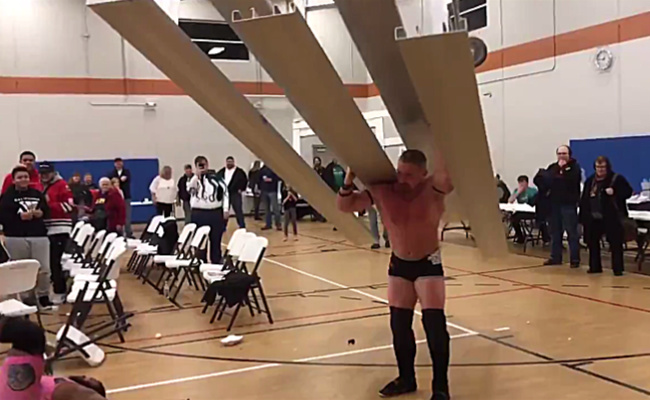 Saturday, December 1, turned out to be a historic day in the history of foreign objects. Everybody in hardcore wrestling has hit their opponents with ladders, chairs, tables, trash cans, sticks of various kinds, even parts of the wrestling ring itself. But Shane Mercer, during a match at The Resistance, a hardcore promotion in Summit, Illinois, got more innovative than usual when he picked up a section of bleachers from the gymnasium floor, hoisted it over his head, and used it as a weapon against his opponents.
Kentucky-based indie wrestler Mercer is known as the Iron Demon (it's on the back of shorts and everything), and he certainly proved his diabolical nature and his proficiency with metal with this maneuver. He also impressed the crowd with his prodigious strength. Those bleachers might possibly be lightweight as bleachers go, but they're certainly not light enough for human beings to pick them up over their heads and swing them around.
Mercer knocked his opponents to the floor with the enormous piece of metal, then deposited it by the ring so that he could knock them into it after knocking it into them. With the understanding that all of this was hopefully done safely (in wrestling terms at least), we applaud Mercer for his hardcore innovation.