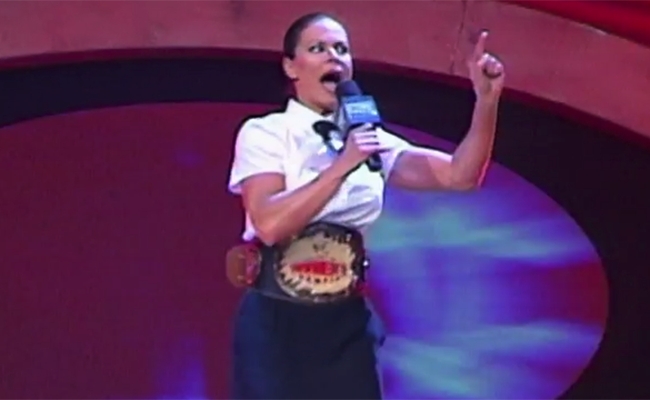 Despite being conspicuous by her absence during the stand-and-wave for female pioneers at Raw 25 and the first-ever women's Royal Rumble match, WWE made a very good decision this week by announcing former Women's Champion Ivory as the newest member of their Hall of Fame class of 2018.
In addition to being a 3-time Women's Champion, Ivory is also a former wearer of the G.L.O.W. crown, making her the first Gorgeous Lady of Wrestling inducted into WWE's Hall of Fame. If Kharma ever gets in, she counts, right?
From the announcement, made on ESPN:
"[This Hall of Fame recognition] means that it's a full circle in your career, in your wrestling chapter," Ivory said to espnW.com shortly after she heard the news. "It's great bragging rights for your family that have seen you go through the eras and I also feel like it's an awesome tribute to the women in wrestling as a whole."

… Even though the Hall of Fame Induction ceremony is more than a month away, Ivory is already excited about the event, comparing it to "getting married."

"I liken it to almost getting married, it's my wedding day, which I've never had one, so, this is probably as close to a wedding production as I'll ever get," Ivory said. "Hair and makeup, I will be speaking my vows — with regards to my wrestling career — to all these people I adore and love and we want it to all happen without a hitch."
Ivory will join Bill Goldberg and the Dudley Boyz in this year's group of inductees.
Here are a few clips, in case you aren't familiar with her work.
Check out this week's With Spandex podcast and subscribe, rate and review!