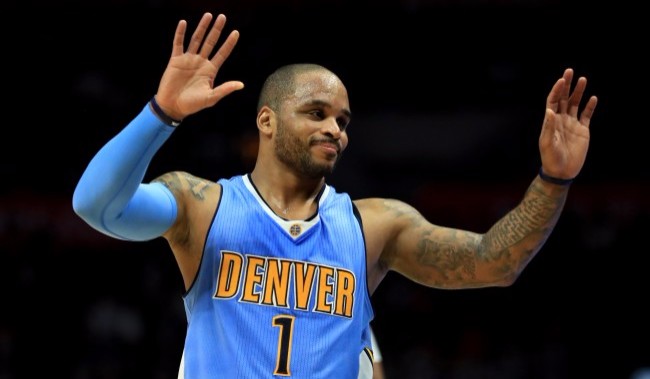 It's only been a few days since journeyman guard Jameer Nelson signed with the New Orleans Pelicans. His first game in a Pelicans jersey also happened to be their first win of the season. It also happened to be accompanied by a very famous wrestling gesture in the first quarter against the Los Angeles Lakers.
The Celtics' Kyrie Irving literally telling a fan to S his D got him slapped with a $25,000 fine. But Nelson hasn't had to cough up a dime, because he went about the sentiment in a much more subtle and nuanced way. The way children, teens, and grown adults do it on national television (or at least, how they did it in the 1990s).
Nelson implied a fan should S his D by using the universal language of the D-Generation X "crotch chop."

The best part about it is that he seems to be looking over his shoulder to see if he's in the clear, like a big brother checking to see if mom is watching before he shoves little brother. The second-best part about it is the nearest basketball player to him was Lonzo Ball, son of real-life Maury episode LaVar Ball, to whom WWE once actually gave a live microphone on Monday Night Raw. If Nelson had told LaVar to "suck it," it would have been all over sports radio, and Jameer Nelson's Pelicans jersey would be the best-selling item in the NBA store.
In all honesty, this was pretty harmless as there are worse wrestling-related things you can do on a basketball court. In no particular order, you could:
Dropkick someone on a fast break (if this were to happen I would be sad for the recipient. but I think it would ultimately be good for the sport)
Powerbomb someone when they are trying to shoot a free throw (Maybe this would actually fix Markelle Fultz's awkward free throw form?)
Demand a title shot against the world champions, even though that's not how the NBA works (also, why does professional wrestling still work like that?)
Hopefully everyone is happy with Jameer Nelson on the Pelicans. The team needed a point guard to run their offense, and if Jameer is a wrestling fan, he gets to attend WrestleMania 34 this April. Here's hoping he ups the ante on Wednesday April 4th when the Grizzlies come to town for WWE Night the week of WrestleMania. I'm counting on a pedigree to Chandler Parsons.