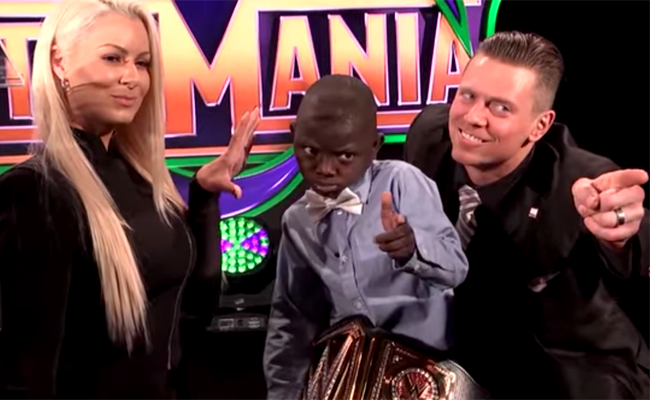 WrestleMania is fast approaching, and that means the annual WWE Hall of Fame ceremony, which happens the same weekend, is on its way as well. In addition to previous announcements about the induction of Goldberg, the Dudley Boyz, Ivory, and Jeff Jarrett, we now know who's receiving the Warrior Award as well.
The Warrior Award is given every year to someone who, as WWE puts it, "has exhibited unwavering strength and perseverance and who lives life with the courage and compassion that embodies the indomitable spirit of Ultimate Warrior." Whether or not you agree that the Ultimate Warrior is the best choice to name such an award after, it's an effort by WWE to recognize people who live their lives in a constant struggle with physical adversity, and serve as an inspiration to others facing similar struggles.
As reported first by the New Orleans Time-Picayune and then officially announced by WWE.com, the 2018 Warrior Award goes to Jarrius Robertson of New Orleans.

Robertson is a 15-year-old WWE fan who has dealt for his entire life with a rare liver disease called biliary atresia, which has stunted his growth and required 36 surgeries, including two liver transplants. He was only one when the first transplant occurred, but the second was last April, and has greatly increased his prospects for the future.
Robertson received the Jimmy V Perseverance Award at the ESPYs last summer, and WWE has previously given him a Hero Award. He's also a born performer and better with a mic than half the WWE roster, so his speech at the Hall of Fame should be memorable. Here he is backstage at SmackDown last June:
The 2018 WWE Hall of Fame Ceremony will be held at the Smoothie King Center in New Orleans at 8pm ET on Friday, April 6. It will stream live on the WWE Network, and also air on USA the next night at 10pm, and then again on Monday, April 9, immediately following Raw.