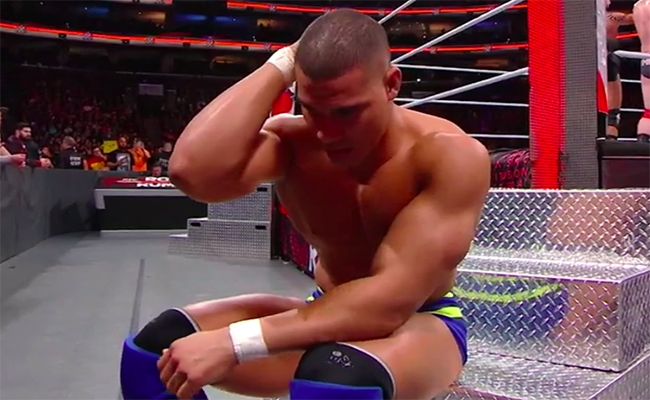 Last week, word came out that former Raw Tag Team Champions Seth Rollins and Jason Jordan were both dealing with some injuries — and a fairly serious one, in Jordan's case. The rumors of the two men being banged up had been around for a few weeks, and there is some belief that these injuries led to the weird match at Royal Rumble where they dropped the titles to Sheamus and Cesaro.
Since that report, Rollins took to Twitter to refute the news that he is injured, but Jordan has not stated any objection on his end — and it's looking more and more like he really is pretty seriously hurt.
On Monday's episode of Raw, it was even written into the storyline that Jordan was experiencing some issues with his neck, and that WWE medical personnel would not clear him to wrestle. Jordan came to ringside later in the evening, and although he got physical with Sheamus and Cesaro, he only exchanged some punches and did not take any bumps or put himself at risk.

On a recent episode of Wrestling Observer Radio, Dave Meltzer provided an update on Jordan's injury. Meltzer claimed that his sources are telling him Jordan's neck injury has some very serious warning signs, and he might be looking at neck fusion surgery that Edge and Arn Anderson and others in the past have had to undergo.
"The sixth spot [in the Elimination Chamber] was going to be Jason Jordan, but Jason Jordan's messed up. He's having trouble gripping with his hands. He's got real … his neck is in real bad shape.

"Obviously I'm not a doctor, and I'm only hearing stuff secondhand as far as [what the injury] is, but his [symptoms] sound like Arn Anderson, Chris Benoit, all those guys before they had neck surgery.

"It's not a good thing, and that [neck] surgery [would mean taking] a year off, so I'm sure he's doing everything in his power to avoid that surgery. I'm not saying he needs it, but when your grip goes … Edge had the same thing. Edge had that. I remember Edge couldn't lift a dumbbell. And … he was out – it's like a 12- to 14-month recovery period.

"And Jason Jordan, for better or for worse, he's in the mix right now as a single, and I'm sure he just wants to be there, and trying to figure out a way through it, but it's … this is a tough situation for him."
WWE had reportedly been planning on blowing off the Rollins/Jordan feud with a singles match at WrestleMania 34, but that match is looking like anything but a sure thing at this point. We here at With Spandex certainly hope that the rumors aren't as serious as they sound, and that Jordan makes the best possible decision for himself in the long term.