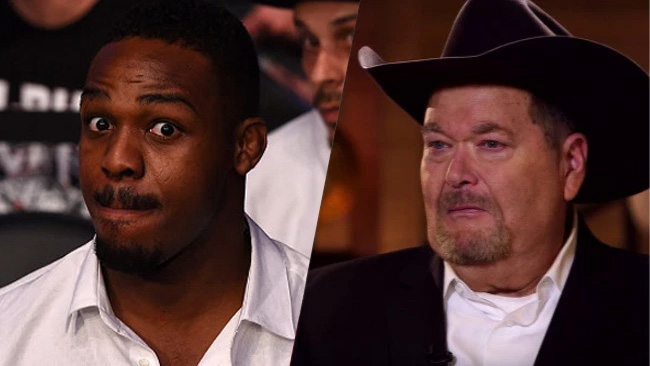 Jon Jones has denied knowingly taking performance-enhancing drugs following a positive USADA test that forced his removal from Saturday's UFC 200 card. At this point, his camp isn't willing to share what substance Jones tested positive for, but his manager Malki Kawa feels like it could be a tainted supplement issue. Kawa has more experience than most with this kind of thing. His client Yoel Romero had a two year suspension dropped down to six months after proving one of his supplements contained an unlisted prohibited substance.
The tainted supplement excuse isn't going over well with everyone, though. Former WWE commentator Jim Ross shared his thoughts on his popular JR Blog, and they were not kind to Jones.
Is this a matter of entitlement, flawed character, or just a bad seed who feels that he is above the rules? Or could it be the negligence of his camp for not more closely evaluating what 'supplements' that Bones was taking.

This entire business of ingesting supplements by many athletes, including in pro wrestling, who then say that they did not know the supplements that they were taking contained illegal elements is getting old and becoming a terribly lame excuse. The fascination with 'supplements' is borderline narcissistic and unnecessary IMO.

It's these talents JOB to know what they are putting their bodies. End of story.
That's true, and smart athletes err on the side of caution when it comes to questions surrounding supplements. But the supplement industry is surprisingly shady and unregulated. Performance enhancing drugs regularly 'slip in' to batches of supplements, so even fighters taking great care can end up on the wrong end of these positive tests.
So why not just avoid all supplements? Easier said than done when competing at this high level. It would be extremely difficult for a professional athlete at the UFC caliber to train hard without supplements. These guys aren't just taking a little protein powder and creatine. Many need glutamine and BCAAs to process protein, glucosamine to keep their joints healthy, and a laundry list of other vitamins and minerals. These guys are sitting on the cutting edge of sports performance … expecting them to 'just not take supplements' is ridiculous.
It wouldn't be a huge surprise if Jon Jones tested positive due to a tainted supplement. It's actually surprising that it doesn't happen more often.
(Via JR's Blog)