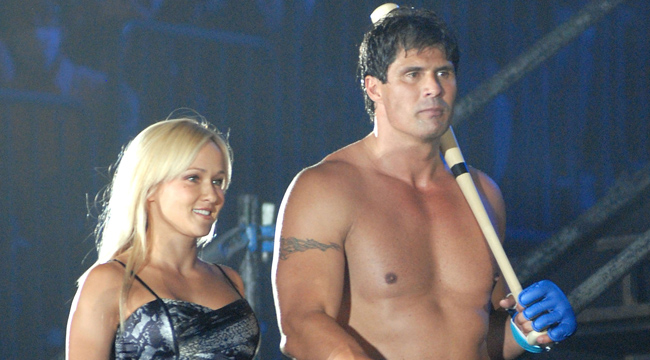 Way back in 2012, the Observer shared rumors that former Major League Baseball star and Bash Brother Jose Canseco was interested in becoming a pro wrestler, noting that he'd contacted TNA's Dixie Carter about joining the promotion and that he'd even reached out to WWE about being a "social media ambassador." In 2018, that story finally pays off: 54-year old Jose Canseco has "signed a contract" with World Class Revolution, a wrestling promotion based in Ardmore, Oklahoma.
This is the same Jose Canseco who lost to one punch in a carnie MMA tournament, shot off his own finger, wants to send a nuclear bomb to Mars and was once pulled over by police with a diapered goat in his car.
The company's statement, which you can read on Facebook:
"We couldn't be happier to welcome Jose into our family that represents equality, diversity, family, and love," Bostic wrote on Facebook. "Jose is without a doubt one of the greatest athletes professional baseball has ever seen being the first ever 40 home run/40 stolen base athlete in history. He was AL MVP, 6-time All Star, 2-time World Series Champion, and hit an amazing 462 home runs in his career.

"Professional wrestling and our other avenues of business have enabled us to start becoming a multimedia company which has always been our goal. We're starting to effectively combine pop culture with our wrestling product and we're seeing great results thus far and we're just getting started. I would like to personally thank both Jose and his agent Morgan for this opportunity to do business together."
No word yet on what Canseco will be doing there, but at some point we hope Bo Jackson shows up and breaks a baseball bat across his back.