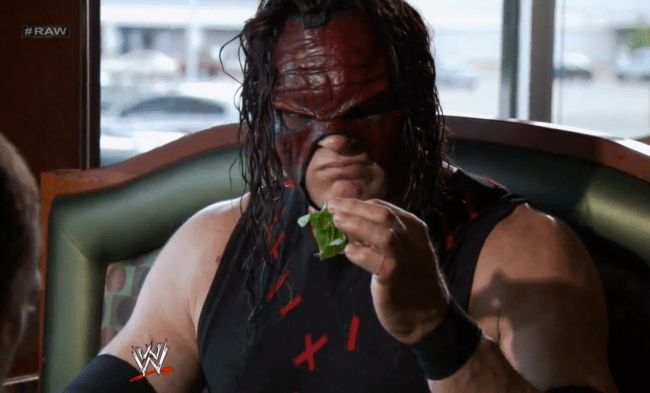 Pro wrestler Kane has done a lot in his WWE career. He's set multiple people on fire, desecrated the corpses of his parents, been married and divorced, electrocuted a man's balls, had MacGruber accuse him of pissing his pants, etc. Now, he's doing something even crazier: he wants to be the mayor of Knox County, Tennessee. Thank goodness he graduated from anger-management therapy!
Per WBIR.com, the Devil's Favorite Demon is seriously considering running for office in two years. This would make him the first government official in United States history to have also once ripped the door off a Hell in a Cell.
Glenn Jacobs, who wrestlers under the handle "Kane," said he is "seriously considering" a run as a Republican for the Knox County mayoral seat in 2018, but will make a final decision after the upcoming presidential election toward the end of the year.

In the meantime, he's met with a number of people in the community, including Knox County Mayor Tim Burchett, to talk governmental shop.

"Yes, I've talked about it with some folks but there's nothing too solid yet," he told WBIR 10News. "Mayor Burchett's term is coming up and I think he's been really good for Knox County."

Jacobs added: "I think the most important thing is I care very deeply about this community, like a lot of people do. And that's the only reason I would consider getting into any sort of government because I do care very deeply. And I think it's incumbent upon people who care about the communities to try to make a difference."
Vote Kane in 2018. Better yet, get him and Rhyno into local government and have them debate the issues by hitting each other with aluminum trash can lids.