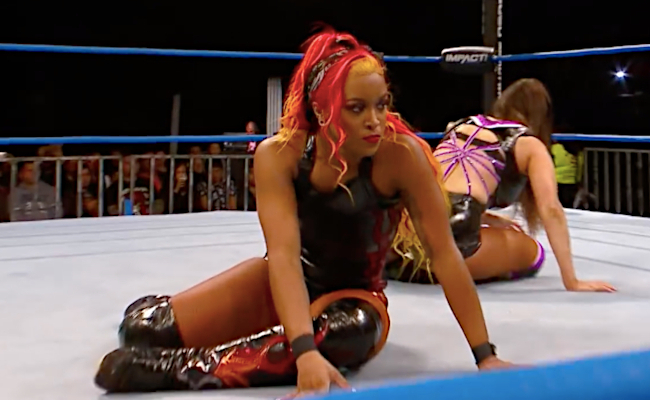 While things may be changing more rapidly than many could have anticipated, being an out LGBTQ wrestler is still more fraught than being out in many other fields. Even WWE for example, with the vast size of their roster across brands, only has one queer wrestler who's really public about her identity, and the idea of making that identity part of the show is enough to send people on all sides into a panic. Outside of WWE is where the real change is happening, with AEW hiring people like Sonny Kiss and Nyla Rose, and more and more people coming out in the indies.

This weekend, Impact Knockout Kiera Hogan, also known Fire in WOW Women of Wrestling, took to Instagram and Twitter to go public about her romantic relationship with former Impact Knockout Diamante, who joins the roster of WOW in their new season this Fall under the name Adrenaline. Kiera had previously strongly hinted that she was part of the LGBTQ community in a Pride Month post and posed in a "Support LGBTQ Wrestling" T-shirt, but this was the first time either of the women had really come out as queer.
One of my favorite things about the Instagram post is seeing all the supportive comments from other wrestlers. Most of the current Knockouts roster stopped by to show their support, as well as people like Madusa, Cedric Alexander, and Allie. In addition to being happy news for Kiera and Diamante themselves, this is clearly the first time two same-sex wrestlers with TV deals and national reputations have come out together as a couple, and that's a pretty awesome sign for the future of the business.