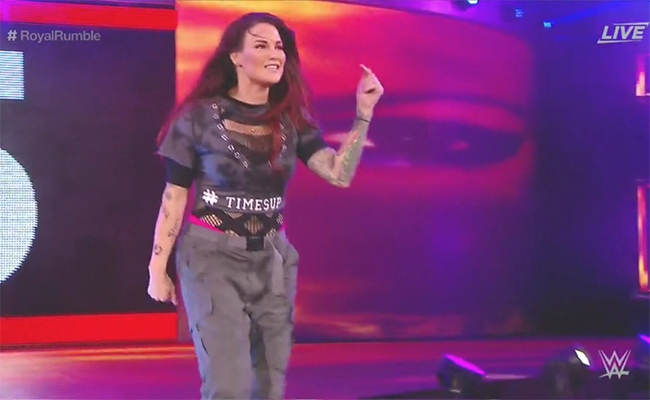 The 2018 WWE Royal Rumble didn't offer a whole lot of surprises, but the ones it did offer were absolutely spectacular. The first major surprise happened the day before the Royal Rumble, actually, as the recently-departed-from-Impact-Wrestling EC3 popped up in the crowd at NXT TakeOver: Philadelphia.
But WWE didn't just stop there, of course. Arguably the biggest surprise of the men's Royal Rumble match was the actual winner of the Royal Rumble match. Second place would probably be that the KFC Colonel Rumble happened. I'm just kidding! The second-biggest surprise before the women's Royal Rumble match went down was definitely the return of Rey Mysterio, who looked incredible.
But there was another big surprise in store early on in the women's Royal Rumble match. the clock ticked down to zero and the No. 5 entrant entered. And it was none other than WWE Hall of Famer Lita.

Not only was Lite decked out in an all-important #TimesUp shirt, and she was also wearing her heart on her sleeve, as she had the names of legendary late women wrestlers written on her forearm. Among those being paid tribute to were Luna Vachon, the Fabulous Moolah, Mae Young, and Sherri Martel.
And Lita even busted out a moonsault, for old time's sake.
To top it all off, Lita even managed to eliminate two other Superstars, before finally being dumped by Becky Lynch.
If you haven't already, listen to this week's McMahonsplaining podcast where we preview the Royal Rumble and talk to Diamond Dallas Page