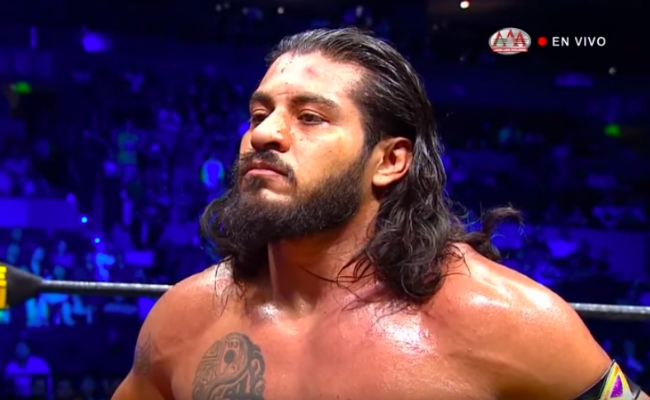 The future of Lucha Underground has now been in question for some time. Several of its performers seem to be increasingly unhappy with how their contracts with the dormant lucha libre program have been affecting their wrestling careers. Ivelisse, with the support of Joey Ryan, posted on social media about her struggle to be released from her contract last month. Pentagón Jr. and Rey Fenix, two of the show's biggest stars, made a handshake deal to join All Elite Wrestling last week despite still being under contract with Lucha Underground. Today it was reported that El Hijo del Fantasma, who plays King Cuerno on the show, filed a dispute against El Rey Network and LU's production company Baba G Productions.
Pro Wrestling Sheet broke the news after being sent "documents from a third party to the case who was asked if they wanted to be involved in potential legal proceedings." The documents lay out the premise of the dispute like this:
Plaintiff brings this action seeking to invalidate illegal provisions of a contract between himself and Defendants. Defendants is enforcing contracts with Plaintiff which are illusory, in that they require Plaintiffs to stop engaging in their lawful trade, while Defendants have no obligation to provide work to Plaintiffs, and only have an obligation to pay Plaintiffs if they are provided work on their show. This contract also violations California Business and Professions code 16600 and California public policy as they restrain Plaintiffs from working in their lawful profession.
Overall, the contract situation alleged by the leaked documents makes it very understandable why Lucha Underground stars have been requesting their releases, and why those not granted them have started speaking out about it.
The current contract that wrestlers signed with Lucha Underground require that wrestlers not perform services for other wrestling companies anywhere in the world without Defendants permission, but does not require Defendants to use Plaintiffs in their wrestling-theme television show.

While Plaintiffs are obligated to restrict their trade under the contract (which is illegal), Defendants are not required to use or pay Plaintiffs. Defendants have the option to use Plaintiffs, and IF Defendants use Plaintiffs, Defendants will pay Plaintiffs. IF Defendants chose not to use Plaintiffs, Plaintiffs are prohibited for working for years, are not paid, but still under the restrictive contract until it expires.

Most wrestlers under a Lucha Underground contract make less than $4,000 a year. Wrestlers working for other wrestling promotions make a living wage, usually starting around $50,000 a year and entering either 6 or 7 figures.

The documents also describe how the pro wrestling landscape has changed since 2014, citing Ring of Honor, Impact (under its new ownership), WWE (now that they've expressed more interesting in talent used on Lucha Underground), and AEW as places offers wrestlers "a living wage" and/or "good living working on a full time basis." In contrast, for "Lucha Underground broadcasts between 22 and 40 television episodes per year" with "payment per episode… usually less than $1,000."
Lucha Central reached out to Hijo del Fantasma's attorney, Andre Verdun, following the report by Pro Wrestling Sheet, and he provided more information about the dispute and about his previous involvement with Lucha Underground contracts, although he couldn't discuss all the specifics of the ongoing case. According to Verdun,
I had a hand in attempting to modify some the original terms of the agreement on behalf of some of the wrestlers that asked me to volunteer in assisting them prior to anyone signing for the show's first season. We got some concessions, but the most worrisome terms from my perspective remained in the contract. I warned the producers for Lucha Underground that the terms in their contract made it subject to legal attack and I felt made them partially, if not completely invalid. They insisted I was wrong and pushed forward with the language that I felt was legally troubling and informed the wrestlers, as it is my understanding, they would not sign wrestlers that were being assisted by my office.

That was the end of my involvement until people started to become unhappy in those contracts a few years later. A couple wrestlers approached me since stating they wanted to seek a release and I have used those weak points to get people out of their contracts by threatening litigation. Until now, everyone that I assisted has been released without the need for litigation. Lucha Underground appears to be pushing back in midst of what appears to be a mass exodus by their top stars if they can get their release.
Verdun also mentioned a class action lawsuit filed by his office that he says multiple wrestlers have already joined.
… There is actually another lawsuit my office filed as a class action to invalidate certain portions of their contracts that we believe are illegal. There are several wrestlers that have signed onto that lawsuit, others that have reached out requesting to join, so that lawsuit actually seeks to do what it I saw reported that Fantasma's lawsuit is attempting to accomplish… At least as to the people I have assisted, there has never been the need for a lawsuit until now.

Comedian Ron Funches also responded candidly to the report of the dispute filed by Fantasma, tweeting, "I can tell you for sure the Lucha Underground contracts sucked dick. I wanted to do a segment with them but my manager got one look at the contract and was like no way."