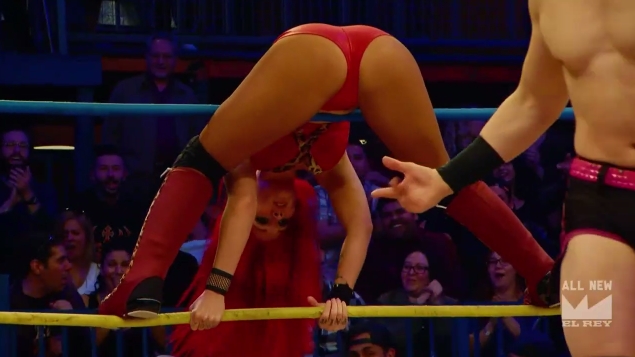 Previously on Lucha Underground: Season 4's obsession with Jack Swagger continued, and Johnny Mundo was given a magical glove by a time traveler and his best friend, a dragon, so he can have a better chance of winning a sacrifice match against a janitor ninja turtle with the power of a God. One of those things is what I want out of my Lucha Underground.
Remember that With Spandex is on Twitter, so follow it. Follow us on Twitter and like us on Facebook. You can also follow Brandon on Twitter.
Hit those share buttons! Make sure to spread the column around so people can share in our love of all things Lucha, and encourage folks to finally bite the bullet and watch the first two seasons on Netflix. It's on Netflix. Watch it when you're done watching Adam Sandler's Bibbity Blobbity.
And now, the Over/Under on Lucha Underground season 4, episode 21, originally aired on October 31, 2018.
Over: Dread It, Run From It, Lucha Underground's Season 4 Finale Still Arrives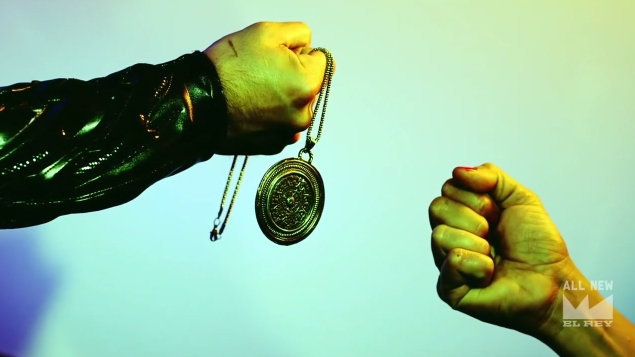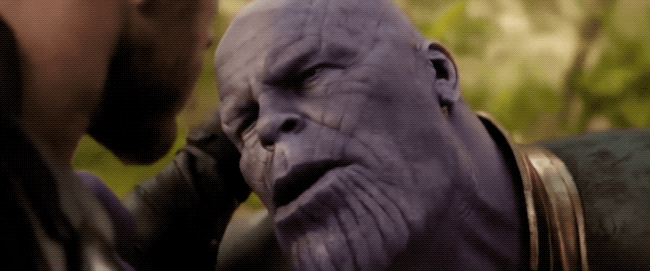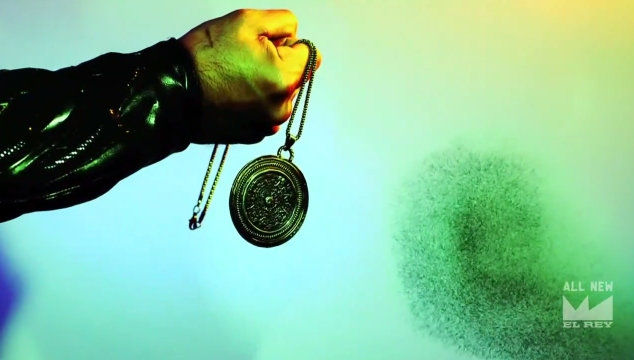 Over: I Dug, Dug, Dug; Trios, Trios, Trios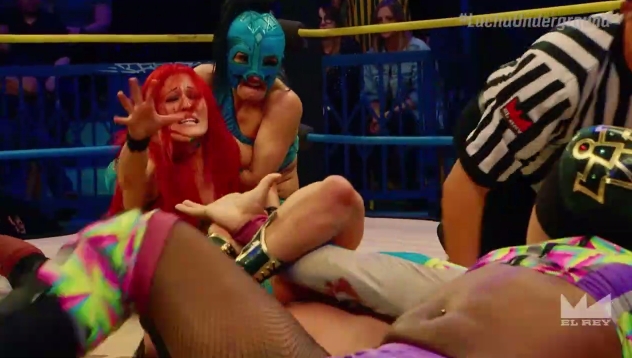 You know, as many problems as I've slash we've had with Lucha Underground season 4, you can always count on Ultima Lucha to deliver. I don't think they're capable of putting on a bad season finale. This year's is a little shorter than the others, and will probably end with Jack Swagger as Lucha Underground Champion as the show spirals into oblivion, but let's do our best to enjoy everything between now and then. And just to clarify, I haven't been spoiled, I'm just dreading it. Running from it. You know how it goes. Maybe if they taped it they'll look at literally anyone on the Internet's response and go, "yeah, no, okay, Marty and/or Pentagon can stay the champion so if season five happens it won't be 25 episodes of unironic Mexamerica."
But yeah, Ultima Lucha Cuatro's opening match is a three-way (TO THE GRAVE) Trios Championship match between the champions, A Reptile Dysfunction, and the challengers: the all-new, all-different Rabbit Tribe and the Even More Unlikely Than Before Trio of Ivelisse, XO Lishus, and substitute Joey Ryan Sammy Guevara. Where as Joey Ryan is famous for having a dick, Sammy is famous for BEING a dick, so, you know, close enough.
This is a hell of a lot of fun, and has the crazy pace you'd expect from one of these matches. There are a few obvious edit points — El Bunny definitely didn't get all the way around on that 'round the world headscissors, and Kobra Moon definitely forgot to be the third part of the triple superkick on XO — but nothing was glaring enough to take away from the match. The highlight is definitely Sammy being an absolutely insane little panda bear man and throwing a Spanish Fly off one of the balconies:
I'm telling you, y'all should've listened to me and had Sammy show up in episode one of season 4, find the Prince Puma mask lying on the ground outside of the old Temple, and spend the season as the Bullseye-pretending-to-be-Daredevil version of Prince Puma II. Can Aerostar take everyone back in time, or just one at a time? I can wait.
Over: Bridezillas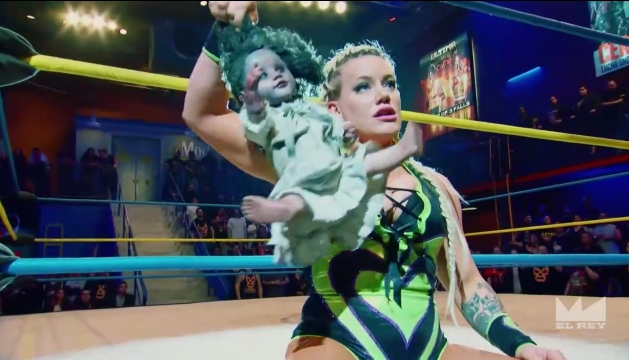 Match number two on the card was Taya Valkyrie Mundo beating the ever-loving shit out of Ricky Mundo for "ruining her fucking wedding." It's short, at only a few minutes long, but it's everything it needed to be: Taya taking Ricky to the woodshed for ambushing lime green taco party nuptials with an abnormally large Spanish child inhabited by the spirit of an ancient Aztec God. You know, as you do.
I'm a little concerned about Taya leaving the match with Ricky's haunted doll in tow, because if season five happens, we're definitely getting a possessed Taya. Maybe Wera Loca will become Werewolf Loca? I don't know how haunted dolls from cursed islands work. Glad to see Taya getting to kick somebody's ass on this show, though. I still think it should've been Taya vs. Matanza. Give Taya the glove!
Over: Killshot's Super Secret Identity Revealed
This week's main event is a mask vs. mask match between the two masked Lucha Underground characters whose identities are the most known, because they wrestle on the indies as "ALSO I AM ON LUCHA UNDERGROUND AS THIS MASKED GUY!" So from an objective standpoint, you know, not a lot of high stakes drama for either guy being unmasked.
To enjoy this as its meant to be enjoyed, you have to separate the real world and what you know about wrestling from what's happening on screen, which really shouldn't be as hard as it is on a show with ritualistic sacrifices and monsters and shit. Doing a big one-on-one luchas de apuestas match between a character who has been around since the very beginning in Son of Havoc, and a character who has been around since early on and has been in a handful of your best matches in Killshot, is a great (and correct) way to pay respect to two of your major workhorses. We don't know if there's gonna be another season, but if there isn't, these guys' last matches in the promotion should matter. This match kicks a lot of ass, ends with a shooting star press onto a man strapped to a stretcher, and matters.
Son of Havoc wins, and Killshot is forced to unmask and reveal himself as Lt. Jermaine "Killshot" Strickland, presumably because Jermaine rhymes with Shane. I love when Lucha reveals people's "real names," they're always like those "please don't sue" Fire Pro default names. Killshot is Ricky Rouse, Son of Havoc is Monald Muck.

But yeah, Killshot redeems himself in defeat with a show of respect, and the show ends with a great SPIDER-MAN: NO MORE! moment between him and Dante Fox.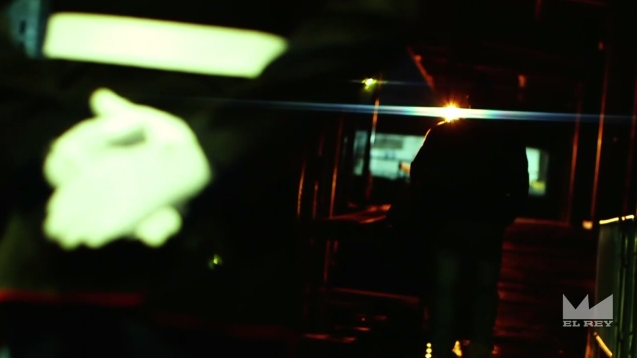 Hope to see you again, Jermaine. I hope your confidence and pride heal as quickly as Dante's broken ankle.
Next Week:
Ultima Lucha Cuatro and Lucha Underground season 4 (and Lucha Underground?) end with a two-hour part two featuring:
The Mack vs. Mil Muertes in a DEATH MATCH, because The Mack doesn't speak Spanish
Johnny Mundo and his Power Glove (it's so bad) vs. The Monster Matanza Cueto in a Sacrifice to the Gods match which independent wrestling announcements have definitely not spoiled for us
El Dragon Azteca Jr. and Dark Fenix stealing the season and show with a 2-out-of-3 falls match
Cero Miedo for the Lucha Underground Championship between Pentagon Dark and Marty the Moth
definitely a depressing amount of Jack Swagger
See you then, Believers.