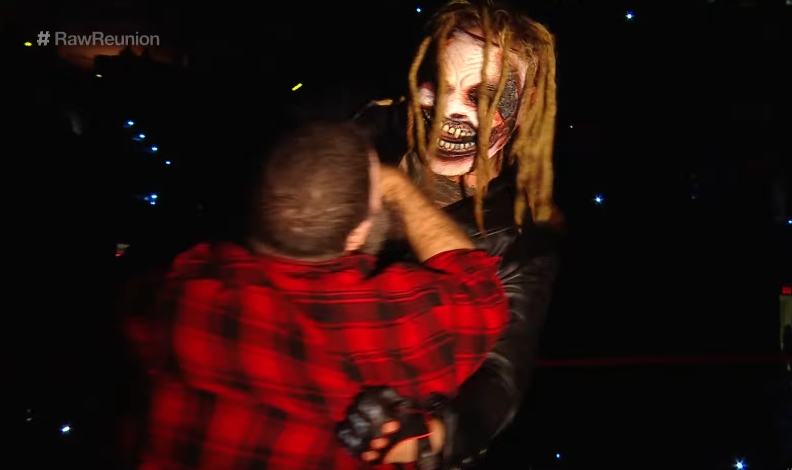 When Bray Wyatt, in his new persona as the Fiend, first hit the Mandible Claw on Mick Foley at the Raw Reunion, everyone thought he was just doing the move to Foley because it was originally Foley's move, fondly remembered from his days as Mankind. But when he went on to do it to Kurt Angle, and even to win his SummerSlam match against Finn Bálor, in became clear that the Mandible Claw belongs to the Fiend now. And that makes sense, it's a creepy move that suits a monster, which is why Impact's Su Yung has also been using it for years. Some retired wrestlers might object to this sort of thing, but Foley might be the nicest guy in wrestling, and he's all about supporting the newer generation.

Asked by Wrestling Inc. how he feels about Bray and others borrowing from him, here's what Foley had to say:
I think it's nice to look at the show and see your fingerprints here and there. Where, as ten years ago when I left, there were a lot of people who had grown up idolizing Ric, and Shawn, and Bret, and you could see that in the work. So now you have guys like Bray, who told me years ago, "Look, I'm doing something in a rocking chair," because he had gotten a rocking chair from an interview that I did for Randy Orton. You see it a little bit with Aleister Black and the rocking, and Su Yung, and Rosemary, and I love it; Sami Callihan doing the cactus driver.

And so, I feel for Bray because you want a finishing move that you can do to anyone at any time. The mandible claw… is something that is all [Bray's] now.
Foley also notes that while Bray's been tweeting in-character apologies to basically every wrestler he's ever fought or attacked, the one he sent to Foley had an extra note that seemed genuine:
People can read between the lines, but even in his tweet – he generally tweets in character and he said, "I'm sorry, but thank you." I certainly took that as a nod of appreciation and I like that.
It's pretty cool to see somebody creepy enough to pull off the Mandible Claw getting a push in WWE again, and it's even cooler knowing that he has Foley's blessing to do it.