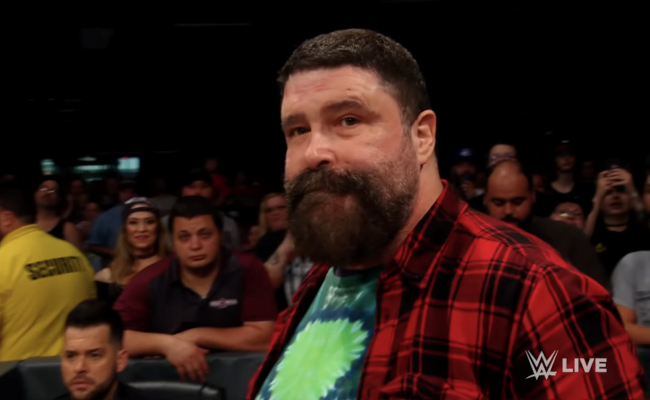 Mick Foley has always seemed like one of the best guys in wrestling, ready to step up and be an ally to help those in need. He's proving that once again by giving his time to the fundraiser that's been started for the educational future of Ashley's Massaro's daughter Alexa. Since Ashley died unexpectedly last month, a group of women wrestlers has come together to look out for Alexa's future, as well as be there for each other. Mick Foley was quick to join forces with them, as he explained yesterday on TMZ Live, although he makes clear that the women are the real heroes of this project.

It was really a group of 20 women who wrestled with Ashley who put the fundraiser together, the Square Circle Sisters, and they're just kind of adopting me to play a little role. I'm really grateful for it. Especially with Ashley's death, the women in particular have vowed to be there for each other. It's a really close-knit group, and I think we're also understanding that it takes a tougher person to admit they need help than to pretend that everything's okay. So we're trying to get the message across to everybody that's been in our extended family that there's help out there. That if you're having a tough time, and you think it's overwhelming, that people out there are willing to listen, and that things do get better.
One way Mick is helping, as he previously announced on Twitter, is to offer his time to spend with fans who can afford a large donation.
Just to give a little added incentive, I just put it out there that for a five thousand dollar donation I would travel anywhere in the US or Canada and watch Raw or Smackdown, or any show! I guess you get three hours of my time. We can do whatever you want. I can do your yard work if you like. I will, I mean… and then somebody said "What about UK?" I said "Ten thousand dollars, I go anywhere in the world."
You can donate to the cause here if you're interested. Foley says one person has already made the $5000 donation, and he's hoping for more. Mick does seem like he'd be a fun guy to hang out with, so if you can afford that $5000, it's probably not a bad deal. Unless you go for the yard work option. You can probably get somebody better suited for that for less money.