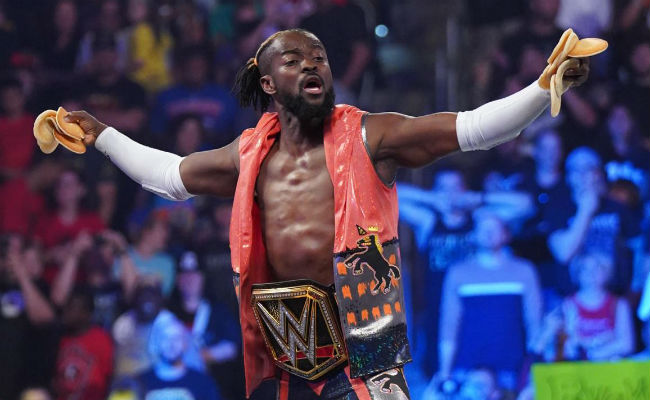 WWE just announced a new Network live special coming up on Saturday, July 27, at 9 ET/6 PT, and it is called "Smackville."
Why is it called Smackville? Well, because this is basically a house show that they're streaming from Nashville, Tennessee, and it features matches for two Smackdown-based championships. Put "Smackdown" and "Nashville" in a blender and you get "Smackville!" This was obviously the best name they could have gone with. (That sentence was supposed to be sarcastic, but the name has definitely drawn way more eyes to the announcement, so it might actually be sincere.)

Here's how WWE.com describes the card for this upcoming show:
The explosive in-ring action will include a main event Triple Threat Match for the WWE Championship in which Kofi Kingston will be challenged by Dolph Ziggler and Samoa Joe. In addition, newly crowned Intercontinental Champion Shinsuke Nakamura will go head-to-head with former titleholder Finn Bálor in a rematch from WWE Extreme Rules. The evening will also feature a special musical performance by Elias.
This sounds like could be a fun house show to attend, but it's unclear why it's airing on the WWE Network. Possible explanations include that they're having Kingston or Nakamura drop their title and don't want it to happen off-screen, or that they want more original content on the Network and are testing how well house show broadcasts do. Or maybe they're just looking to get into that Old Town Road remix game and want a bigger platform for Elias's take on the song than the WWE YouTube channel.
Will you be tuning into Smackville next weekend? Let us know in the comments.